Media Invite
Happy is the lady who got herself some me-time and ice cream to go with it! And I got just that when I was extended an invitation to Chunkfest 2013 (a first for me!) as part of the media. Hehe.
Chunkfest 2013 is the 6th annual event held by Ben & Jerry's, and with it, came the launch of their new ice cream flavour – Couch Potato. It's so unbelievably delicious!
Besides ice cream galore (flavors not available in Singapore were brought in too!), stalls by Ben & Jerry's Fairness Partners, local organisations and enterprises were also set up to raise funds for their causes and to celebrate the festival's main theme – Peace, Love and Ice Cream.
However, the very first thing I did after stepping out of the media tent was to find Timothy. Hehe!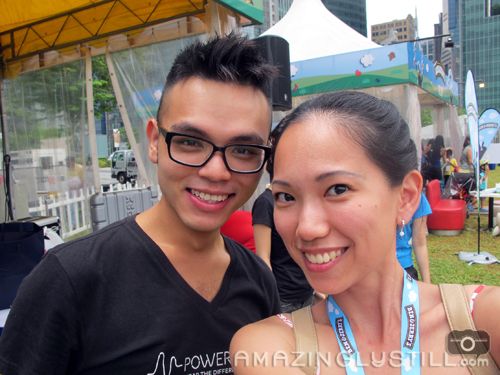 Timothy was there with his Power 98FM DJs and crew. They have been the official radio station for Chunkfest since day one! I will never forget the super awesome gift he gave me at Nakayla's full month celebration… Ben & Jerry's ice cream vouchers! Yums!
We chatted for a bit before he had to return to work, and I had to return to the group for our tour.
Here was what I was up to, on that rainy Saturday morning. Ain't no rain gonna stop the fun and ice cream for me!
First up, a visit to all the Fairness Partners.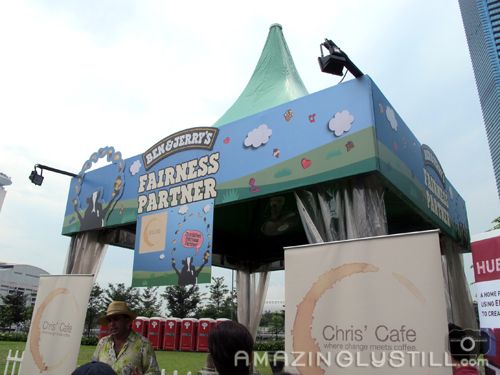 Chris' Café
"We believe fairness is not judging until you know all the facts."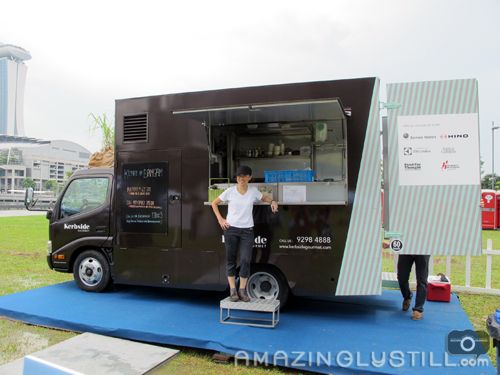 Kerbside Gourmet – Singapore's very first food truck!
"We believe fairness is letting children and family members of ex-offenders know that they are loved and cared for, even by strangers who don't know them personally."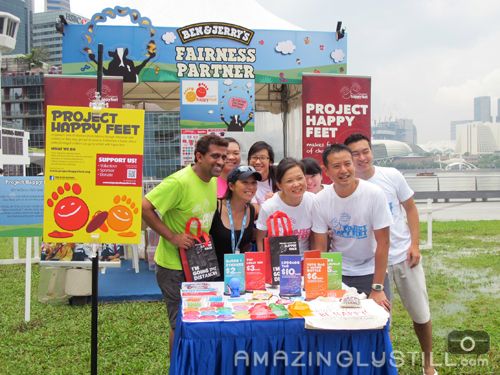 Project Happy Feet
"We believe fairness is to provide every individual access to education no matter who they are or where they are born in."
I was personally very happy when I saw Project Happy Feet's tent! I had gone for the Slipper Race organized by them back in August, and had an amazing time then. It is so nice to know that they are part of Ben & Jerry's Fairness Partners!
Other Fairness Partners of Ben & Jerry's include Blessings in a Bag, which I got to know back in my university days when I was part of a team that put together a conference for non-profit organizations, and Dyslexia Association of Singapore.
After we were introduced to all the Fairness Partners, it was time for ice cream and more ice cream!

With Irene of Singapore Mom Blogs

Bouncing castle for the children.
Amazing how this air-filled structure can occupy the children for long periods of time!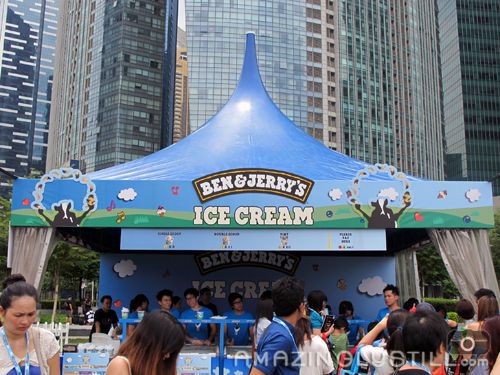 The tent filled with the yummy goodness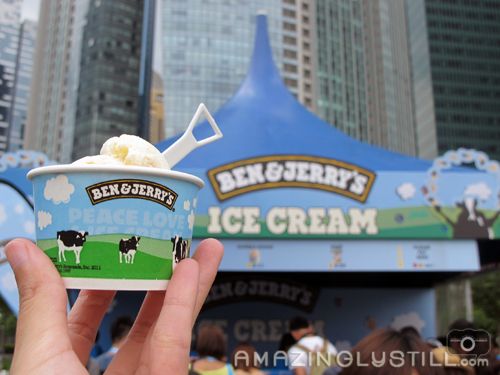 That's a cup of Couch Potato in my hands!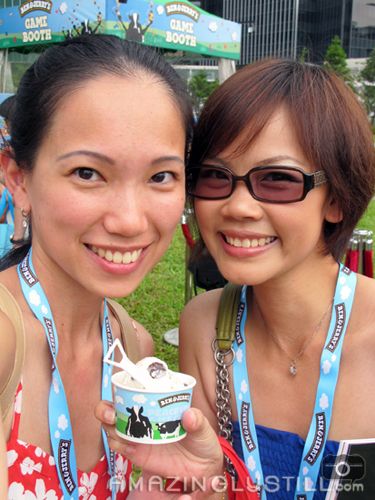 That's Irene's cup of cider. Haha!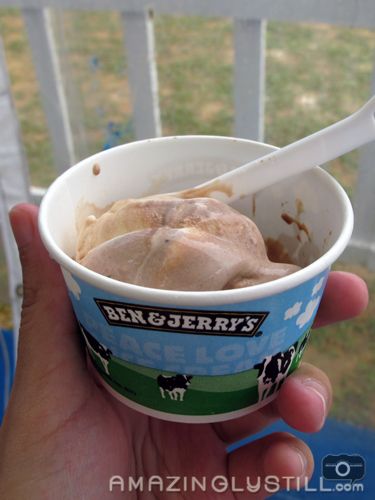 Special flavor alert – Karamel Sutra!
It may not look like much, but for a caramel lover like myself, it sure hit all the right notes on the palate! This flavour, along with 13 others, were specially flown into Singapore for this year's Chunkfest.
Karamel Sutra has got to be my second favourite Ben & Jerry's ice cream flavor, after Magic Brownies – which has sadly been buried in the Flavour Graveyard. I sure hope to see Karamel Sutra on our shelves soon!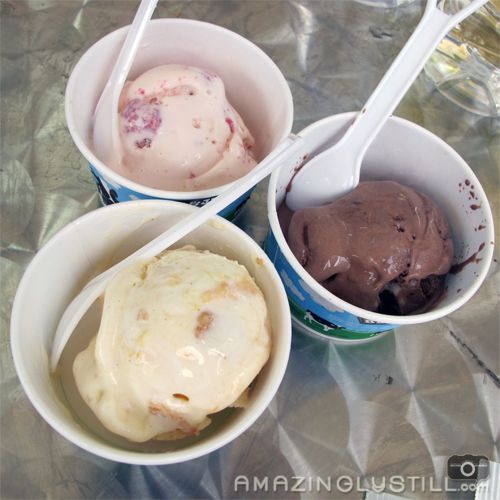 Other special flavours we got to try, clockwise from bottom left:
Peach Cobbler, Red Velvet Cake, and Chocolate Peppermint Crunch

Irene's son, Hiroshi, loved the Red Velvet Cake ice cream the most.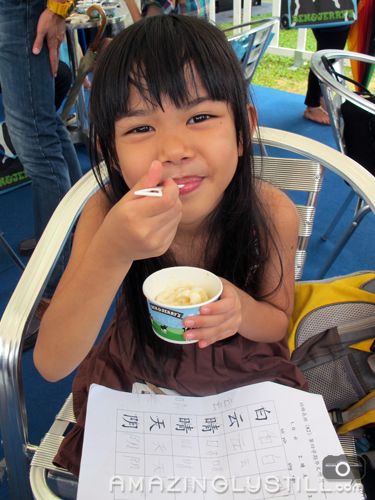 Irene's daughter, Sophie, was very happy with her cup of Peach Cobbler.
Psst… Notice the Chinese work in front of her? She was studying while waiting for the sudden downpour to stop. So studious!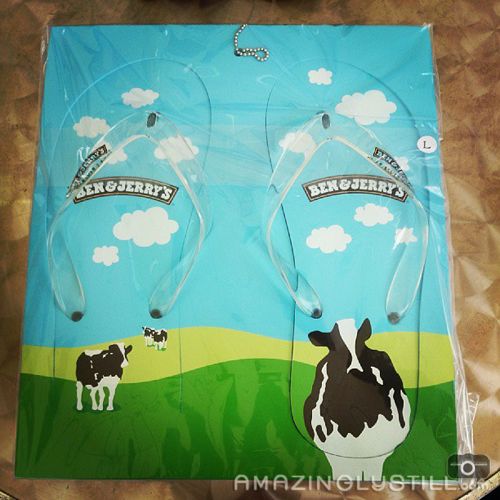 Gifts from Ben & Jerry's
Not pictured: Picnic mat and file
Using the fair coins gifted, and topping up some on my own, I went home with these:

Technically speaking, I only paid for the truck. Hehe.
It was a great time spent out on my own for sure, even though it was wet and muddy. Ice cream really does wonders! Hehe.

It was really muddy, but my shoes didn't look too messed up, right?
Can't wait for the next Chunkfest!
* * *

There is only one rule for Timeout Thursday, and that is,
STRCITLY NO KIDS ALLOWED!
Nope, not even the mere mention of their names or having them in the photos.
This linky is all about indulging us, the parents!

Grab the code below, link up back here with your post URL, and it's all good to go!
Linky party will be open for 3 weeks from the first Thursday of every month.
For more details, please read my first Timeout Thursday post
Disclaimer: I was invited to Chunkfest 2013 as part of the media. All opinions reflected are my own. More definitely went on that day, such as performances, games for the young and young at heart, and an outdoor movie screening of Charlie and the Chocolate Factory, but I didn't stay long enough for all of it. The ice cream is seriously delicious. Ok, that's all!