Media Invite
I have always thought it was impossible to fry yummy and delicious food with just air. Yes, you read that right – Frying food with just air. But the good people at Philips made the impossible possible. Probably one of the best inventions ever made, Philips' line of Airfryers just gets better and better.
The newly launch Philips Avance XL Airfryer is now bigger, offering more than just airfrying. It can now bake, grill and roast as well, making it a lazy busy mom's dream come true!
On top of that, for someone like me who is absolutely terrified of oil splattering when frying my food, this is like a godsend.
And guess who was lucky to have been invited to the launch party for Philips Avance XL Airfryer? ME!
I got to see the latest airfryer by Philips in action first-hand, and taste all the yummy goodies that was made from it.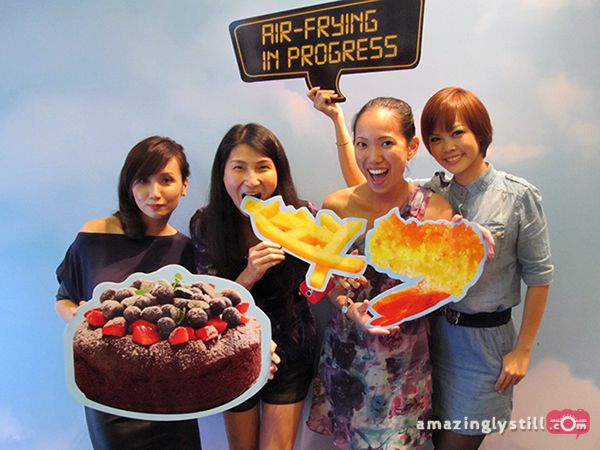 Arrived at the launch party with Estella, Cherie, and Irene
And holding my favourite fried food – Prawn Fritter!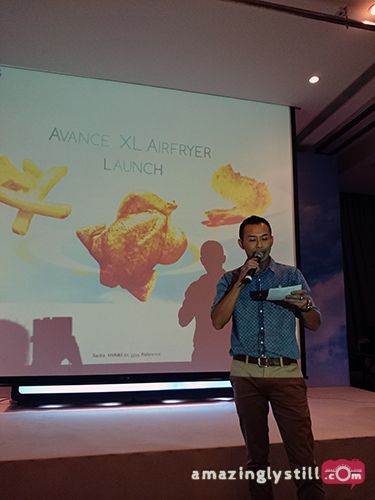 Our host for the evening, Bryan Wong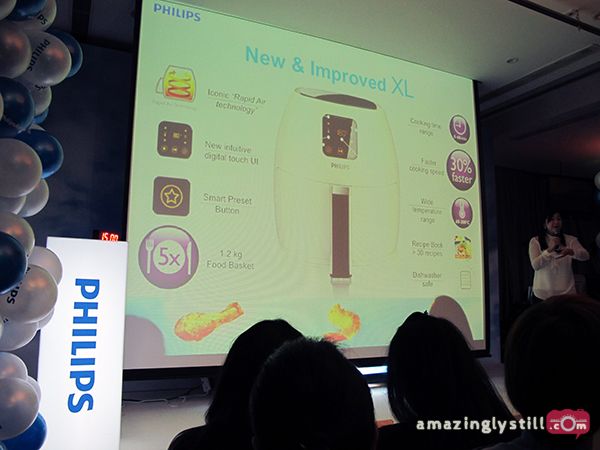 Before seeing the Philips Avance XL Airfryer in action, I got acquainted with it through a very detailed presentation. It only got me even more excited about it!
What they said: The airfryer's unique Rapid Air technology is what enables us to fry, grill, bake and roast. This technology is responsible for making the food it cooks much healthier, with up to 80% less fats than a conventional fryer.

What I heard: Eat all you want guilt-free! You won't grow fat! And when the doctor says no oily and greasy food, I can still have my airfried food!

What they said: The new digital touchscreen allows you to control time and temperature for cooking with much ease.

What I heard: No need to fumble with all the buttons, and I don't have to clean the tiny gaps between the machine and buttons! Yay!

What they said: There is a smart preset button that allows you to save the settings to cook all your favourite dishes.

What I heard: I can preset everything and prepare meals ahead of time for the husband before I head out for some me-time, and he can still have a warm and delicious meal with a touch of the button!

What they said: It comes equipped with a basket so large that it can now hold food to feed up to 5 people.

What I heard: I can feed my entire family in just one fry!

What they said: Powered to cook food 30% faster than before.

What I heard: Don't have to start cooking so early anymore! More time to laze around! HURRAY!

What they said: Greater range of time and temperature to enable cooking a wider variety of food.

What I heard: Hello, my darling Japanese ebi and tempura prawns! And of cos, hello to the husband's favourite roast chicken!

What they said: Easy to clean and less smell created than normal fryers.

What I heard: Silence. Because nobody will be complaining about having too much to clean!
As you can tell by now, I'm pretty sold with the enhanced Philips Avance XL Airfryer. Every key feature of the new model mentioned was like music to my ears!
After the presentation, Bryan took stage again, and this time, he was joined by Dable Kwan, founder and owner of 'I Love Philips Airfryer'.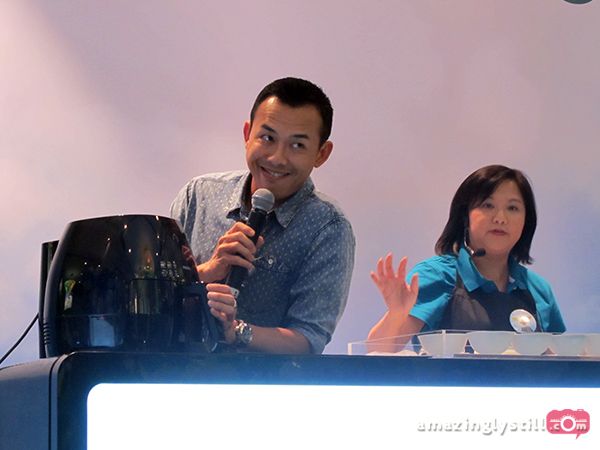 This was when we got to see the airfryer in action.
Dable demonstrated how easy it was to make Cuttlefish Toast with the use of the Philips Avance XL Airfryer. She mentioned that it is quite a popular snack in Hong Kong, but very unhealthy because of the amount of oil used (and possibly re-used) in making this snack. Yet, with the airfryer, no oil were needed, and the taste wasn't compromised at all. It's like magic!

And we got to sample it! Yums!
And then came one of the highlights of the evening – A cook-off using the Philips Avance XL Airfryer!
Representing us bloggers is our very own Domestic Goddess Wannabe, Diana.

Presenting the mystery ingredients to be used in the cook-off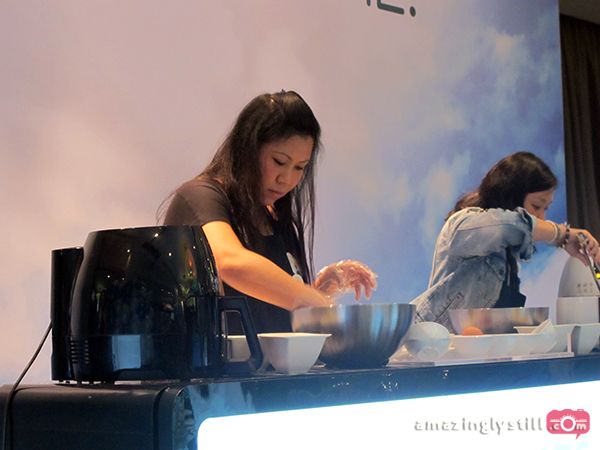 Judges testing the food and giving their comments
In all that excitement, I forgot to take a photo of the winner who's none other than Diana! But here's a photo of her posing with her winning dish!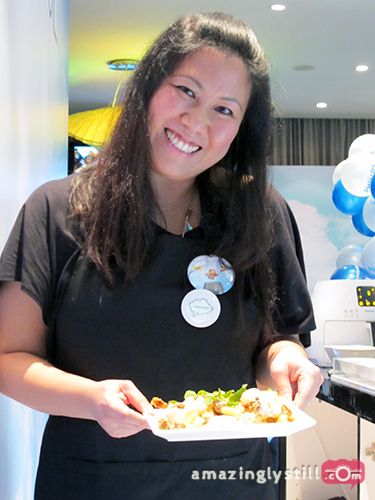 After the cook-off, it was time to eat! I filled my belly with the yummy buffet served at the event, as well as the snacks that were made with the Philips Avance XL Airfryer!

I could be biased, but I absolutely love the prawns!
Can you believe that all of the above food were made by these beauties?

The delightful darlings I've come to love (L to R): Viva Digital, Avance XL and Viva

There's also one in white!
Now, in case you're wondering why I spammed my Instagram, @msmabes, with photos on the evening of November 6, it's because the very thoughtful people at Philips ensured that we all got print-outs of photos taken from the lovely evening! Awesome!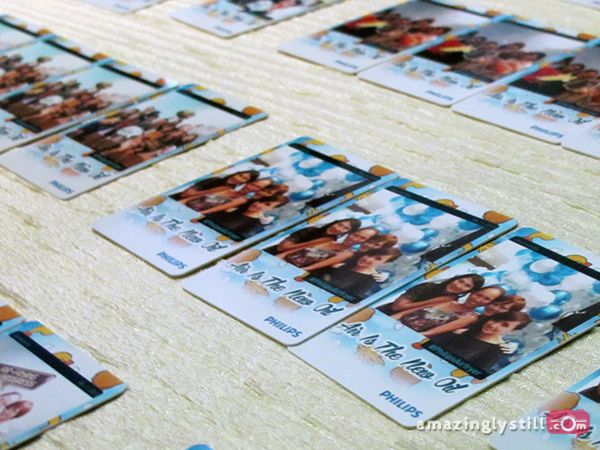 Print-out of photos by Instaprint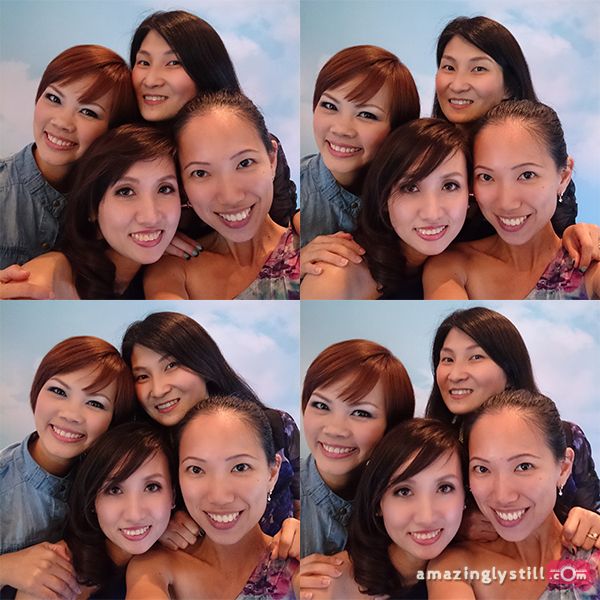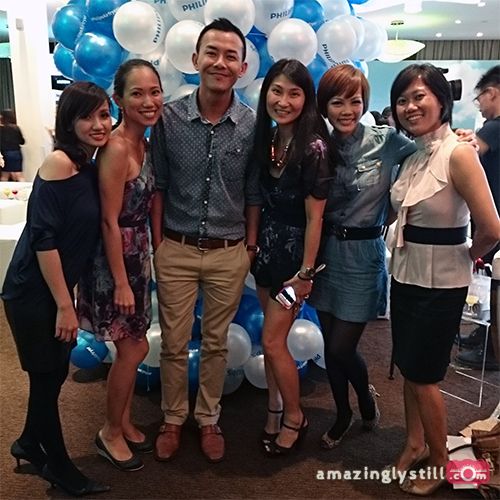 With Estella, Bryan Wong, Cherie, Irene and Adora!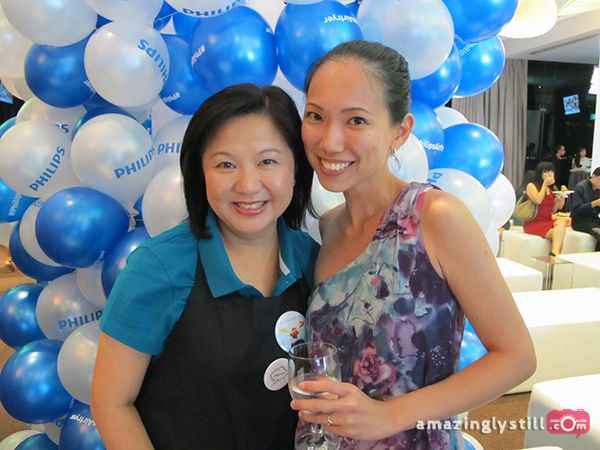 With Dable Kwan 🙂
I had a fantastic time at the Philips Avance XL Airfryer launch party, and thanks to it, I brought home with me many yummy memories.
Now, to get my hands on one of these delightful machines, and start my own 'I Love Philips Airfryer' adventure! Hehe.
Psst… I have more photos post event!

Our crazy carpool! I was driving around with Cherie as my GPS!
Promotion Alert!
Cook with Air today!
Quote [Amazingly Still] and buy
Viva Digital Airfryer at $399 (Usual price: $459), FREE $50 SHOPPING VOUCHER and
Avance XL Airfryer at $479 (Usual price: $539), FREE $50 SHOPPING VOUCHER at the PHILIPS EXPERIENCE SHOWROOM.
This promotion is valid from 1st December till 31st January 2014.
Limited to 1 Airfryer per person. IC must be produced.
PHILIPS EXPERIENCE SHOWROOM
Address: 620A Lorong 1 Toa Payoh Building TP4 Level 1 S(319762)
Tel: 6882 5800
Opening hours
Monday to Friday: 9.00 am – 7.00 pm
Saturday: 9.00 am – 1.00 pm
Closed on Sundays and Public Holidays
The Viva Digital Airfryer and Avance XL Airfryer are also available at regular prices in leading electronics stores, department stores and supermarkets island-wide
Disclaimer: I was invited to the Philips Avance XL Airfryer launch party, and have been compensated for this post. However, all opinions are 100% my own. Additional photo sources (all the yummy photos of the food you see up there!) from Cherie.