Media Invite
Just before December creep up on us, Blake and I attended Délifrance Singapore's Christmas Party, a party to taste the yums off their Christmas menu. The selection of delicacies from their Joyeux Noël menu is pretty impressive, and we were served buffet style, with all the meat nicely carved for us.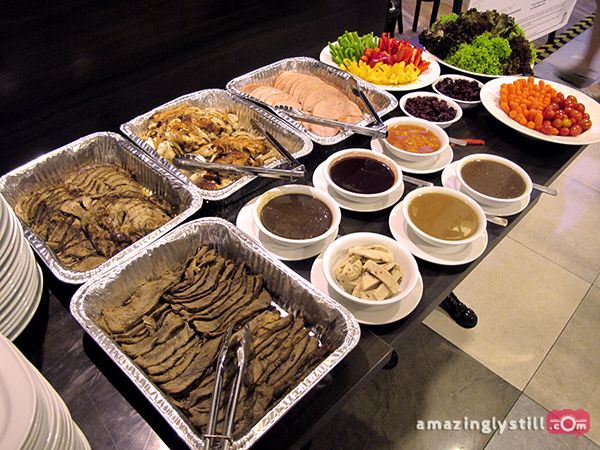 The spread of yums!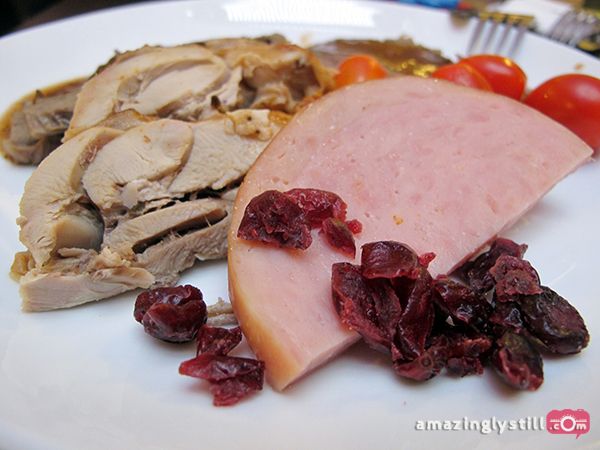 We had the Traditional Roast Turkey, Roast New Zealand Leg of Lamb, Roast New Zealand Striploin of Beef and Honey Glazed Chicken Ham for our mains.

Traditional Roast Turkey, $88 (Image provided by Délifrance)
Stuffed with chestnut and served with cranberry sauce and chicken gravy
Depending on the part of turkey, it can range from being rather dry (breast area) to really juicy and yummy (thigh region). The moist parts are naturally a little more savory than the dry areas (I'm guessing it's got to do with the fatty oils from the turkey), but the dry parts isn't bland-tasting at all. Whatever marinate and stuffing Délifrance used for its roast turkey, it was definitely soaked up very nicely by the whole turkey.
Personally, the parts from the thigh regions can be taken on its own – no sauce required. Whereas the drier parts, I would suggest dipping it in the sauce and/or gravy first.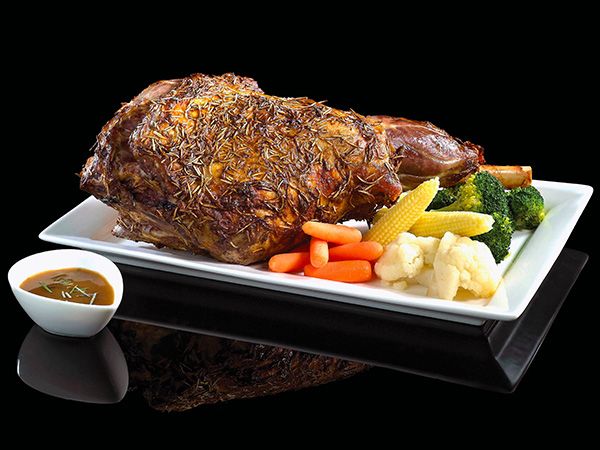 Roast New Zealand Leg of Lamb, $88 (Image provided by Délifrance)
Marinated with herbs and served with rosemary sauce
This particular lamb dish surprised me. It didn't come with that smell and taste that most lamb meat I've eaten has. Either I've been encountering really lousy chefs when it comes to lamb dishes, or Délifrance has worked magic into the meat, with the use of herbs.
While the meat was well roasted and flavorful, it was a little too dry for my liking. If you're not so keen on dry meat like me, remember to drown the meat in rosemary sauce before eating it!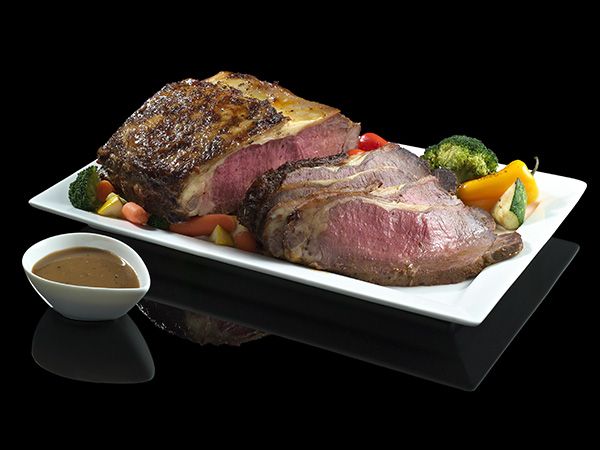 Roast New Zealand Striploin of Beef, $64.90 (Image provided by Délifrance)
Cured with Chef's Seasoning and served with pepper sauce
This is one of my favourite dish from the Joyeux Noël menu. The beef was so succulent, and it totally melts in your mouth! It is so rich in flavor that you can take it with or without the the pepper sauce. Yums in my tums with this one!

Honey Glazed Chicken Ham, $49.90 (Image provided by Délifrance)
Served with pineapple sauce
This is another of my favourites from the Joyeux Noël menu, and definitely Blake's favourite. He couldn't stop popping these into his mouth!
When I first saw the buffet spread, I was seriously attracted to the chicken ham, cos besides being the brightest coloured meat, I really like ham a lot!
The ham is chewy and delectable, and both Blake and I prefer having it on its own. No sauce required for us! The saltiness level for this dish was perfect for me, which might translate to being a little too salty for some of you. I have quite the high tolerance for salt. Hehe.
Halfway through filling our bellies with meat, meat, and more meat, we were informed to make some space for dessert. Cos, really, what's Christmas without the sweets to fatten us up for the onslaught of cold weather? Granted that Singapore is in the tropics, but we still do experience colder-than-normal days, right? Hehe.
And thanks to the wide selection of sweets available, we got to have more than a nimble (think slices after slices) with Délifrance's sweets for this Christmas!

From L to R: Yuletide Log, Silent Night, Joy of Délifrance,
and Enchanted Macaron Tower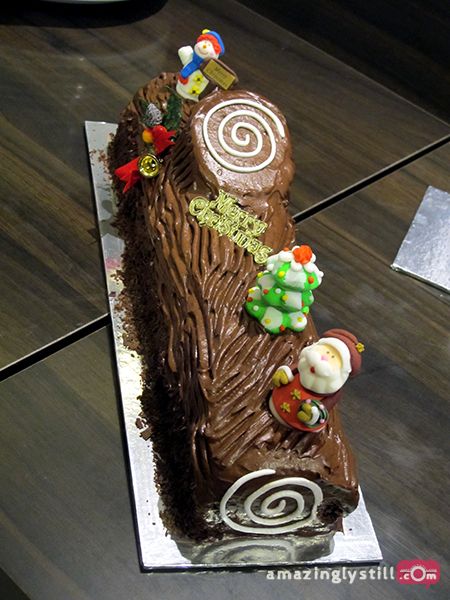 Yuletide Log, $43.90 (Large, approx. 1kg)
This is my favourite of the cakes. Made with Belgian dark chocolate, the chocolate mousse was tantalizing. It's the sweetest cake of the lot, and I really love how light and fluffy the cake is!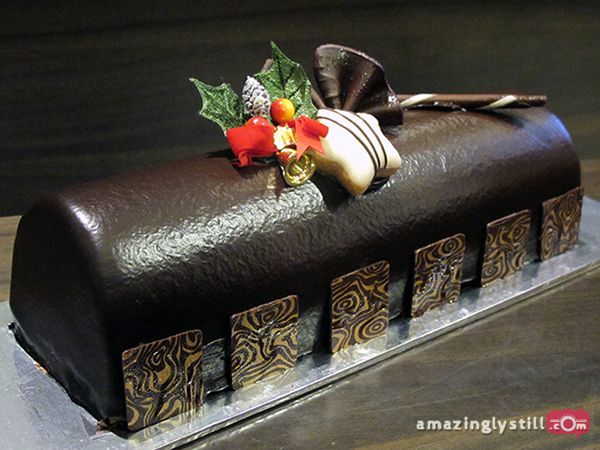 Silent Night, $59.90 (approx. 1kg)
Layers of chocolate cake and Valrhona Fine French Chocolate makes this THE cake for ultimate chocolate lovers. Besides being the most elegant looking cake that day, it was also the richest in flavor. I was a little sad though. I was most attracted to this cake, but it was a little more bitter than sweet in the bittersweet combination, not exactly my kind of cake. It's still pretty to look at though!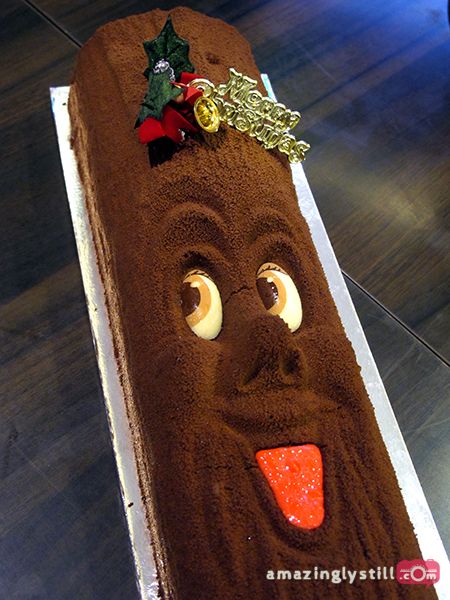 Joy of Délifrance, $59.90 (approx. 1kg)
A log cake with a smile puts smiles on faces too! The smiley log cake is layered with chocolate sponge cake and Valrhona Fine French Chocolate. Sounds similar to Silent Night? Well, it's not the same at all.
For starters, it's not as bitter! It is a well-balanced combination of bittersweet, sort of an in between of the Yuletide Log and Silent Night, putting it on the safe side for bringing to, or having at, parties. And with such a cute face, I'm sure the children will be tickled with joy!

Enchanted Macaron Tower, $128 (Large)
This massive tower of macarons caught Blake's attention the moment it was put out, way before it was even time for dessert. I had to 'wrestle' with him to pry him away from it. Who could blame him? It's in such cheery colors that only spells "S-W-E-E-T!" to anyone who saw it.
Of all the colours, Blake loved the ones in pink the most. I have no idea why, but I'm guessing it's partially due to the fact that it is the most vibrant colour of the lot, and also with it being the sweetest. I like the pink ones too. Hehe.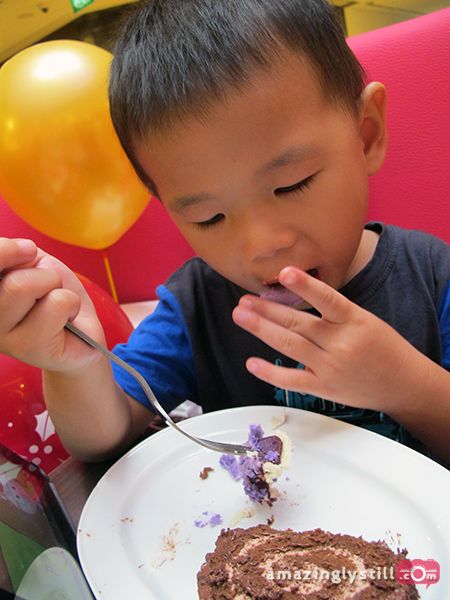 My little foodie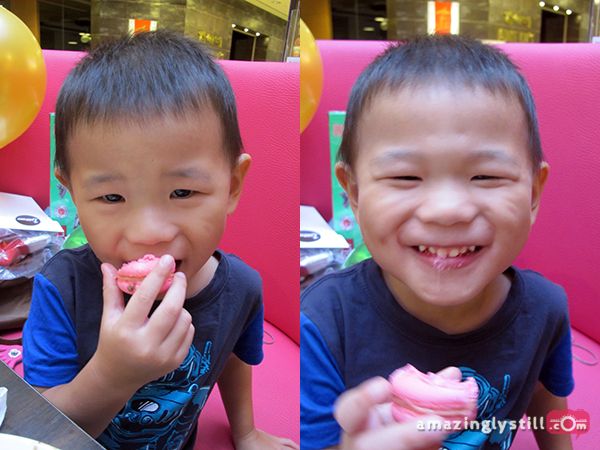 A happy boy is a boy with all the sweets he can eat!
At the end of the Christmas party, we were given even more sweets to take home!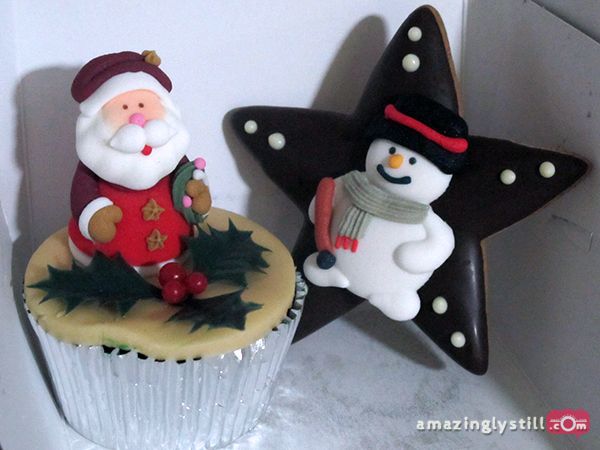 Merry Cupcakes ($4.90 each) and Santa's Helpers ($4.90)
And with that, comes to the end of the first Christmas yums for us this year. Thanks for having us over for an early Christmas celebration, Délifrance Singapore!
Psst… I went home with dining vouchers won from the lucky draw. And thanks to Cherie, I got a brand new Monopoly board game too! She had won two game sets in the Christmas games that was organized, and very kindly gave us a set. Thank you, Cherie!
* * *
Based on the responses in my earlier Christmas Giveaway, it seems like a good number of us look forward to having a good meal with our loved ones on Christmas. So if you're thinking of holding a party, or attending one (don't go empty handed!), do check out Délifrance Joyeux Noël's menu!
Disclaimer: Blake and I were invited to Délifrance Singapore's Christmas Party, where food tasting of their Christmas menu was a part of. Blake's opinions on the food are based on his facial expressions and simple words like, "Yummy!", "Nice!" and "Delicious!", which may or may not have been accompanied with a smile or thumbs up.