My best friend, Nicole, is finally home!
Prior to her completing her studies, whenever Nicole came home for the holidays, we only manage a meal together. It is never anything more than that cos one of us will be rushing off to some place else. But this time round, neither of us have time constraints! And what do girls do when there's no time constraints? WE SHOP! And eat, when we got hungry. Haha.
Here's a sketchy photo timeline:

I bought a lipstick and an eyeliner at a cosmetic shop along Haji Lane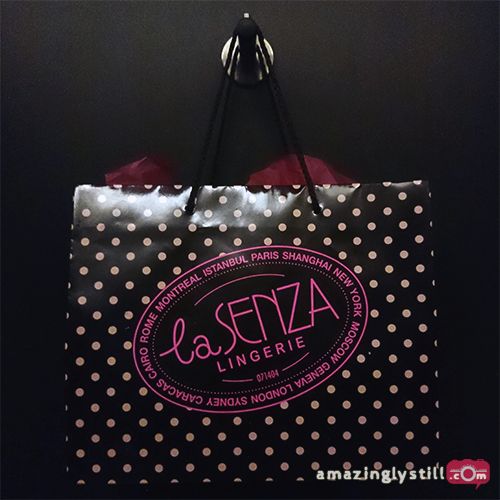 La Senza had Black Friday sales! Scored a couple of items at 60% off!
By now, we were both starving, but we decided that food can wait. After all, most dining spots open till late on Friday. Hehe. So, we went to Sephora where I got a new facial cleanser Nicole recommended, and cleared all the remaining cupcakes from Twelve Cupcakes, but I didn't take any photos of that. Haha. Talk about going on a crazy shopping spree! The damage we did in those few hours… Haha!
Once we were done shopping, we headed back nearer to home for a really late dinner. And Nicole took me to a place called Spize at Bedok. The last time I went to that area, I was just married, and still studying. The place sure changed a lot!
So what did we have for dinner?

Chicken Shawama Wrap, $6
Nicole recommended that I try this, and it being kebab + wrap, how could I say no? I love meaty wraps! Hehe. She even remembered to request for the vegetables to be removed when placing orders. The only other person who does this for me (automatically) is Sean. Hehe.
The Chicken Shawama Wrap is one of the nicest wraps I've had in a while. It's a little spicy, but it's tolerable for me. Or rather, it's delicious enough for me to want to eat as much as I can! Hehe.
The meat in this wrap is a really generous serving. Paired with the sauce, it was really moist and flavourful, yet no mess was created! Each bite was so juicy, and I love how succulent the kebab is. It was a great balance of wrap, meat and sauce for me. I heard they do deliveries as well, so guess who has a new place to order takeouts? Hehe.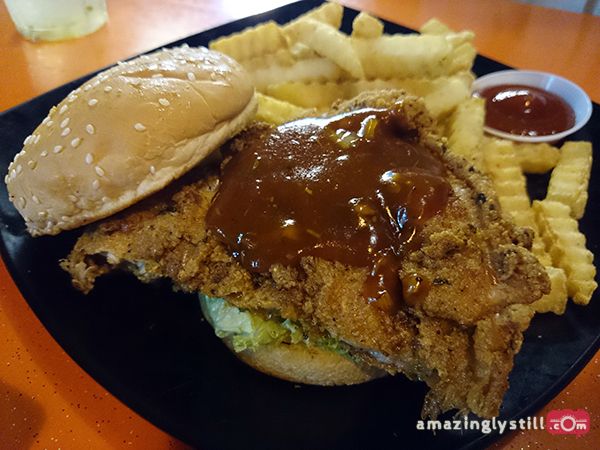 Crispy Chicken Burger, $7
Nicole ordered this burger for herself, but we ended up sharing our meals, so I got to have a taste of this too.
Equally generous in the serving size, it looks to me that this burger was more of a chicken cutlet – served with a bun, salad and fries on the side. And with it being fried breaded chicken, it's naturally crunchy. And this crunch left me craving for fried chicken, or anything crispy and crunchy, days after!
After having our mains, we decided to share a dessert. I've been eyeing on a particular item on their dessert menu, and was just dying to try it!
But when our order came, the both of us got a shock. It was huge.

Banana Ice Cream Tissue Prata, $9
That spoon in the picture is a table spoon, but just in case you can't really imagine the size, here's one with the both of us with our ginormous dessert.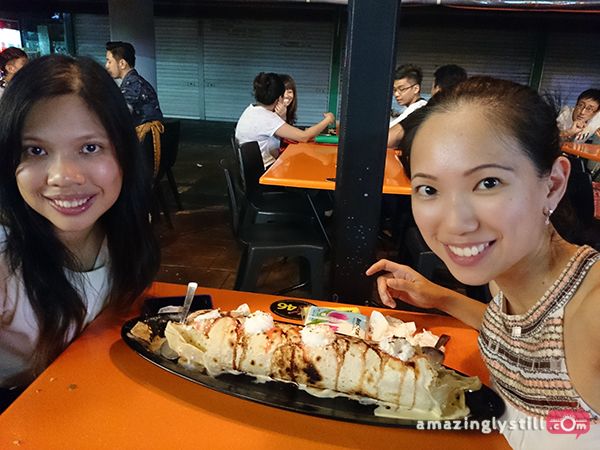 Yup, it almost took up the entire width of the table!
Filled with about 4 scoops of vanilla ice cream, and lots of bananas, the best part of this dessert is the crispy paper-thin prata found at the top of the entire dessert. What made it even more delicious was the chocolate and strawberry syrup! The only thing both Nicole and I didn't really fancy were the sides of the prata. It was a little soft and thick for our liking.
I remember very clearly when I first saw one of the staff walking out with this, I went excitedly, "That's our dessert!" But Nicole was saying, "No, can't be ours."
When it was finally placed in front of us, the both of us exclaimed non-stop about how big it was. Then I noticed an uncle and his wife, who sat a table away from us, looking at our dessert with eyes wide open. When I made eye contact with him, he said, "Happy birthday, ya!" Haha! And that's when I felt the stares/attention this prata dessert has gotten us. I looked around and saw people around us looking back, probably wondering, "Those two girls are going to finish that?!"
Needless to say, we didn't finish our dessert. We even tried to walk it off at the supermarket nearby, but alas, we decided it's best to head home before we concuss from all that food.
* * *

There is only one rule for Timeout Thursday, and that is,
STRCITLY NO KIDS ALLOWED!
Nope, not even the mere mention of their names or having them in the photos.
This linky is all about indulging us, the parents!

Grab the code below, link up back here with your post URL, and it's all good to go!
Linky party will be open for 3 weeks from the first Thursday of every month.
For more details, please read my first Timeout Thursday post