Media Invite
I cannot, for the life of me, ever dream of getting an invitation from iFly Singapore to go indoor skydiving! But I did and I was super psyched!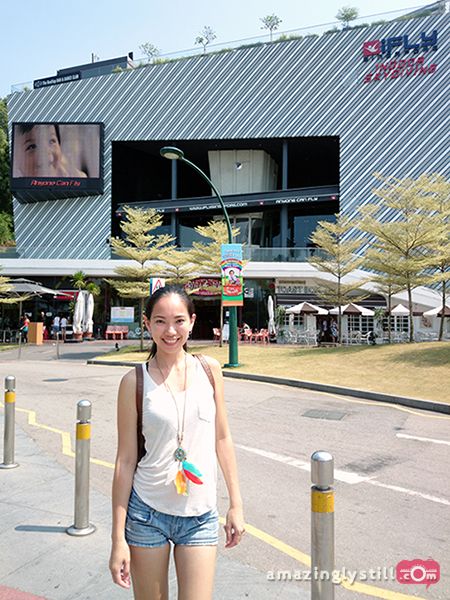 The wind tunnel where 4 Guinness World Records were made just behind me!

With Irene
"Anyone can fly!"
Since opening in 2011, iFly Singapore has been making Singapore proud.
Not only did they break the following records – Most Skydivers in a Wind Tunnel, Most Skydiving Wind Tunnel Verticals in One Minute, Most Backwards Somersaults in a Wind Tunnel in One Minute, and Longest Indoor Freefall, but iFly Singapore also hosted the world's first Indoor Skydiving World Championships in 2012!
We even had our own junior proflyers – Team Firefly – representing Singapore!
Kyra and Yixuan were only 10 and 11 respectively when they represented us in the inaugural Indoor Skydiving World Championships in 2012! How cool is that?!
After knowing all these about iFly Singapore, I really couldn't wait to get started!
Before we took flight, we had to watch a video in a holding room which was design to feel like we're in an airplane, awaiting our jump! After which, we proceeded to the next room where we met our flight instructor. This was where we learnt the basic hand signs and correct body position for flying. It was pretty amusing at this stage (for me, at least!) because it reminded me so much of tummy time for babies! Hehe.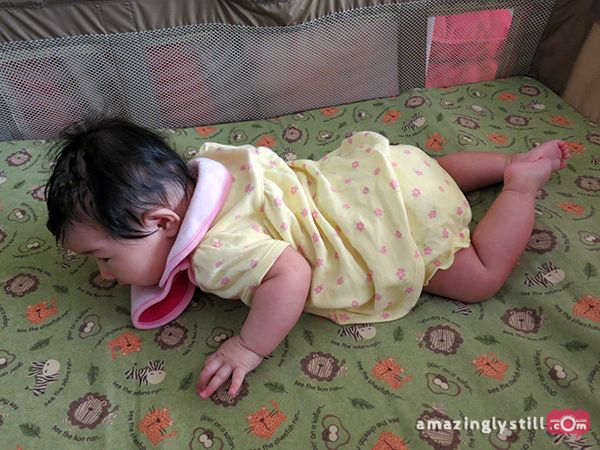 So thankful to have Irene with me on this fun experience. Not only did she bring three cameras to cover every single part of this experience for us, she brought her children, Hiroshi and Sophia, along too!
Yes! My selfie buddy, Sophia, made it to the minimum age requirement of 7 years old to fly! Speaking of which, Sophia, we forgot to selfie!
Silly me only brought my mobile phone (it has an excellent camera!) and passed it to Arif, a very kind associate of iFly Singapore who offered to help me take photos, before we started 'training'. I thought we will have zero contact with the outside world from the time we started our training until our flights ended. But that's not the case because…
… Arif managed to capture this shot of me sulking, and Hiroshi obviously amused by it, when I got the blue flight suit!
Gearing up for the flights took place on the second level, in full view of and completely accessible by the public! *face palm* I'm really quite the mountain tortoise/country pumpkin. Sigh.
Exchanged my blue suit for a red one 😛
After we suited up, we got ready to enter the wind tunnel.
Now prior to this, I thought the wind would be generated by some ginormous fan at the bottom. I had a flash of nightmare, thinking that the net below will tear and I will fall and get all chopped up by the fan… I think I've watched one too many 'Final Destination' movies (how about all of it?).
But that's not the case at all.
For one, the net below us won't tear. It's a stainless steel elastic net strong enough to hold two adult elephants (or 200 people of 100kgs each)!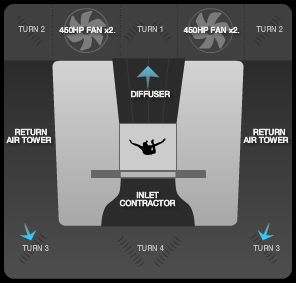 Screengrab from iFly
And, the fans are above us, not below! There was really nothing to worry about. Yay!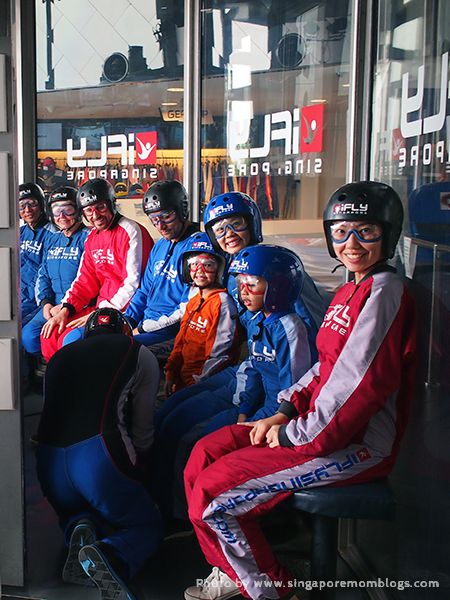 All lined up and ready to go!
I joined the queue to enter the wind tunnel last, thinking I would be the last to go. Turns out, the last to enter was the first to fly. I got a shock, but honestly, I think maybe that's what made it all okay for me.
These are photos from my first flight, and a video from iFly Singapore showing our flights in the order of myself, Hisroshi, Irene, and Sophia!
In case you feel like the flight is really short, because of the video, it's not. I sped up the video speed by 2x. Haha! Each flight is actually 45 seconds long, and we get to go twice!
After everyone had gone once, it was round two!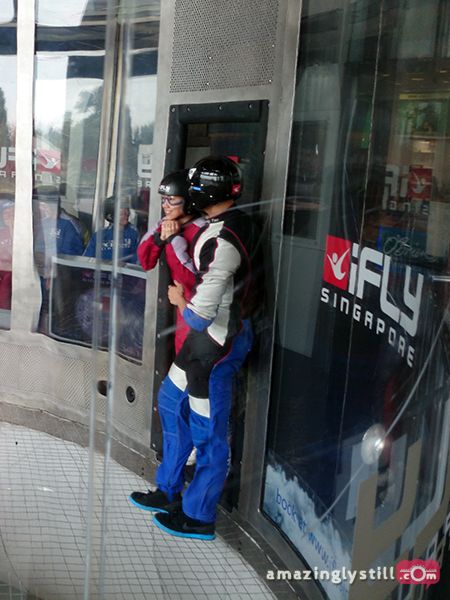 I'm flying!

That's two thumbs up from our flight instructor!

I flew up pretty high!
And here's the video from the second flight, in the order of Hiroshi, Irene, Sophia, and myself!
Remember I mentioned Irene bringing three cameras along, capturing everything? Well, Irene's husband, Kitson, got a better recording of my second flight! But warning! Video volume is pretty loud!
I can't believe how high I managed to go on my own! Hehe! Just typing all these down is enough to get my adrenaline pumping. It's making me want to sign up for their training courses and become a proflyer too! Who wants to sponsor me? I might just end up being so good that I can represent Singapore in the World Indoor Skydiving Championships! Hehe 😛
Yay! We did it!
The certificate given isn't just a normal certificate to prove you've flown. It also tracks your progress! So far, I only have 3 out of 10 ticked off the list. Even if I don't get to tick off the remaining 7 on the list, at least I know I've done this before!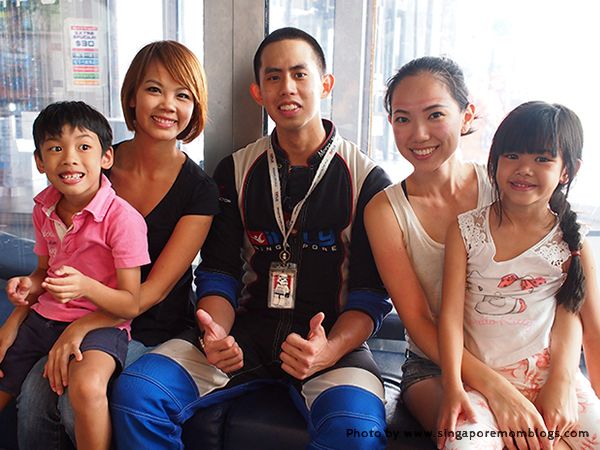 With our flight instructor, Fabian

With Yixuan (middle left) and Kyra (middle right) who were there training for the upcoming championships!
Yes yes, I know. It looks like my goggles were on too tight. But it didn't feel tight on my face at all! Haha. But the face is not the point. It's most important to know that we flew!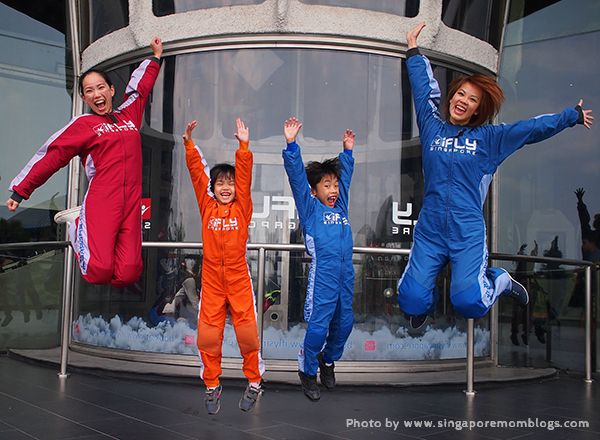 Yay!
UPPDATE 29 March 2014:
GIVEAWAY HAS ENDED

Congratulations to Entry #9 Dominique Goh!
Good news to all my readers! One of you may just walk away with a pair of tickets to iFly Singapore for the flight of your life!
To enter this giveaway contest simply leave a comment on this blog post by answering ALL of the following three (3) questions correctly, and you'll stand a chance to win!
1. What is iFly Singapore's motto?
ANS: Anyone can fly!

2. What is the minimum age to fly in iFly Singapore?
ANS: 7 years old

3. How long is each flight, and how many times will each person get to skydive?
ANS: Each flight is 45 seconds long, and each person get to go two times.
(Answers with '45 seconds' and '2 times' are also accepted)
Besides getting the correct answers, remember to provide your full name and email address to qualify!
It's not necessary, but it'll be nice if you could also 'Like' my Facebook Page and share this post too!
Good luck!
* * *
Went old school and did a little shake to get our winning entry!
Entries were recorded based on the time it was submitted:
1. Arsheitha Ganesan
2. Ai Sakura
3. Janette
4. Jaime Chan
5. Kwek Chor Ee
6. Charlotte Ng
7. Serene Leow
8. Amie Chen
9. Dominique Goh
10. Ashmika Jain
11. Paul tan
12. Michelle Ang
13. Waiwai
14. Della Chu
* * *
iFly Singapore
43 Siloso Beach Walk
#01-01 Singapore 099010
Tel: +65 65710000
Located right next to the Beach Station at Siloso Beachfront in Sentosa
Giveaway Terms and Conditions:
1. Open to all living in Singapore
2. Please look up the flight criteria on iFly Singapore's website, under "Are you up for it?", to ensure that you are eligible for flight.
3. Giveaway ends at 2359 hours (that's 11:59PM) of 28 March 2014 (Singapore time)
4. Incomplete entries will automatically be disqualified without notice
5. One winner will be randomly picked and announced on my Facebook Page by 31 March 2014, Monday
6. This giveaway is in no way sponsored, endorsed or administered by, or associated with, Facebook
7. All answers will be published when the winner have been announced
Disclaimer: This flight experience, and a DVD of it, was provided by iFly Singapore for the purpose of this review.
Big thanks to Estella and Arif for extending this fun experience to me! Arif, you took great photos during my two flights! Thanks! And also to Irene, big big thank you for the photos and videos!