Advertorial
This is probably unknown to some of you, but I am a closet furniture junkie. I lust after certain furniture and will insist on 'upgrading' parts of our house through furniture from time to time (at least once a year!). Until the husband put me on a ban… And it's gonna last for a while, cos the next time I am allowed to furnish the house is when Nakayla's ready to have her own room. That's at least another decade to go!
Truth be told, I was a little upset at first. But hey! Being on the ban doesn't mean I have to stop visiting furniture stores! It just means I get a longer time frame to put together what I'd like to see in our house in future! Hehe.
When the opportunity came to visit WTP The Furniture Company, I jumped at it. And I'm glad I did, because it opened up my eyes to a whole new level of home furnishing!
Here are some of the pieces that really caught my eye!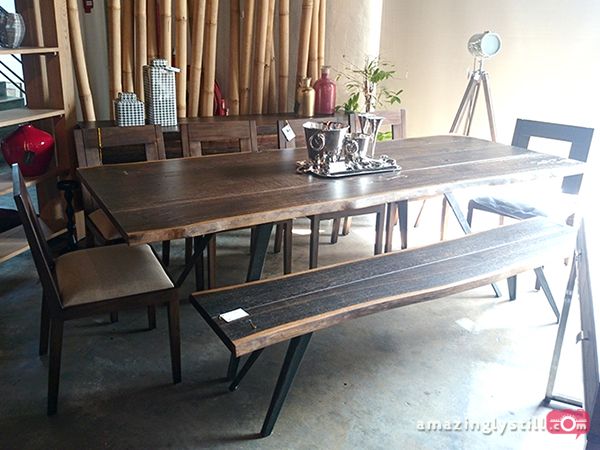 Dining Table with Solid Oak Top and Cast Iron Legs
$2,763.81 (10% discount)
A beautiful dining table. Simple in design, with intricate details from solid oak.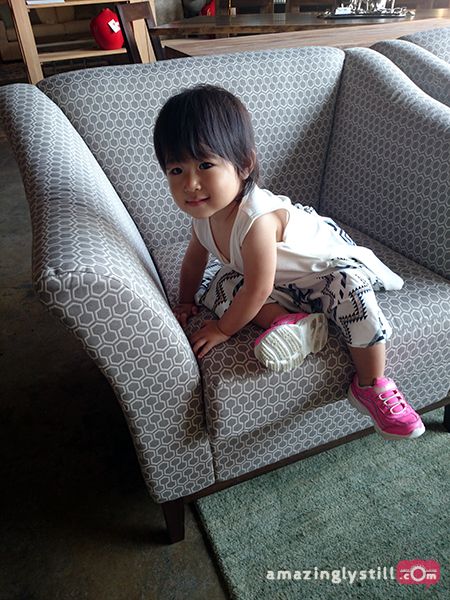 Armchair with Wooden Legs
$1,290.42 (10% discount)
Nakayla loves this armchair and kept going back to sit on it. Comfortable and luxurious for breastfeeding, if you ask me. Hehe.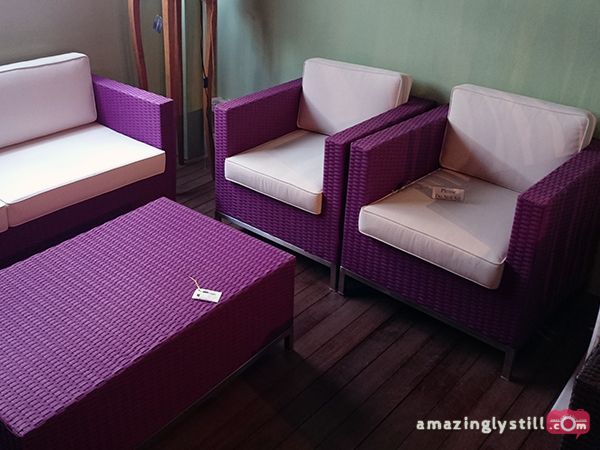 Purple Outdoor Java Set with Aluminium Legs
(2 seater + 2 x 1 seater + Coffee Table)
$6,152.50 (10% discount)
Have you seen outdoor furniture in any other colours besides the usual brown in their various shades? I have never! Definitely an eye-popping attention grabbing outdoor set, if you ask me!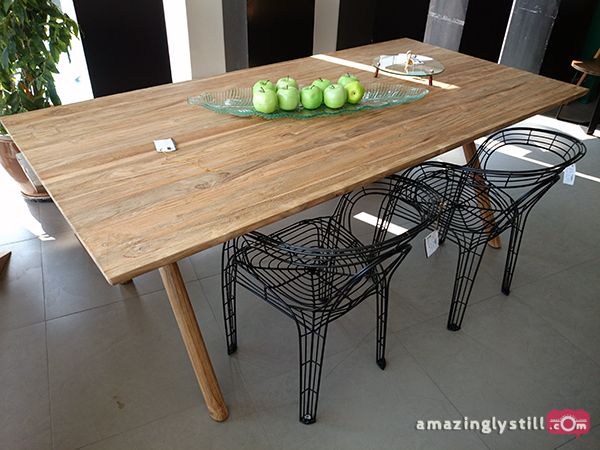 Dining Table in Old Teak and Unfinished Rustic Iron
$3,186.46 (10% discount)

Black Wire Chair
$362 (10% discount)
Another dining table set that caught my eye. The light wood colour matched with the contrasting wire chairs… I can totally imagine this in a house that's painted in white, with hues of lime green and Tiffany blue all around!
The next two pieces of furniture that I am about to show you, is the reason why WTP The Furniture Company stands out.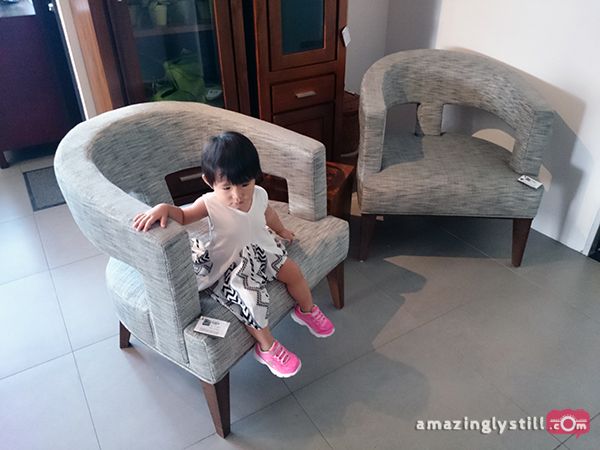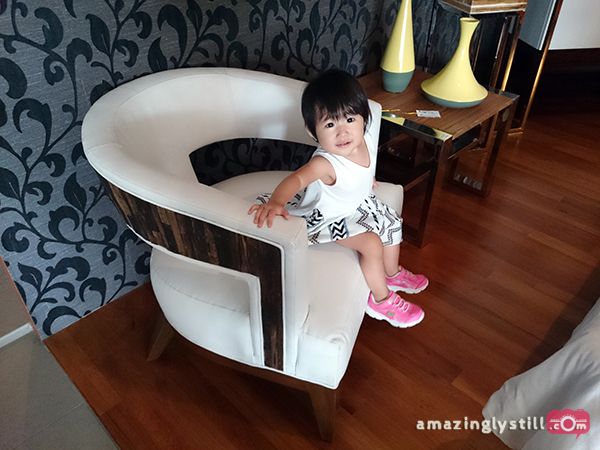 Armchair with Wooden Legs
$1,506.06 (10% discount)
WTP The Furniture Company specialises in bespoke furniture, and they allow customization of everything and anything in their store.
I know some of you are going to say things like, "Don't other furniture stores do that too?" Well, yes and no.
Yes because most places will give you a selection of colours and, maybe, material to choose from. But, it's all limited to just that set to choose from.
At WTP The Furniture Company, however, you really can just take about any material and match it with any furniture in the store!

Just look at their selection!
They have two shelves worth of materials and fabric to select from, all of which can be used on any furniture found in the store. So for theme-matching junkies, this will suit you best. You can have your furniture come in matching colours and materials! Yay!
Before Nakayla and I bade farewell to our lovely hosts at WTP The Furniture Company, we saw this. It left a deep impression on me.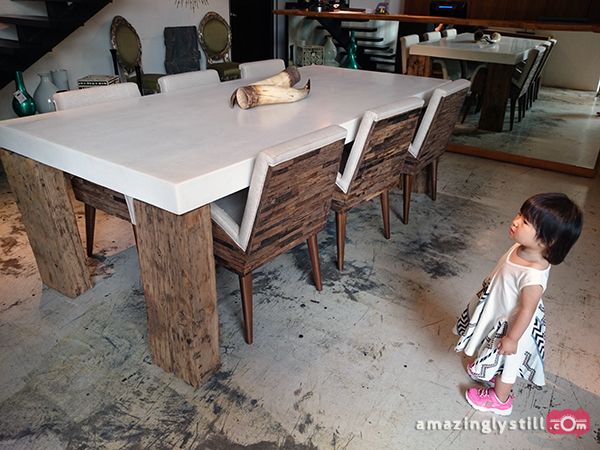 Dining Table with Railroad Legs
$4,025

Dining chairs
$1046.46 each
This huge center piece of the showroom weighs a stunning 150kg, requiring more than 8 men to lift! The thick marble top is smooth to touch and it feels really good. If I'm a serious baker, I think I'll be crying and wishing I had this in my house!
With that, our tour around WTP The Furniture Company came to an end.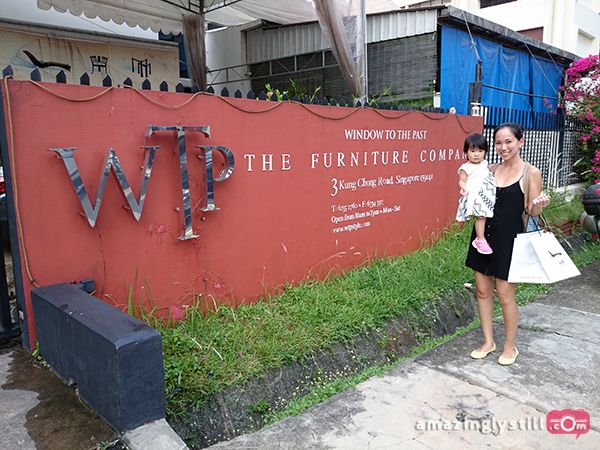 Thanks for having us!
WTP The Furniture Company Sale!

Everything must go… To you!
From now till 11 May 2014, WTP The Furniture Company is having their annual sale, with furniture and various pieces going at up to 80% off their original prices!
All the pieces that you see above are tagged with their original prices, before discount (GST inclusive, discount offers in brackets, prices might change based on materials chosen).
Visit them at their showroom located at 3 Kung Chong Road Singapore 159141. Nearest MRT Station is Redhill MRT. For any other enquiries, you can contact them at 6235 2760.
Disclaimer: This is an advertorial post for WTP The Furniture Company. I received a small fee for this post, but all opinions are still 100% mine and mine only.