Advertorial + Media Invite
About a month back, I attended Yakult Health Foods debut launch in Chinatown, where I found out about amazing vegetable drinks that may very well suit non-vegetable eaters like myself!

With Diana
Image via YHF by AbeilleDor's Facebook Page
Among all the products launching that day, I got to take home a box of Maroyaka Kale. Before I tell you what I personally think of the product, here's a little background!
1. Maroyaka Kale is a rich and tasty Aojiru (i.e. green juice) made of premium kale, which provides kale's nutrients as part of one's vegetable intake.

2. Kale is a cruciferous vegetable which is considered an original species of cabbage and broccoli.

3. Kale is also high in β-carotene and calcium, most recommended to those who often eat out, and/or are concerned about low vegetable consumption.

4. The premium kale is grown in special soil and only ripe compost is used as the fertilizers. No pesticides or chemicals are used for the soil or pest control.

5. The method of cultivation allows the powdered form of kale to maintain its rich, mild taste, colour and flavor of kale. No artificial colouring, flavoring or preservative is added.
The very first thing I tried mixing a sachet of Maroyaka Kale with is plain room temperature water.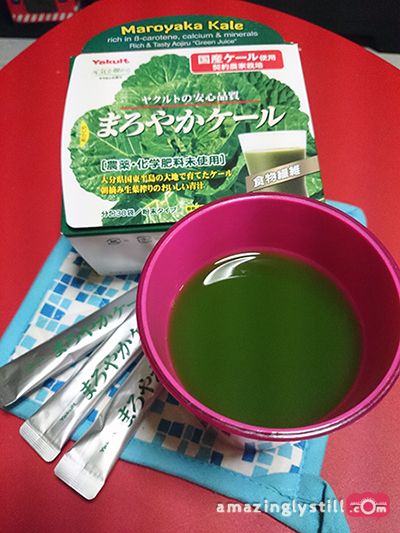 Probably the only food or beverage you can mix with whereby you taste Maroyaka Kale in its purest of pure form. It's an acquired taste for non-vegetable eaters like myself. Depending on how well you take to the taste, it might be easier than chewing on vegetables! Hehe.
Now, the next item I mix Maroyaka Kale with was something I overheard during the product launch. One of the representatives from Yakult Japan was asked what he prefers to have his daily intake of Maroyaka Kale with, and his answer got me super excited!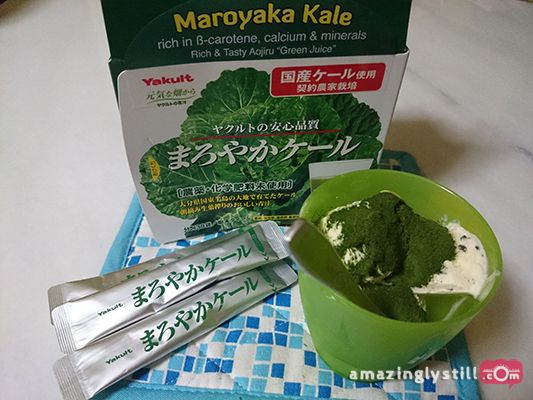 ICE CREAM!
Honestly, after I tried it with ice cream, I decided that this was it. This was the one thing that I can enjoy my 'vegetables' with, thanks to the brilliant minds behind Yakult Health Foods! I took mine with Vanilla Chocolate Chip ice cream, but I suppose just about any other flavor of ice cream should do the job too! Definitely my preferred way of eating vegetables! Hehe.
During this time when I was trying out, I also gave a couple of sachets to my mom to let her try. And these are the photos she sent me.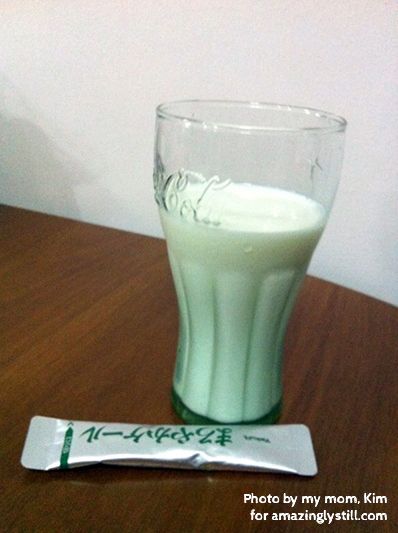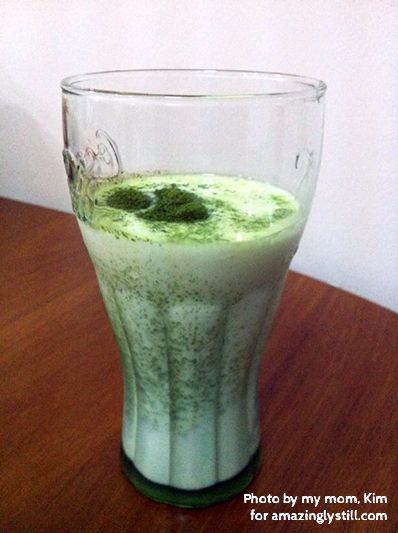 My mom drank it with cold milk and she said she likes it!
My mom is a huge fan of vegetables, and when she told me it tasted like steam broccoli, I knew for sure that Yakult Health Foods' Maroyaka Kale was the real deal! No doubt about it!
And if you haven't noticed the trend in mixing, Maroyaka Kale is best taken with colder food and beverages. You can mix it into warmer food and beverages, but try not to add it in when the food is still hot, ok? I believe it works just like vegetables – overcook it and the properties are gone! Try mixing it with anything and everything edible! When you have, let me know what you like it best with, ok? 😀
If you're keen on getting yourself a box of Maroyaka Kale by Yakult Health Foods to try, you can purchase it at an introductory price of $79.90 per box. Each box comes with 30 sachets, and you only need to take one a day, so that is a whole month's worth of vegetables in a neat little box! Exclusively sold at Guardian Pharmacies.
Disclaimer: I was invited to the product launch of Yakult Health Foods by AT Marketing Consultancy. I received a box of Maroyaka Kale for the purpose of this review. This post is also sponsored by Abeille d'Or (Singapore), and they can be found on Facebook too. Please note that taste buds vary from person to person, so do explore with what you prefer best. All opinions above are 100% mine.