Advertorial
There are many things that brings a smile to my children's faces, and these lovely toy elephants by Pianissimo Baby & Home are one of them.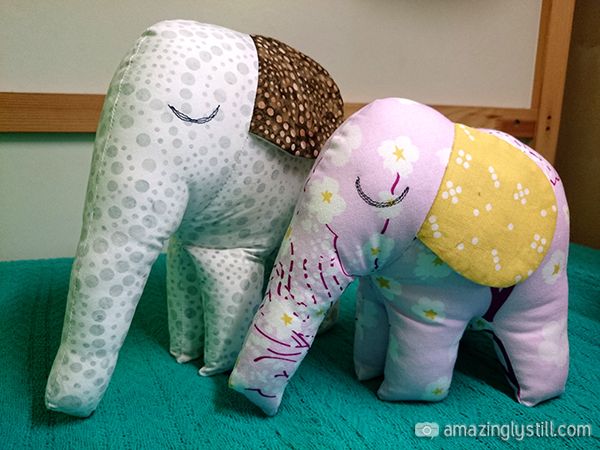 When I first took the toy elephants out of their packaging to show the husband, Blake and Nakayla went nuts! They grabbed one each and ran off.
Naturally, I panicked.
I've just received these gorgeous pieces so the last thing I wanted was to have the children ruin it by staining it or *gasp* tear it apart! (I find everything new to be very delicate!)
I managed to take them away without any protests by telling the children that the elephants were sleeping. Blake even went, "Shh! Elephant is sleeping!" Hehe.
By the way, these toy elephants are really something! For some strange reason, I feel really calm when I look at them. Even more relaxed when I pick them up to play with!
Besides the toy elephants, I also found out that Pianissimo Baby & Home does customized pillow covers.
Both children's pillows are pretty long by normal standard, and contoured, so most (if not all!) of the pillow covers readily found in stores don't fit well. Never mind the designs, I just want a pillow cover that fits!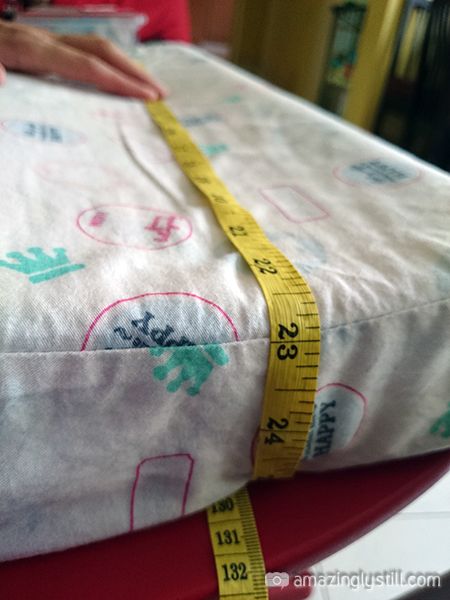 How I conveyed the measurements to Christina (Owner)
I wasn't very sure with my way of measuring so I was more or less prepared to receive pillow covers that might not fit. But guess what?

The fit was perfect!
In fact, it was a much better fit than the pillow cover that came originally with the pillow! How amazing is that?
On top of all that, there is quite a large selection of prints to choose from. And every single one of them is just absolutely delightful to the eyes! I had such a hard time deciding!

For Nakayla, I picked Forest Animals for the pillow cover
and Sakura for the 7″ toy elephant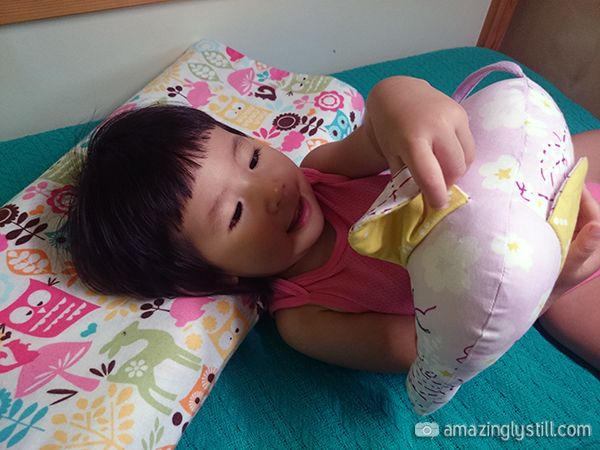 For Blake, I chose Enchanted Forest for the pillow cover
and White Batik for the 9″ toy elephant
The handiwork by Christina is just impeccable. I still cannot believe that every piece of work found on the website and Facebook Page are 100% handmade!
And, great news! Pianissimo Baby & Home is giving away 3 pillows (of different designs and sizes) to 3 lucky readers!
To win yourself a lovely pillow, simply follow the instructions in the widget below!
* * *
About Pianissimo Baby & Home
Pianissimo is a local business started by Christina, a stay-at-home mother of two, that designs, produces and sells fine products for babies, children and homes. Everything found in Pianissimo is handmade with lots of love, crafted by artisan and housewives team, using 100% cotton designer fabrics. Each piece of work receives special attention from loving mothers in their team. These mothers choose to work from home because they want to spend more quality time with their children. So do lend your support to them! 🙂
Website: www.pianissimobabyandhome.com
Email: pianissimobabyandhome@gmail.com
Facebook: www.facebook.com/PianissimoBabyBoutique
Instagram: @pianissimobabynhome
Giveaway Terms and Conditions:
1. Open to all living in Singapore
2. Giveaway ends at midnight of 26 May 2014 (Singapore time)
3. Incomplete entries will automatically be disqualified without notice
4. Three (3) winners will be randomly picked and announced on my Facebook Page by 28 May 2014, Wednesday
5. This giveaway is in no way sponsored, endorsed or administered by, or associated with, Facebook
6. Confirmation emails will be sent to the winners
Disclaimer: This post is sponsored by Pianissimo Baby & Home. We also received the featured items in the blog post for the purpose of this review.