Two years back, I celebrated my birthday for the first time without a cake. And it happened again this year, mostly because I didn't feel like having cake. The husband did say he'll get me one for the family gathering, but I told him not to bother. Something is wrong with me!
Instead of having cake, I pigged out the whole weekend (still am, cos the party just don't stop!) and pampered myself. Hehe.
Here's what I did over my birthday and the days that followed into the weekend.
On the actual day itself, I went to redeem a somewhat pampering facial I won in one of Cherie's giveaways. After which, all returned to pretty day-to-day normal. The only thing that made me really happy was that we managed to snap, not one, but two family photos! Yes, it's a must on my birthday! Hehe.

Two cameras on tripod and timer, firing them off at about 1-2 seconds apart!
The following day saw me heading over to Salon Vim, after Elizabeth gave me an extra boost of confidence to get my hair cut. And the result was astonishing!
I've never received so many positive feedback before, with most of the comments being on my personal Facebook profile. Thank you, everyone! 😀
I went back two days later to tame my hair, and viola!
I'd just like to note that the massage that came with the hair wash was the best I've ever had in all my 27 years of living! Hehe. Oh man, how I wish I was there having my hair washed now…
Snapping back to reality, here's what I did in the two days between getting my hair transformation done.
First up, collecting our Skechers shoes for the upcoming SHAPE run! I'm so excited for it! More on the shoes and run in later posts 🙂
Next, I managed to hang out with my mom, siblings and cousins over desserts at Old Skool Dessert House.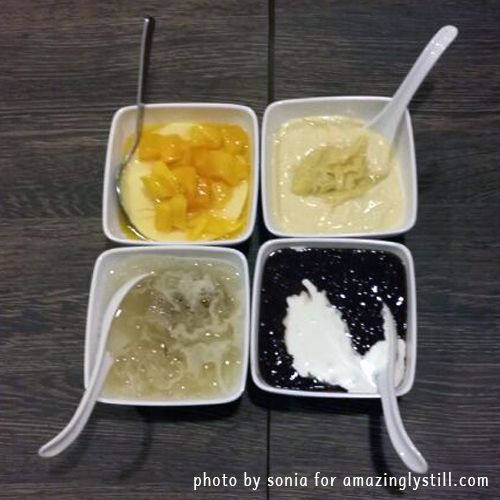 First round with my siblings on our night out together

Second round the following night with my mom, siblings and cousins
The desserts are so good! I'm in love with this place!
As it was located near my childhood home, we took a walk around the neighbourhood to reminiscence the good ol' times together. Hehe. And to show the younger ones the grandparents' place they never got to play in.
I also finally met up with my best friend, Nicole, because I realize that it was the very last day for us to redeem our Magnum ice cream, which came with our door gift when we attended their party earlier in the year!

White chocolate coated magnum topped with red hearts,
gold nuggets and pixie dust, drizzled with dark chocolate.
It tastes just as pretty as it looks. Super yums!

Psst… The final installment of the Magnum Pleasure Store has been extended till 23 August 2014!
So, what's it about cake again? Hehe. My birthday was awesome, with or without cake!
Thank you to everyone who made my uber long birthday weekend such an amazing one! 😀
Disclaimer: I'm not sponsored or paid to put up any of these here. I'm doing it to note down this very special day(s) of mine!