Advertorial
Ever since Nakayla started her swimming lessons, I realize that having only two shower rooms with a baby changing station in a huge swimming complex where swimming classes for babies are conducted at, is just not enough.
Imagine a class of six or more ending, and the daddies and mommies proceed to shower for their babies, there'll be at least four left out in the cold – literally!
What's worse is that there are parents with much older children (think upper primary level) hogging these bigger bathrooms after their swimming lessons too. It's not like they really need the room with the baby changing station, right? There's a children showering room right next door!
Hogging of rooms aside, the thing that really upsets me most is that they sometimes end up wetting every single part of the shower room, including the baby changing station! And mind you, I'm not talking about droplets of water here and there. It's a whole puddle of water covering about one-third or more of the baby changing station. Sigh. How am I supposed to dry Nakayla and get her dressed when the baby changing station is so wet, and I only have one towel for her?
It got me thinking.
I never had this problem with Blake when it was just him taking swimming lessons. Why was it different with Nakayla?
The answer was right in my face every day. I just didn't see it until now. I had been using Drypers Drypantz with Blake!
I don't need a baby changing station to wear a diaper for Blake because he could wear his diaper like he would wear his shorts!
So, off I went to get Nakayla her own pack of Drypers Drypantz.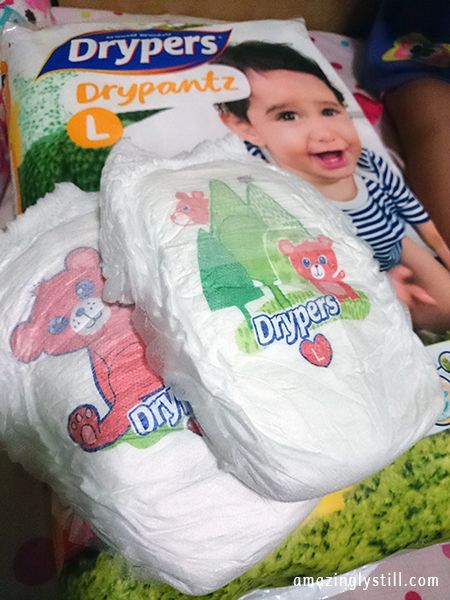 And boy oh boy, showering for her after swimming lessons have been a breeze since then! I no longer have to wait for any specific showering rooms, opening up my options to shower her to just about any other shower rooms within the swimming complex!
I wish the country pumpkin in me noticed this sooner. I never knew that babies as young as 6 months old can upgrade to wearing Drypers Drypantz! My poor baby girl… She had shivered in the cold whilst waiting for her turn to shower one time too many, and for nothing!
But now that she has her own pack of Drypers Drypantz, the cold wait is no more 😀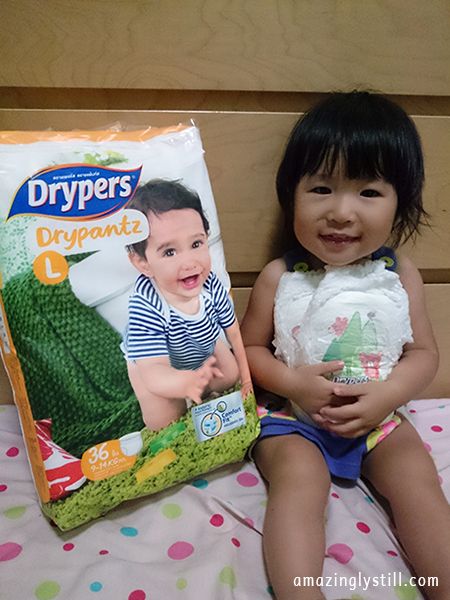 Besides the adorable designs on the diaper, the diaper is also soft and breathable! 😀
The Comfort Fit™ waistband feature of the new and improved Drypers Drypantz ensures that babies remain comfortable throughout the use of the cloth-like diaper with a softer outer cover, making it more breathable for our precious babies' bottoms. The softness of the diaper also helps prevent redness and any other forms of irritation such as pressure marks.
So, parents and child(ren) caregivers, please take note of this. If you were to see any red marks around your child's waist and/or the material of the diaper your child is using is a little too plastic-like, it's almost a sure sign of discomfort. Avoid them at all cost, and you'll have smiley baby! 😀
And speaking of new and improved… Did you know that Drypers has new mascots too?
Introducing…

Airy and Softie!
Image from Drypers Singapore
Airy is a colourful little pinwheel that embodies breathability and better air circulation. Drypers Drypantz's extra breathable waistband helps reduce pressure formed on the skin at baby's tummy and waist area, creating a more comfortable fit for baby.

Softie is a fluffly little cloud that embodies softness and comfort, just like the unique technology which goes into making Drypers Drypantz's waistband extra soft, gentle and comfy on baby's skin.
Now that I no longer have to go to war (i.e. grab Nakayla and run like a maniac to the baby shower room) after Nakayla's swimming lesson, I can catch my breath and stroll through the swimming complex while carrying my usually-cold-after-a-swim baby girl. She also has a less worrying look on her face now, when we hit the showers. We can now keep calm and breathe easy thanks to Drypers Drypantz! Haha!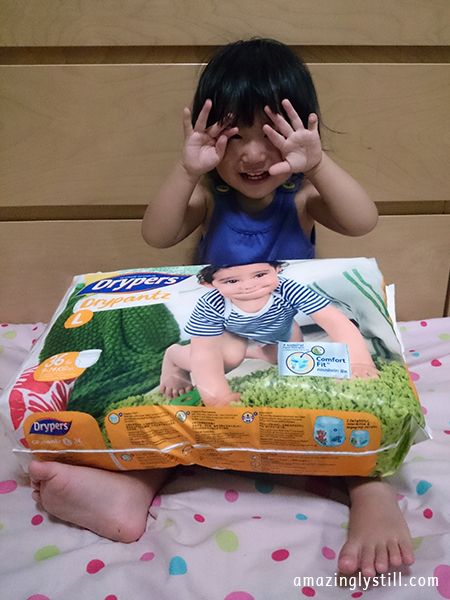 * * *
If you want to experience your own 'keep calm and breathe easy' moment with your child(ren), I've got awesome news for you!
Exclusively for the month of August 2014, for every Drypers Drypantz purchased, you'll receive four (4) pieces of Drypers Drypantz for free! Applicable to banded packs only. Promotion starts in August 2014.
* * *
Other than requesting for samples on their Facebook page, Drypers Singapore is also having a "Breath Easy Breeze" competition, with prizes to be won each week!
All you'll have to do is to control their mascot, Airy (with the use of the mouse), to help their other mascot, Softie, turn 12 plain diapers into Drypers Drypantz diapers in the shortest amount of time. This is a game of fastest fingers first, by the way.
Every week, top scorers will be announced, winning fantastic prizes – including $100 cash vouchers, tickets to Lunchbox Theatrical Production's "Bubble Magic" show, happening in early September 2014 (worth $88 each), and many more!
Good luck!
Disclaimer: A small fee was received for this advertorial piece. However, Nakayla's packs of Drypers Drypantz are purchased by us with our own money.