Media Invite
Back in 1996 or 1997, I went on my first Gondola Skyride and Luge in New Zealand. I remember having so much fun! There were no photos from that time though, because taking photos of everything and anything wasn't so popular then. Haha!
Fast forward to 2009, and in Singapore…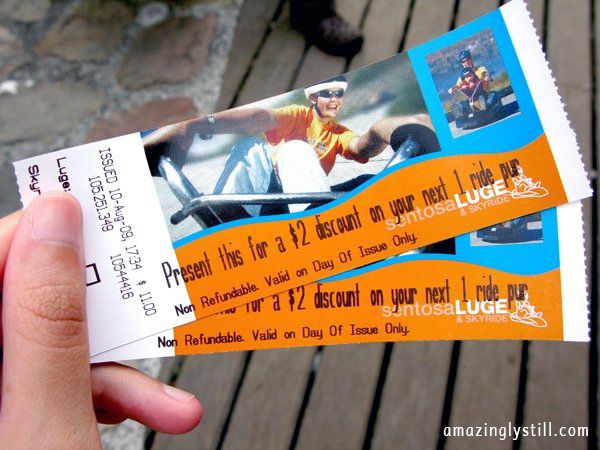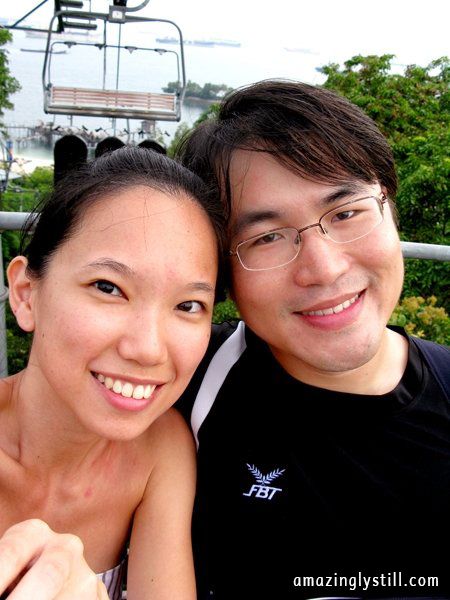 Sean and I took to the skies and rode our way down during one of our outings together, before the children came along.
And who knew, the following year when we returned, we were parents on a special us-time outing! Hehe.
In a strange way, Skyline Luge has been one of the constant in my life (even though far and between), following me from my adolescent days to parenthood.
As though things cannot get any better, Skyline Luge Sentosa invited me and my family for a day of fun with them! Now my children get to enjoy the same fun that their mommy and daddy had! 😀

Peek-a-boo! Where are you, Blake?

The new and improved tickets are more wallet/pocket friendly (i.e. it fits)
Before heading up the skyride, Blake was a little apprehensive. He was telling us that it looks scary and that he didn't want to sit on the chair. Sean and I told him that the only way to race down, like his Angry Bird race cars, was to go up. My little champ plucked up his courage and took it like a man!
Barely two minutes into the ride, Blake commented, "Mommy, Daddy, look! Blake is taller than the trees!" Haha!

Up, up and away we go!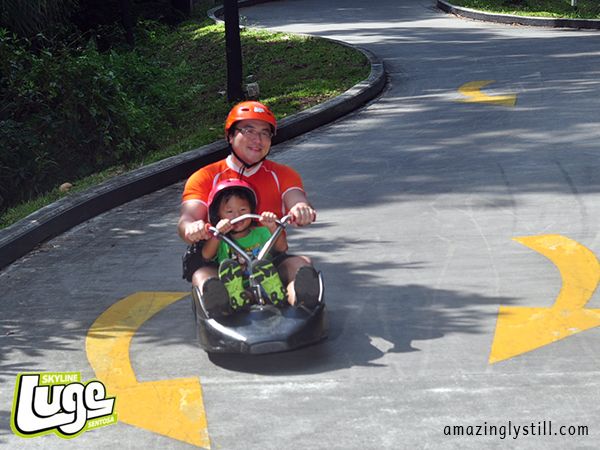 And zooooooooom back down!
After the first ride up and down, Blake was no longer scared and even hurried us so that he could do everything again! Hehe. Yay! The boy has no fear of heights and an adrenaline to match! 😀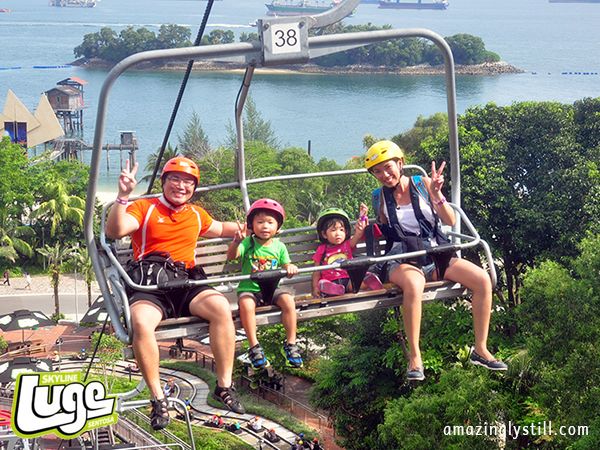 And off we go again!

Va va vrooooom!
Nakayla's pretty quiet the whole way up and down because she was really tired by the time we reached. I tried to get her to sleep when we were traveling to Sentosa, but she refused.
She did manage to enjoy herself somewhat, because I heard her let out a "WEEEEEEE!" at one point when I was zooming down fast to catch up with Sean and Blake. Haha.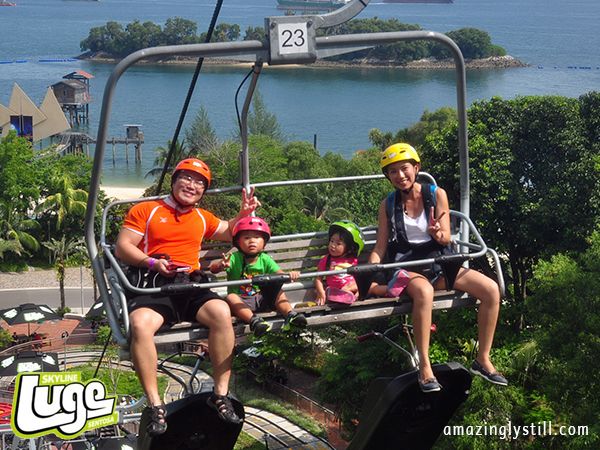 And up we go again!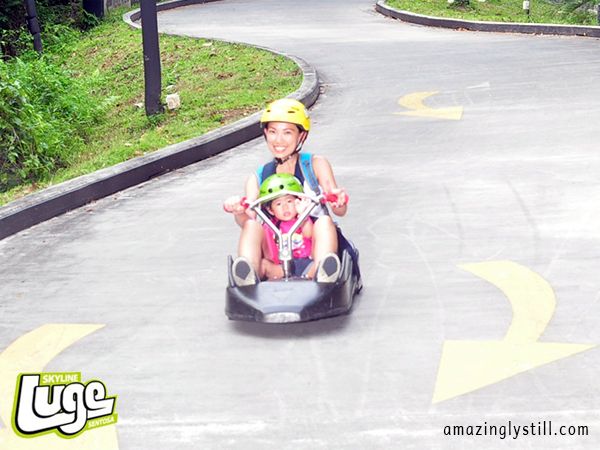 And down!

And up!

And down!
When it was our fifth and final Skyride, we ready Blake (who was a pro at the queues and protocols by now) by telling him we'll be heading home for dinner. He was a little upset, but he did not let that get him down. In fact, he made the most out of it (or rather Sean), by going extra fast down the path! Haha!

And a final time up!

Weeeeeee!
Going up and down a grand total of five times had us clocked in two hours of outdoor activity with the children. And this was us going non-stop, breaking for less than a minute between the skyride and the luge for water break. Time really flies when you're having fun!
Speaking of fun, between the two tracks, 628m Jungle Trail and 688m Dragon Trail, we find the latter to be extremely so! Not only is it a slightly longer ride down, but the track is also filled with more turns! Hehe. Four out of the five rides we took were the Dragon Trail! Hehe.
After our rides, both children received their own mini-Luge from the very amazing people at Skyline Luge Sentosa!

See the two different reactions? One's so subtle, the other's so drama 😛
It's been a little more than three weeks since we went, but Blake still remembers it fondly. I think this could be one of our annual family affair! Hehe. And in a bid to do so, I decided to put together a photo/video montage. Imagine doing one every year and seeing how much the children have grown! 😀

Watch till the end!
If any of you are keen on bringing your children down for an awesome time, here's a chance at winning tickets for the family!
The good souls at Skyline Luge Sentosa is giving away Family Deal Passes to Amazingly Still readers! And it's not just one set of Family Deal Passes, IT'S THREE! Yes, you read right! We have THREE SETS of Family Deal Passes to giveaway!
To win yourself a set of Family Deal Passes to Skyline Luge Sentosa, simply follow the instructions below. Remember to click on the green button after you have completed the task to score yourself a chance at winning the Family Deal Passes! Good luck!
Giveaway Terms and Conditions:
1. Open to all living in Singapore
2. Giveaway ends at midnight 23 July 2014, Wednesday
3. Incomplete entries will automatically be disqualified without notice
4. Three (3) winners will be randomly picked and announced on my Facebook Page on 24 July 2014
5. This giveaway is in no way sponsored, endorsed or administered by, or associated with, Facebook
6. Confirmation emails will be sent to the winners
7. Family Deal Passes have a validity period of three (3) months
8. Family Deals are applicable for families with children below 16 years old
9. Children under 6 years or shorter than the required 110cm to ride alone, may ride the Luge in tandem with a full paying adult
10. For more information, please visit www.skylineluge.com or www.sentosa.com.sg
Disclaimer/Notes:
– Nakayla barely made the minimum of minimum height of 80cm to take the Skyride
– Both Blake and Nakayla rode in the Luge in tandem with us
– Based on records, Skyline Luge Sentosa has been accident free since its grand opening in 2005
– Once is seriously NOT enough
– My family and I were invited to Skyline Luge Sentosa for the purpose of this review
– Photos (with logo) are courtesy of Skyline Luge Sentosa