Sponsored
It's been a little over a month since sharing with you the beginnings of my fitness journey with Pilates Fitness.
And if you followed me on Instagram, you'd have seen that I've been very pleased with the results thus far!
Not the most flattering photos of myself due to the angle of it taken, but it shows one thing – I can touch the floor without bending my knees now! You probably won't believe it if I didn't say it, but even at my fittest growing up, I've never been able to touch my toes, much less the floor!
Over the past month since my last posting, I've been attending a variety of classes, and even had small chats with my fellow classmates to learn more from them. I've also started seeing men attending classes!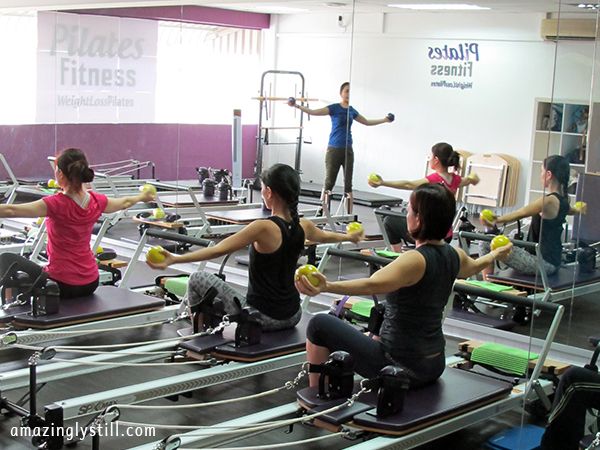 Weight Loss (Reformer) class
I make sure I attend at least once a week of Weight Loss (Reformer) class, shuttling between the two studios. Going for a day surgery over a weekend didn't stop me from attending the following Tuesday too! And I'm pleased to announce that I can do the 100 pulses now, with extra footwork too 😀 The wonders of what once-a-week can do to improve the core of a body!
Initially, I thought all the Weight Loss (Reformer) classes were going to be the same, but it's not! The instructors mix it up a little every lesson, bringing new moves for us to work on. Nothing's permanent (except the 100 pulse), and we'll never know what's coming up next! I love it!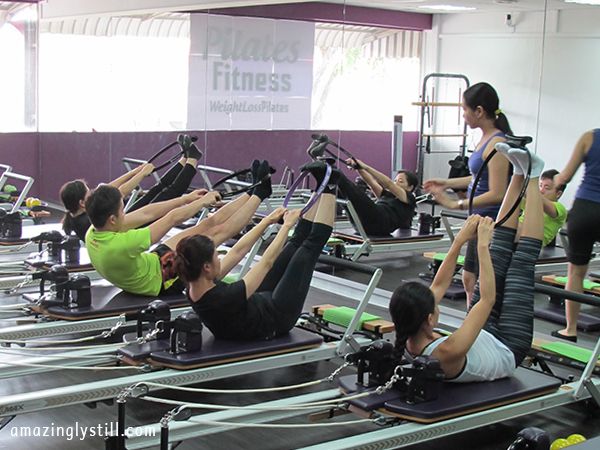 Core and Body Aches class (Reformer)
I attend the Core and Body Aches (Reformer) class whenever I can find the time to. The workout is just a little easier than the Weight Loss (Reformer). On top of a few core related exercises to be done, we bend and stretch our body to relieve it of stress and aches. I feel so good after each class that I do classes three days in a row non-stop, without feeling any aches and pains! I don't know how or why, but amazing isn't it?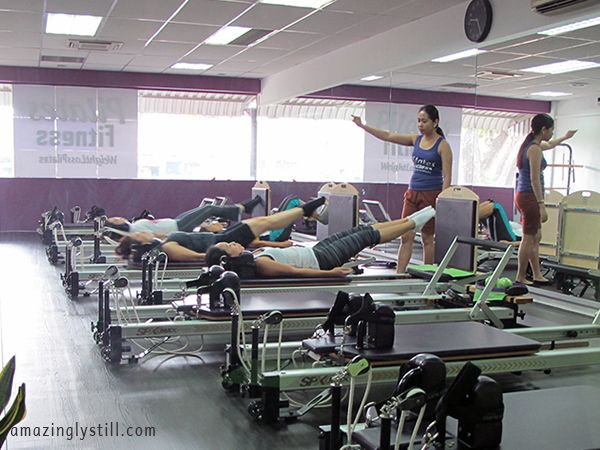 Cardio Jumpboard
By far the toughest class I've ever attended, but also one of the most fun class too! I felt like a ballerina, one that's dancing and prancing around while lying on my back. Someone mentioned that it felt like jumping on a trampoline too! Haha!
Besides giving my body a really good work out (I was all jelly legs by the end of it), it also thought me how to control my strength and body better. In a strange way, the class revealed just how rough a girl I am. I was banging the reformer with my aggressive push-off and ill-controlled 'landing'. I must be more gentle. I'll try. Hehe.
Now, to find more time to try out classes I've yet to try, like the Abs Burn, Aroma Pilates, Flexi-stretch and Weight Loss Plus. Here's hoping that the upcoming schedules will shift such that I can attend these classes! I'm itching to try these!
* * *

If you're interested in signing up with Pilates Fitness,
but not sure if it's your cup of tea, there's a 6 Days Reformer Trial available!

For more information, visit their website, or email them at enquiry@PilatesFitness.com.sg

You can also call and visit them at the following number, addresses and hours: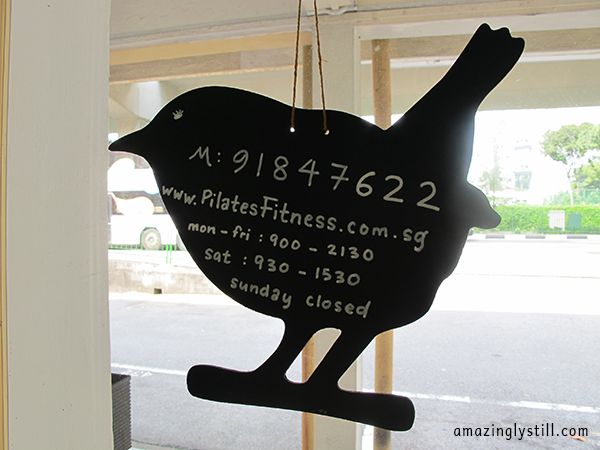 Located at:
434 Telok Blangah Road Singapore 098854, and
85A Serangoon Garden Way Singapore 555981
Disclaimer: This is part of a series of posts with classes sponsored by Pilates Fitness for the purpose of review and documenting my fitness journey with them. I'd like to thank the staff at Pilates Fitness for helping me capture these moments on camera 🙂