Media Invite
Last Saturday, I attended Baby's Day Out and I had one of the most amazing evenings ever!
I had so much fun playing all the different carnival games, and even went on the bouncing castles! Yup! I went on a bouncing castle and bounced away! Hehe!
Initially, I thought the event will be focused mostly on the younger toddlers, but I was wrong. The many different booths available had activities for the very young to young at heart!
For the very young, a huge tent was set up for sensory activities and right next to it was the baby race! It was so cute to watch!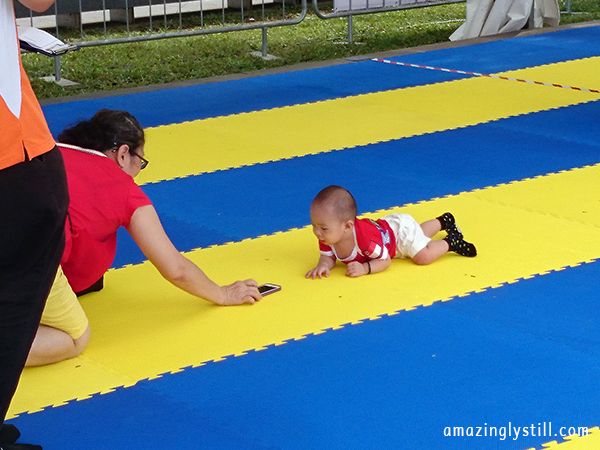 For the young at heart, there were plenty of carnival games available ranging from archery to ball maze to ring toss, with additional booths for face painting and even a photobooth!
There was even the very awesome bubbles corner that really got the children going nuts! And half-way through, dog and duck shaped air-walker balloons were given out. There were so many, and I heard there was more than enough for every child present! Very nice touch!

With the BFF before the crowd came
Located at Promontory@Marina Bays, we had the best spot (other than those on the floating platform) watching the National Day Parade! Look at what we saw that evening!

7 of the 9 Red Lions (Singapore Armed Forces Parachute Team)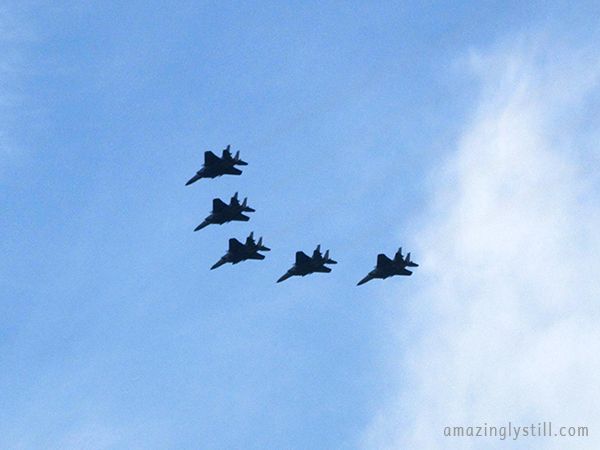 As night falls, we waited patiently for the fireworks display. I was super anxious!

FIREWORKS!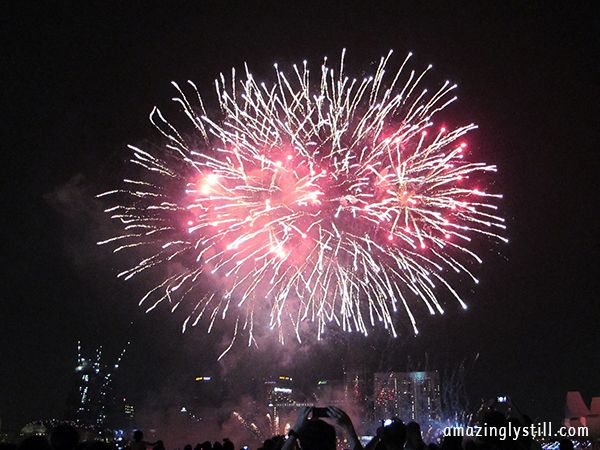 Seeing the fireworks up close after years of just seeing little specks from far, far away, I was in complete awe! It was so beautiful!
National Day is tomorrow, so there's still one more chance of witnessing such a spectacular view up close, if you didn't score tickets to the National Day Parade. Quick! Get your cameras and family to areas near the floating platform (I highly recommend Promontory@Marina Bays) to catch the fireworks! It most definitely won't be a wasted trip!
After the event, I thought back about how anyone could be misled by the name of the event. Some might steer clear of it, thinking it's only meant for babies. But if you think about it, aren't our children our forever babies? Hehe.
Just in case you're wondering, 'then why call it Baby's Day Out?', it's because it's meant to be the first National Day celebration for the babies. The very first should usually be the most spectacular one, right? Hehe. And with babies, comes parents, grandparents and for some, siblings. Celebrating together as a family, watching the fireworks together… Amazing!
Alright, I'm going to end this post with a video I took of the fireworks!
Happy 49th Birthday, Singapore!
Disclaimer: I was invited by CROWD on behalf of Baby's Day Out for this wonderful experience. No further compensation were received. All opinions my own. No photos of me playing at the booths because I was so excited I forgot all about it. Haha!