Media Invite
Yesterday, the children and I had an amazingly bubbly good time at Bubble Magic – Pep Bou's Wonderful World of Bubbles!
And you probably wouldn't believe it, but this is the very first time both Blake and Nakayla have been to a performance as such!
I haven't dared to bring the children to any shows prior to this, because I wasn't sure how they'd do in such a setting – sitting down for at least an hour, mostly in the dark and loud sounds.
However, when the opportunity presented itself, there was absolutely no way I would pass it up!

Big thanks to the team behind Bubble Magic for the tickets!

Nakayla's all excited for the show, while Blake was zipping around the waiting area
When we first entered Jubilee Hall, I was in shock. I've seen the hall at it's barest, and never in the world could I have imagined it to transform into such a beautiful set!
And here's one other interesting fact – this is the same hall they're using for Potted Potter as well! How amazing is that?!

Show's about to start
When the lights dimmed, Blake muttered, "It's so dark." And for a moment there, I thought he would get cranky and want to leave! But nope! We stayed all the way 😀
I hardly took any photos during the show because I was having too much fun!
And also because I was holding Nakayla with one arm (she was sitting on my lap) and covering Blake's ear with the other. He was afraid at certain parts of the show because of the loud music that blasted through the speakers (we were seated pretty near it), and the darkness that sometimes followed.
But never once did either of them struggle out of my arms to say they want to go home.
They laughed, they clapped, they screamed, they "wow"-ed.
They danced in their seats, played along (there's some verbal interaction with the audience), and at the end, jumped out of their seats to catch the bubbles that were blown towards the audience – confetti style.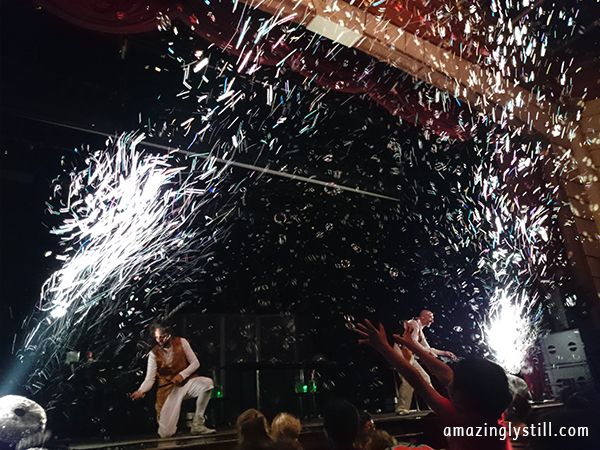 Look how beautiful the hall is with all the bubbles!

After I snapped this photo, Blake was off his seat and catching bubbles!
I love how this show was almost absolutely wordless, and the actions were all hilarious and exaggerated. The children got the jokes right away! The incredible chemistry between the two performers also made the show even more entertaining to watch!
From poking fun of each other to literally poking and hitting each other, fish jumping from one bubble to the next, and bubbles on wires defying gravity – it's simply breath-taking! My mind is completely blown by how much can be done with just bubbles!
And, of all the wonderful segments in the performance, my favourite has got to be when they put on special outfits that allow them to play with bubbles like normal balls. Imagine being able to hold the bubble without bursting it, roll it up and down your arms… Amazing!
And yes, I definitely felt like a kid again! 😀
* * *
Bubble Magic – Pep Bou's Wonderful World of Bubbles is now showing at Jubilee Hall, Raffles Hotel, until 14 September 2014. Ticket prices start from $70, and is available through SISTIC (www.sistic.com.sg or SISTIC authorized agents island-wide), and their hotline 6348 5555.
Read more about Bubble Magic – Pep Bou's Wonderful World of Bubbles here and here.
Disclaimer: We were given complimentary tickets to the show for the purpose of this review.