A MONTHLY SERIES DEDICATED TO FOCUS ON THE PARENT(S)
One of our new favourite things to do together as siblings came along when the brother came back to Singapore during his school break.
I am not too sure how it all happened, but the elder sis suggested it, and we went for it!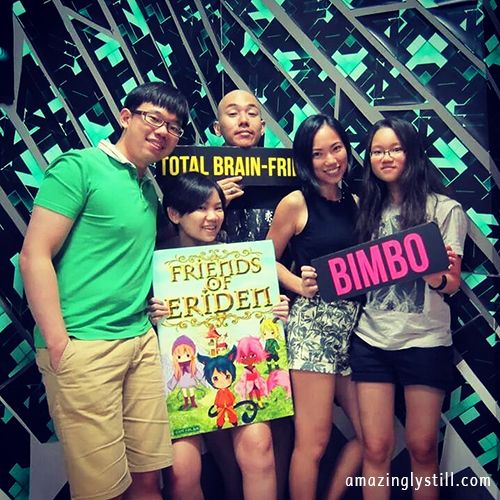 The first round saw us (my siblings and brother-in-law) heading to Exit Plan, playing the 'Friends of Eriden' room. I had picked the room, because it was so bright and cheerful looking! But, you know what some might say… Looks can be deceiving. This is actually their hardest room!
I won't divulge anything further, with regards to the room and things that happened in there. You'll have to go play it to find out how difficult it really is! All I can say is, the puzzles/clues were brilliant!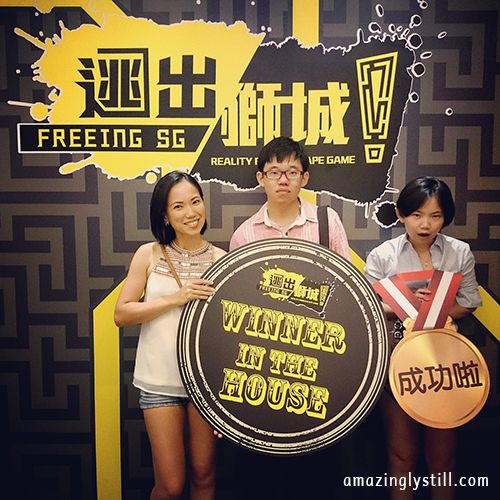 Round two was just me, my elder sis and brother. We went to Freeing SG this time round!
We played the 'Secrets of the Past: From Russia with Love' room as it was more suitable for a team of three persons. We had originally wanted to play another room, but were told that three persons was too little for it (we later found out why, but I'm not saying!). This room was suggested to us when I called to make changes to our earlier booking.
While the idea of escaping the room is the same, everything else is not. Some clues may not have been as well thought out, so do wreck your brains a little! Still fun, nonetheless!
Round three would've been at a new venue, but things took an unexpected turn when we were asked to sign a contract (after payment was made!) and all the terms were non-negotiable!
The most outrageous point, which I remember very clearly till this day, was the one which "indemnifies" the company of ALL responsibilities. In addition to that, you're not allowed to sue them. But… They can sue you, even if it's you getting hurt as a result of their negligence!
So, if you do visit any escape room gaming place, please check if there's a contract you need to sign, and read every single word (and understand it!) before signing! You'll never know what's ever going to happen!
That day didn't turn out too bad though. It really was a blessing in disguise. I say that because we ended up having a meal at TCC and I discovered a maybe-not-so-new delicious drink – Crème Brûlée Freeze!
And, we re-scheduled for another round at Freeing SG, and this time round, we were back in full force of five! This allowed us to play the very first room we wanted the first time we went to Freeing SG – Video Games World!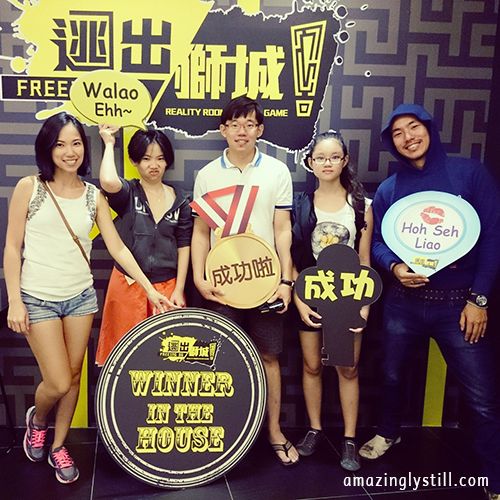 This was definitely one of the more entertaining rooms to play! The puzzles/clues are pretty different from the other two rooms we played previously, and a lot more action is required. It's really fascinating! I love it!
This particular room also brought on the laughs because of some of the things we did. Haha! T'was a day of stress-free for sure!
Playing these reality escape room games are pretty addictive. After the first round, I was just going, "more, more, MORE!"
Besides building better teamwork and communication with the people you play with, it also reveals individual strengths. I love how we are all wired so differently (all kinds of ideas being thrown around when deciphering the clues), but when our skills combine, we make an awesome team!
Now that the brother has returned to finish up his final year of studies, I am going to assume we'll stop playing for a while. I can't wait for him to be back again! There are still so many rooms to play, with many more popping up. And seriously, he's pretty much required (as with the rest of us). He's the only mathematical guy in the team. Haha!
* * *

There is only one rule for Timeout Thursday, and that is,
STRCITLY NO KIDS ALLOWED!
This linky is all about indulging us, the parents!

Grab the code below, link up back here with your post URL, and it's all good to go!
Linky party will be open for 3 weeks from the first Thursday of every month.
For more details, please read my first Timeout Thursday post