After watching Bubble Magic, the children and I walked over to Bugis to have a cup of ice cream. And while we were enjoying our ice cream, Blake kept telling me about this structure that caught his attention. He kept laughing while eating his ice cream and expressed his interest in seeing it.
As it turns out, it was an attraction under Mega Zip – Mega Bounce!
I personally love to play these things, and I've always hoped that my children will dare to go on amusement rides and such with me, when they're older or have reached the minimum height.
So when Blake told me he really wanted to have a go on it, I thought – why not?
I was so confident that my children will have fun and won't be afraid at all. I was even jumping with joy when Nakayla hit the minimum weight of 10kg on the dot to play!
And while the children did have fun and weren't afraid at all, I can't say the same for myself.
I had no idea I would freak out, heart in my mouth, when it came to Blake and Nakayla's turn to play. I was suddenly petrified of potential mishaps and, for a brief moment, wished I hadn't allowed them to play in the first place! How unlike me, because I don't even get THIS scared when I'm going on such rides.
Sigh. The life of a parent – constantly worrying for our children.
I'm happy to report that the children did great! Just check it out for yourself!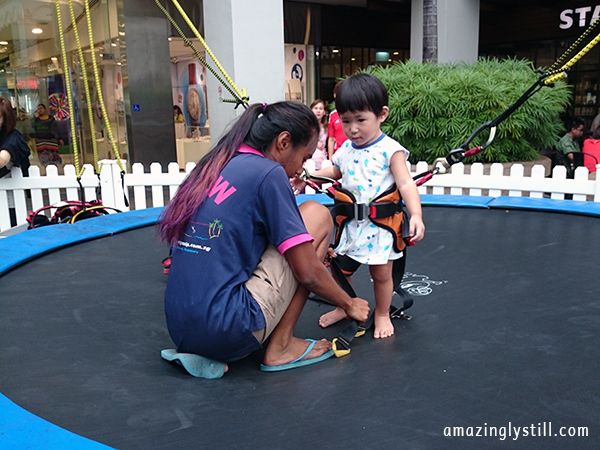 Look at the lady capturing a shot (or video?) of Nakayla bouncing. Haha!
She ran off when I looked up and locked eyes with her.
No, I didn't bother to give chase, cos it's just Nakayla's back that was taken.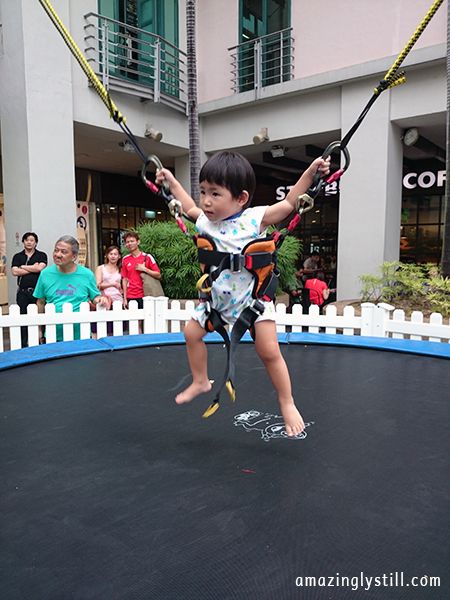 Nakayla surprised quite a number of people present, mainly because of the girl who went before her.
The little girl got sudden cold feet (she had been so excited while in queue!), and ended up standing on the trampoline, crying. She didn't want to leave, but didn't want to bounce either. It was quite a heartbreaking sight, and it reminded me of the time Blake wanted to play with water, but didn't dare because he was afraid.
I'm just glad that my baby girl was brave and enjoyed herself very much! Oh, and not forgetting that she actually held on, as per instructed! I thought she might let go! Hehe.
When she had enough before the ride time was over, Nakayla made it known. It came as quite a shock to me as she is seldom so vocal in public. Another yay!
Then, it was Blake's turn.
He had been waiting eagerly and was evidently upset when Nakayla got to go first (we had to test water first). It took a little bit of explaining before Blake decided to enjoy himself by bouncing on the ground. And between settling Nakayla into the harness and that, I had to pull him off two of the four big trampoline he attempted to climb and stop him when he asked one of the boys to come down so that he could play! I don't know whether to laugh or get angry. Okay, it's quite hilarious. Haha!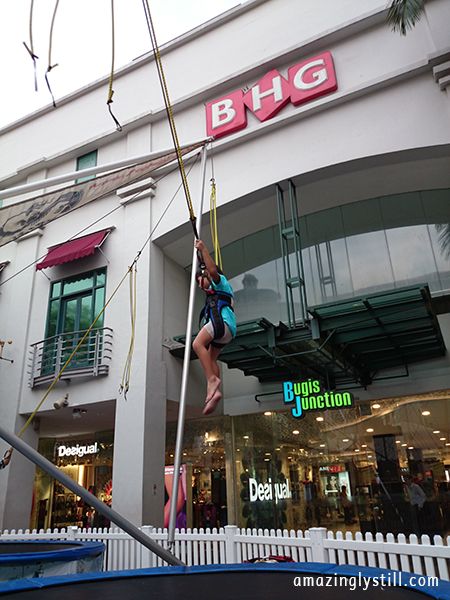 I told them to take him as high as he could take it 😛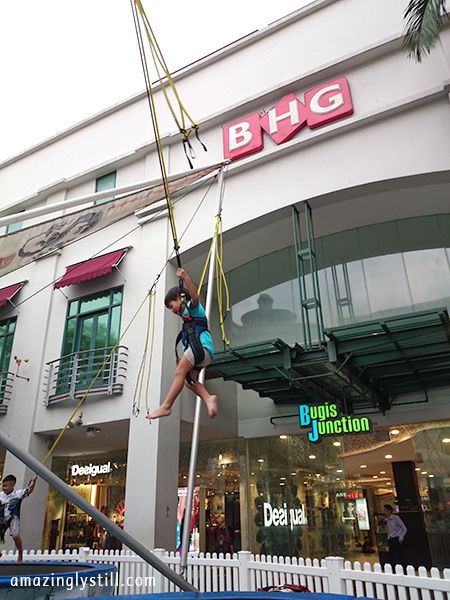 And again when I didn't manage to get any good shots. Haha!
Blake went much higher, and it's pretty amusing hearing him scream but with a smile on his face. Haha!
When it was over, disappointment flashed across his face. Blake had wanted it to go on longer, and refused to leave. He even found a loose ticket on the floor and handed it over to one of the staff hoping to go again!
This time round, no amount of explaining or coaxing worked. I was just about to lose my temper when I held back and dished out a stern warning instead. Eventually, Blake came out and apologized to me. We kiss and made up before we bade the attraction farewell.
For more information on the operations and locations of Mega Bounce, please visit their website here.
Note: This is NOT a sponsored post. We chanced upon this and I purchased tickets for both children.