Sponsored
On the first day of Sean's annual week off, I took him out for breakfast at Whole&Hearty to kick-start our week of couple-time. Got to feed my man right to ensure a good week ahead, right? 😛
If you're wondering what Whole&Hearty is, it's an open-concept takeaway breakfast and fresh yoghurt bar, providing a wholesome range of breakfast options for a sumptuous yet healthy start to the day!
Those who are focused on clean eating, I think you'll be very pleased with this breakfast bar.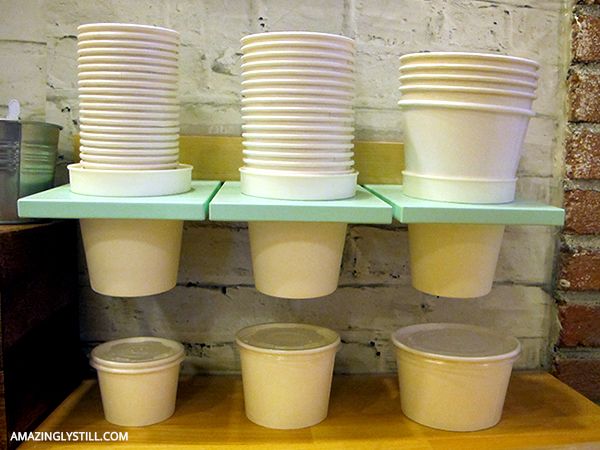 Stuff all you want into the cup and pay!
Small ($4.50), Medium ($6.80) and Large ($8.50)
The concept behind Whole&Hearty is really simple. You simply pick a cup size of choice, choose the food you wish to have for breakfast (all you can stuff into the cup!), and pay!
Oh, and if you'd like to keep the dry separated from the wet, there are wet/dry separators available for use.
While the main concept is for people to takeaway, the store does provide a table and some seats for those who wish to dine-in. And dine-in we did!

These sweet toppings are the best! 😛

A wide variety of nuts and super foods,
with their names and properties written out on little placards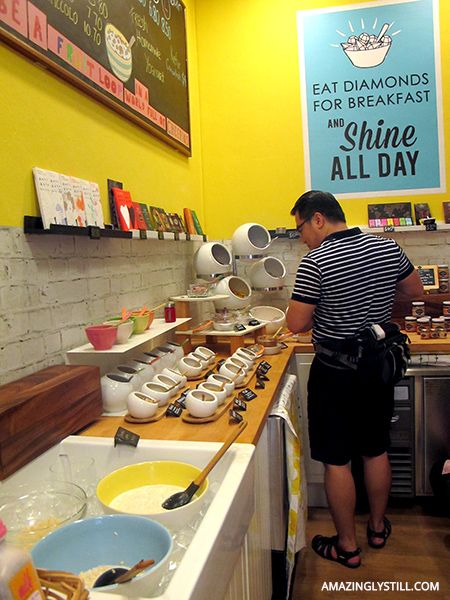 Also available are oats soaked in milk (almond and organic),
alongside freshly cut fruits of the day!
For my first cup, I had fresh-made yoghurt and Koko crunch topped with organic honey and rainbow sprinkles.
The tanginess from the yoghurt (might be a little too sour for those sensitive to sour) mixed with the sweetness of the toppings is a great combination for a perk-me-up! The Koko crunch cereal, as its name suggests, adds crunch to this breakfast meal. It's pretty much perfect for someone who loves all things crispy and crunchy, like me! Hehe.
That is, until I went for a second round and took the organic oats in milk.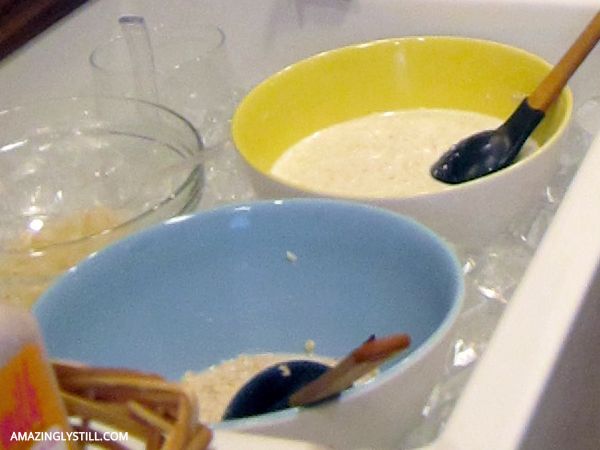 Truth be told, while I've been having yoghurt as part of my diet on and off since I was young, I was never a fan of oats. I was kind of bracing myself for something funny when I went for the oats for the second round.
But alas… I was on cloud nine on first bite!
This pretty much explains why there's a lack of photo, by the way. I was busying devouring my cup of oats filled with organic honey (can't get enough of this!), nata de coco and aloe vera. Hehe. Oh, Oats! How I love you so! Where have you been in my life?
Come to think about it, I'm wondering why I didn't go for a third round… I'm sitting here, imagining how great a combination the organic oats in milk with Koko crunch and Almond Butter (Sean says it's good!) would be!
If only there's a Whole&Hearty just right around the corner of my place… It'll be a great change of diet, for one meal at least, for junk-food-loving me!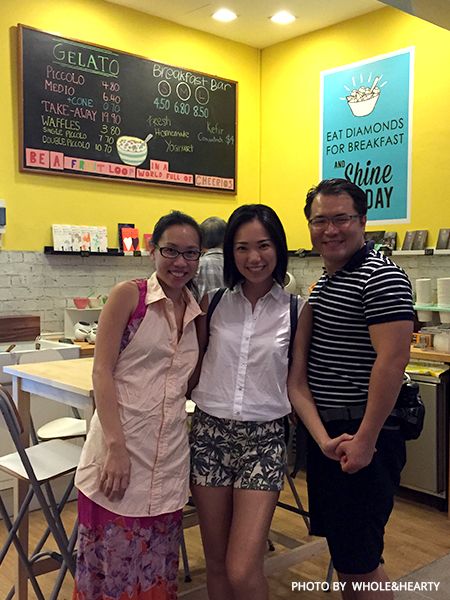 Together with Christine (owner and fellow KCian!) at her cheerful store
Thanks for having us, Christine!

* * *
Oh yes. Christine also gave us a bottle each of our favourite Probiotics Water Kefir, and a packet of cereal marshmallows, which had Blake eating about one-third a packet before I took a photo of it.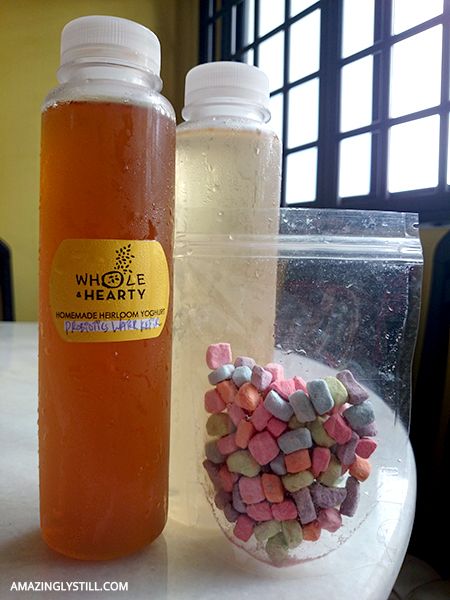 These two bottles of Probiotics Water Kefir are made in the same way, with the only difference being the sugar used. The darker version taste a little like apple cider, which Sean loves. I prefer the lighter version, which tastes like sweetened water. Yums! Both drinks and cereal marshmallows are available for purchase in store.
* * *

Whole&Hearty

Located at ICON Village
12 Gopeng Street, #01-84, Singapore 078877

Operating hours:
Monday – Friday, 8am – 9pm

Breakfast bar is available between 8am – 1pm
Low-fat Gelato is available from 12 noon

Also available in-store:
A micro-retail section featuring a range of curated products
(Single-origin Chocolates, The Edible Company Granola and Hunter's Kitchenette Nut Butter)
Note: Sean and I were invited to Whole&Hearty for the purpose of this review.