Media Invite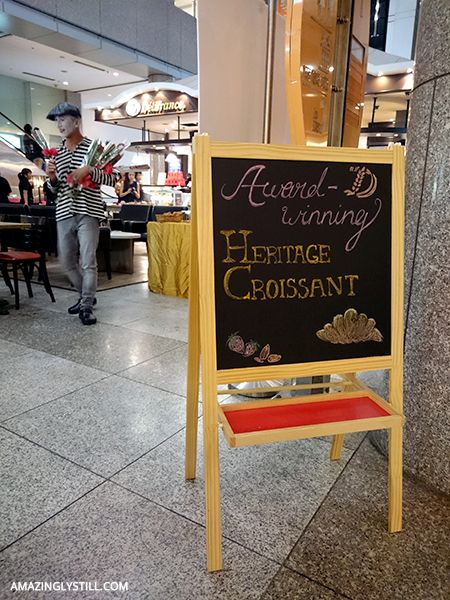 We were treated to a delicious French royal high tea with Delifrance's Award-winning Heritage Croissant!
The Heritage Croissant isn't like any other croissant out there in the market. It was crowned the winner of the Superior Taste Award 2013, garnering three Golden stars, making it the only food product in Singapore to ever receive the highest honor!
Now, among all the different bread types available, croissant is one of my favourites. And truth be told, not many bakeries can get it right. It is almost always about, but not quite there for me. The only place that hasn't disappoint me thus far is Delifrance. I was honestly wondering how much better their croissant can get, when it's already number one in my eyes!
But lo and behold…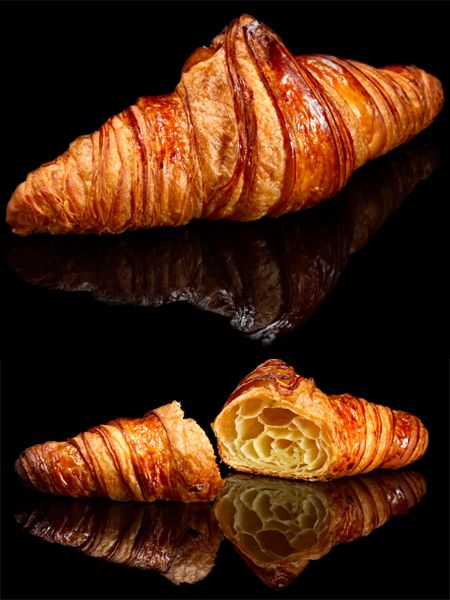 The Award-winning Heritage Croissant
Image provided by Delifrance Singapore
At first glance, you might be thinking, "What's so special? It looks just like every other croissant in the market!"
Well, the difference, and a major one at that, is when you bite into it.
Crispy and flaky on the outside, soft and fluffy on the inside. The contrast in bite texture is huge but oh so complimentary to one another. It's literally the best of both worlds in one single bite!
And the heavenly, freshly baked scent that tingles your sense of smell before you even see the Heritage Croissant… it's mouth-watering!
If you're looking to get something more out of the Plain Heritage Croissant, fret not! Delifrance launched four special flavours (two of which is limited edition!) just for you!

Sweet and savoury flavours for your pick!

Almond Poulet ($7.50)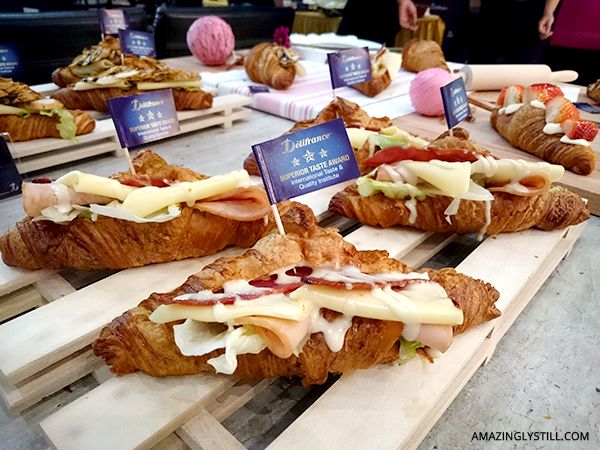 Turkey Bacon & Chicken Ham ($7.50)

Hazelnut Chocolate with Almond Flakes ($3.90)

Cream Cheese with Strawberry Toppings ($3.90)
My personal favourites are Turkey Bacon & Chicken Ham and Cream Cheese with Strawberry Toppings! Hehe.
Throughout the time we were there, Blake had been very intrigued by the short video of the croissant making process. He kept asking whoever would listen to him to turn the volume up. Haha! Then this caught his attention…
He kept telling me that he wanted to cut the croissant, and asked me to help him so that he could make something out of it. Haha! It was hilarious and I had to tell him to be patient as it wasn't time for it just yet.
Whilst waiting, he took the chance to explore the photobooth when everyone was eating.
And when the time finally came…

He sliced…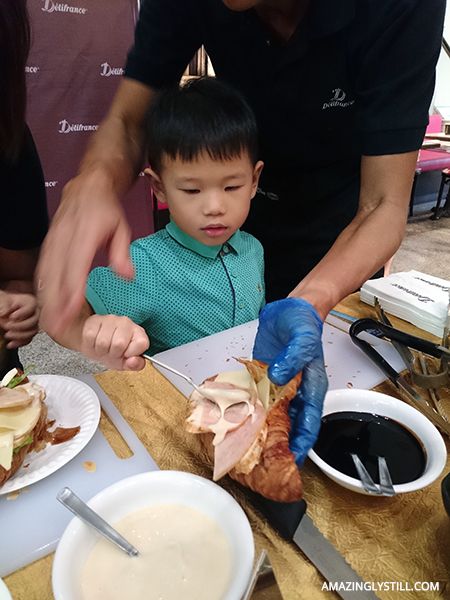 … added ingredients…

… and gave his finishing touch.

Ta-dah! Blake's very own sandwich!
It has turkey ham, chicken, cheese, almond flakes,
honey mustard sauce, cream cheese and hazelnut chocolate!

And it was made specially for daddy!
Unknown to us at that time, probably cos I wasn't paying much attention, there was an ongoing sandwich making competition! By the time the judges went round to check out all the DIY sandwiches, ours was gone.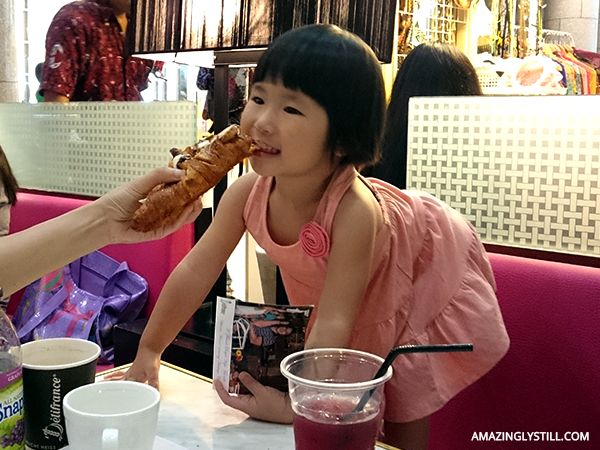 We ate it all!
All I could offer were photos I had taken earlier (as seen above).
But guess what?
Our little chef won! Woohoo!
Blake took home the grand prize that day and I'm so proud of him! 😀
But instead of him going up to receive his prize, he sent Nakayla to accept it on his behalf as he didn't like being in the limelight. He repeatedly said, "Ask meimei go!" Haha! And Nakayla was more than happy to assist!

Nakayla receiving the prize on behalf of Blake from Ms Synn Siah, Assistant Country Manager, Delifrance Singapore
Once all the photo-taking were done, Nakayla turned to me and handed me the prize before running off to find Sean and Blake. Haha! Oh, my kids! I love how different yet similar they are!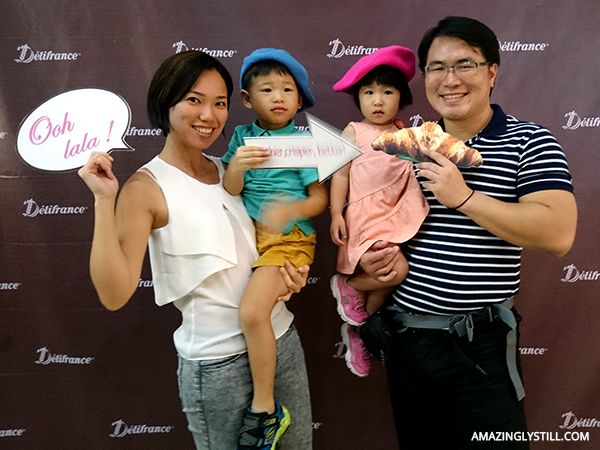 Thanks for having us, Delifrance!
We definitely had one amazing afternoon!

* * *
Good Things Must Share!
From now till 13 February 2015, you can purchase these yummilicious Heritage Croissant and its sandwiches at a great deal!

Click to enlarge image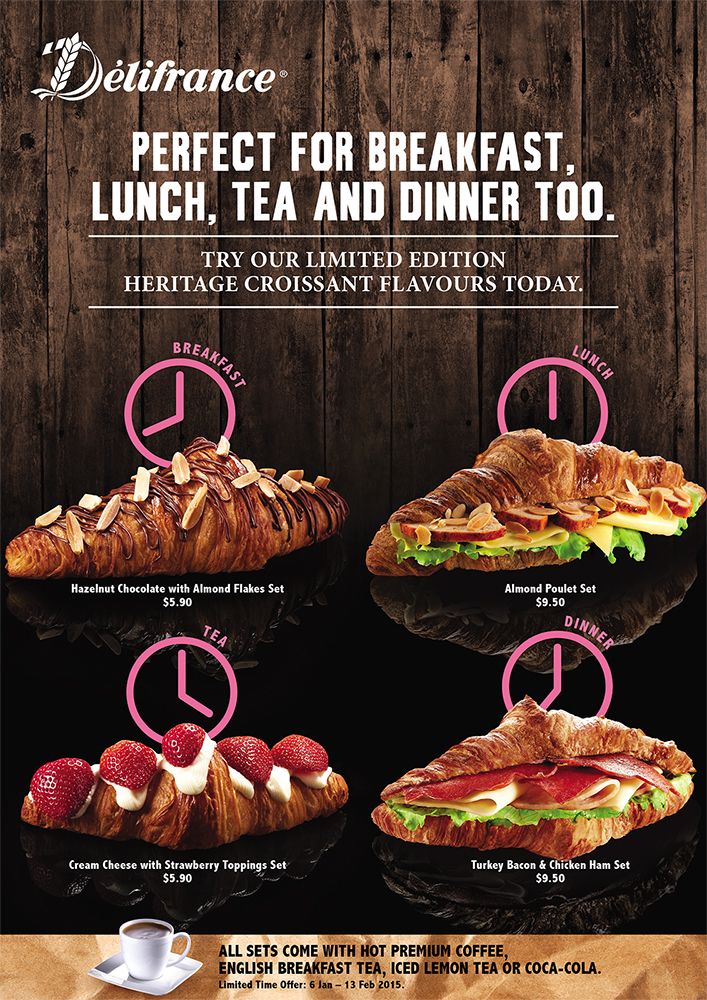 Click to enlarge image
Disclaimer: We were invited to the above high-tea session by CROWD, on behalf of Delifrance Singapore, for the purpose of this review.