Sponsored
As some of you might know by now, I started 2015 with a new haircut – all made possible thanks to Leslie, my awesome hair sponsor!
Upon meeting Leslie at Mosche Hair Salon, I told him roughly what I had in mind. I also told him I wanted the laziest hairdo possible; One I can look great in even without combing my hair. Haha! So demanding, right?
He then gave my hair a look through before telling me what hair style will suit me the best, at the hair length I'm most comfortable with. He basically customized my new look based on everything on my head and needs – facial features, head shape, lazy-do, modern/chic/sporty.
Once we worked out the best of both worlds hairstyle, we, or rather he and his team, got down to work while I kicked back and relaxed. Hehe.
First up, an amazing hair wash by Bell!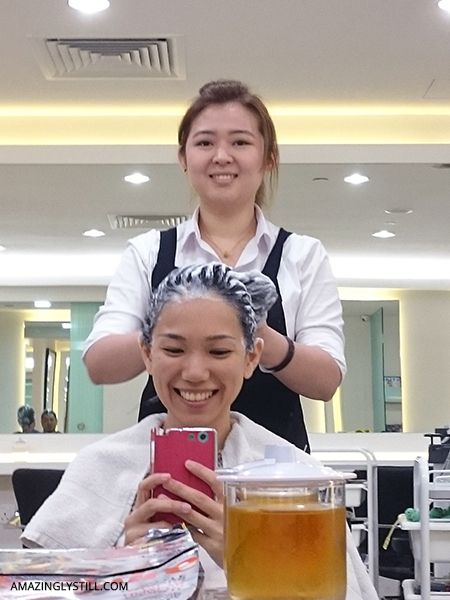 It's been a while since I had my hair washed at a hair salon sitting up. I've always loved having my hair washed like this cos I personally feel that the head massage tend to be longer and more intense as compared to going straight to the wash area. Is it just me, or do you feel the same too?
After my hair was toweled dry, Leslie got down to snipping my hair off.
Between the hair cut and chit chat, Leslie learnt that I had a light breakfast that morning, so when lunch time rolled around, he got the rest who were heading out to lunch to pack something back for me too! It was so sweet of him!
After lunch and completing the haircut process, Leslie got Annie over to assist with adding block highlights to my hair!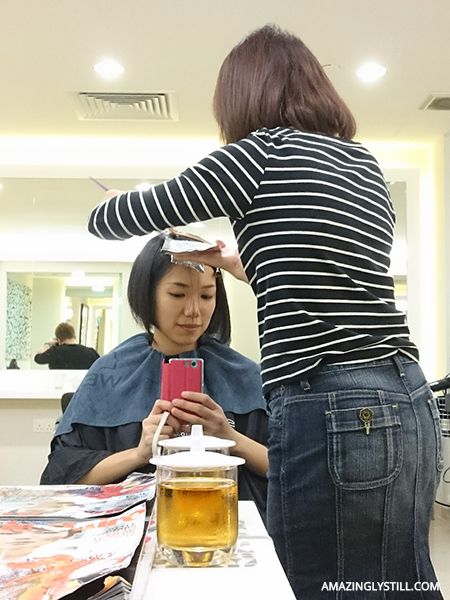 I've never had my hair professionally dyed/highlighted before. It has always been DIY. When Leslie suggested adding highlights to my hair, I was doing my best to contain my excitement! Haha! I know. I'm like a kid. Haha!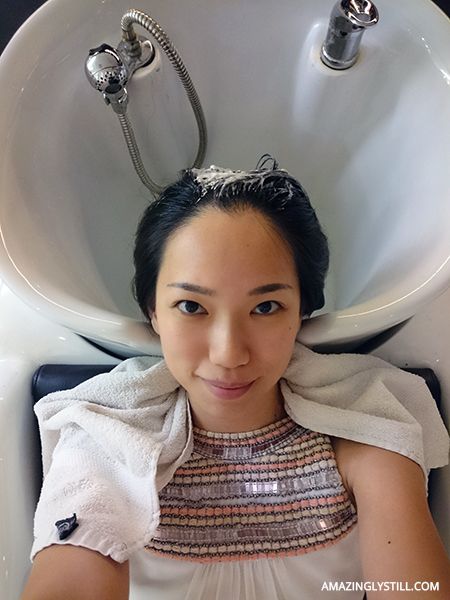 Waiting for my hair to soak the dye up

The completed look!
I like how my highlights are somewhat hidden for most parts. It's kind of like playing peek-a-boo with it. One moment you see it, next moment you don't! Hehe.
To add to the fun mix, Leslie ensured that my hair can be flipped any ol' way I want it too and still look awesome!
I left Mosche Hair Salon looking awesome like this, thanks to additional styling done by Leslie.
But the real test only came after I showered and washed off the styling products used. I went to sleep with slightly damped hair, and woke up with this…

Highlights still looking good

Hair looks pretty tame on the back even though I haven't brushed it yet!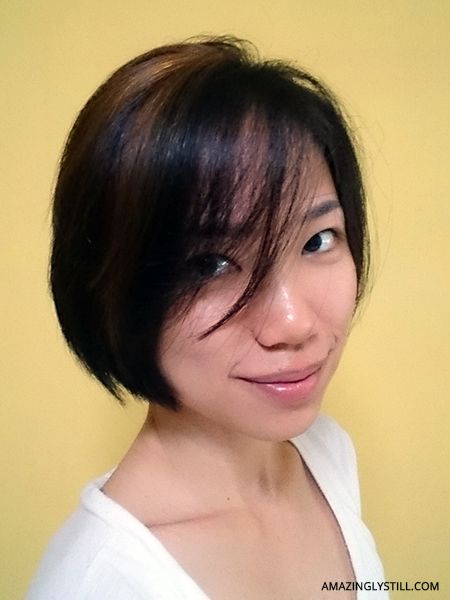 My just-got-out-of-bed look now
Leslie delivered as promised. I have possibly the laziest hairdo EVER now. Haha!
THANK YOU, LESLIE!
* * *
I'm just going to come out and admit this… Which my best friend pointed out… I'm addicted to cutting my hair short. It just keeps getting shorter each time I visit a hair salon. Truth be told, I've already discussed with Leslie my next look. I'm thinking of going even shorter. Haha! I can't wait!
* * *
Special Promotions for all my readers, thanks to Leslie!
A la carte services | 25% discount
Cut + Colour | $280
Cut + Perm | $450
Cut + Colour + Perm + complimentary hair treatment | $580
Just remember to book the appointment with Leslie and
mention 'Mabel from Amazingly Still' when making an appointment!
* * *
Mosche Hair Salon
Royal Plaza on Scotts Level 2
25 Scotts Rd Singapore 228220
Operating hours:
Monday to Friday – 10.30am to 8pm
Saturday – 10.30am to 7pm
To book an appointment with Leslie, call 6734 0923 or 9628 8312.
Disclaimer: My hair is under the sponsorship of Leslie Yap, Artistic Director of Mosche Hair Salon.