Sponsored
Just before the year ended, Sean and I shared another experience together! We went to iFly Singapore!
While I've been here once before, it's the first time for Sean. It's still very exciting for me though!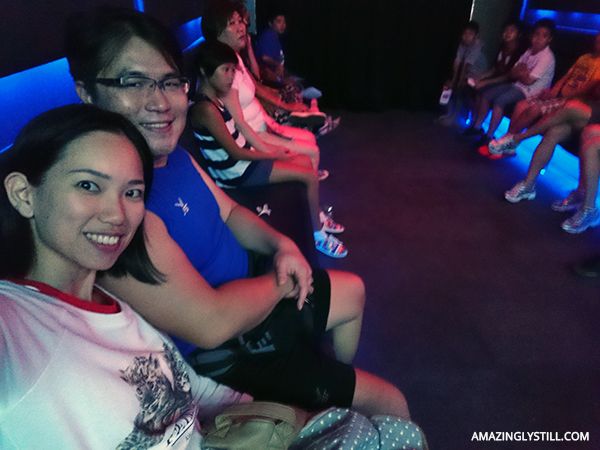 Getting prepped for our flight!
When we climbed the stairs to get to the flight chamber, I noticed something was different about the place. In a short span of 9-10 months, iFly Singapore underwent a huge change!
Previously, the second level (where the flight takes place) was open to everyone and anyone who visited the place, whether you are flying or not. Now, there's a barrier to separate the visitors from the flyers. And I can see why. There were so many people just standing there watching us fly!
It's also for security reasons too, I guess, seeing how things are sometimes left unattended while we were gearing up for our flight.
There are also proper lockers available now. Initially, I thought the lockers were free for use, that it came as part of the deal when one purchased the tickets… But no. You'll have to pay an additional $3 to use it. Thankfully for us, we had Waiwai's husband to help us watch our belongings!

All geared up and ready to fly!
This time round, I flew at a much higher wind speed, which sent me in all sorts of directions at the first flight. I couldn't quite control my body as well. I somehow backed into the glass, and silly me thought it was a stunt the instructor was pulling (he mentioned he might help us with some tricks earlier), so I didn't use my legs to push. Which led to me being in this strange flying position for a while…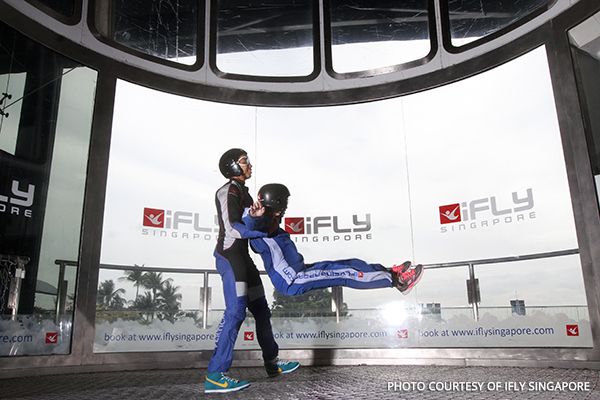 Yes, I flipped over. Haha!
I won't deny though. The flipping from flying to sitting and back to flying position was pretty fun. Haha! It was definitely something different!

Sean's turn!
It's true when they say 'opposite attracts' know? My cool as cucumber husband looks like this while taking the roller coaster too. He's so unfazed by anything that cause me to get on adrenaline high! Love it! 😀
After our flights were over, we rushed off to pick the children up from school. Yes, the mommy-daddy duties were back on once our feet touched the ground at the end of our second flight. It also marked the end of our almost two weeks long of couple time.
I know it's only January, but I can't wait for December already! I love spending time with the husband 24/7!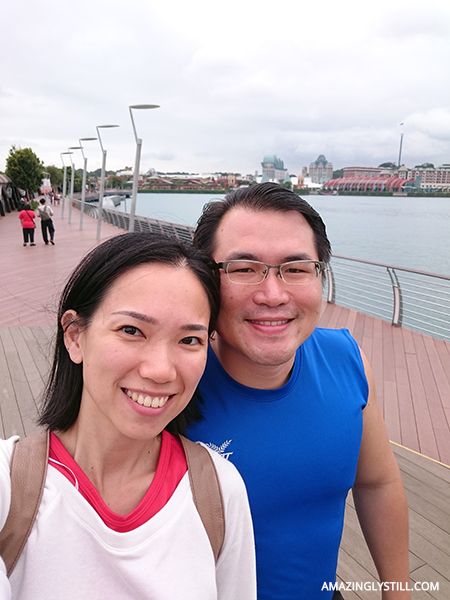 Thank you for yet another lovely time, iFly Singapore!
* * *
iFly Singapore Giveaway!
The awesome folks over at iFly Singapore are giving away a pair of tickets to one of my readers!
To win yourself a pair of tickets to take flight, just like Sean and I did, all you'll have to do is fill up as much of the following as possible, and give me your best possible answer! Good luck!
* * *
iFly Upcoming Promotion!
* * *
iFly Singapore Tickets Giveaway Terms and Conditions:
– Giveaway ends 01 February 2015, Sunday 2359 hours (Singapore time)
– Limited to one winner per household
– Open to anyone and everyone living in Singapore
– Incomplete or invalid entries will be automatically disqualified without notice
– This giveaway is in no way sponsored, endorsed or administered by, or associated with, Facebook
– Winner will be contacted by iFly Singapore (So please make sure you fill up the correct details!)
– Winner must be able to self-collect the prizes. Collection details will be provided by iFly Singapore.
– Unless otherwise stated, or agreed upon, the prize is non-transferable
– All personal details provided in this contest will be kept confidential. Only details of the winner will be shared with iFly Singapore to facilitate the collection of prize.
– We reserve the right to amend the terms and conditions without prior notice
Upcoming Promotion Terms and Conditions:
– Valid for on-site purchase only
– Book and fly from 1 Feb to 6 Mar 2015
– Redemption is strictly for customers born in the 'Year of Goat' with the purchase of 2 X First Timer Challenge Packages
– Free flight have to be utilised in the same flight session
– Valid photo ID for all flyers must be presented prior to flight upon check-in and purchase
– Valid for all flight slots, including eve of and on Public Holidays, subject to flight availability
– Not valid with any other promotions, vouchers, privileges, membership/loyalty programmes
* * *

iFly Singapore
43 Siloso Beach Walk
#01-01 Singapore 099010
Tel: +65 65710000
Located right next to the Beach Station at Siloso Beachfront in Sentosa

Operating Hours:
Mon, Tues, Thur-Sun: 9am – 9.30pm
First Flight: 10am / Last Flight: 9.30pm
Wed: 11am – 9.30pm
First Flight: 12pm / Last Flight: 9.30pm
Disclaimer: Sean and I were invited to iFly Singapore for the purpose of this review.