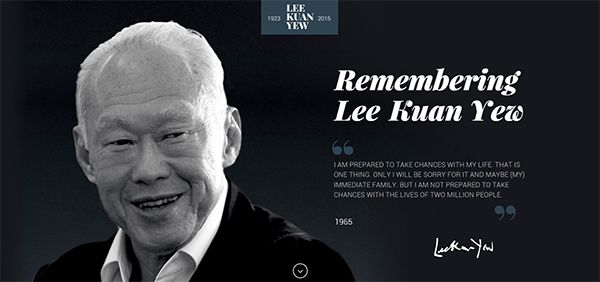 Screen grab from Straits Times
Singapore's founding father, Mr. Lee Kuan Yew, has passed away early this morning, marking the end of an era. He was "the longest-serving, and more remarkably, outlasting the last of his Old Guard leadership comrades by more than 25 years." (source)
While he is best known as Singapore's founding father, to me and I believe many from my generation, he was the ah gong (grandfather).
And like most families who became successful in their own right, the hardship is seen most purely by the first generation, felt a little by the second and enjoyed thoroughly by the third.
Whether you like it or not, because of him, Singapore was whipped into shape in less than 50 years, allowing all of us to live and grow in a safe environment.
And for that, I thank you Mr. Lee.
I also want to thank you for showing me that a man is fully capable of resisting temptation and be a completely devoted husband to his wife, even though he might have all the power in the world to do otherwise. To me, that alone speaks volume of how amazingly good a man is.
May eternal peace be with you and Mrs. Lee.
Original image, not the wax (source)
Note: As a mark of respect, we will be observing the 7-day national mourning period as declared by our Prime Minister. From today till 29 March, we will observe silence on the blog, Facebook page and Instagram.