Brought to you by Friso Singapore
I love bringing the children out on random weekdays while everyone is at work or in school, to indulge in a little daycation.
Every once in a while, when our wallets permit, we'll visit a place of interest (a.k.a. tourist attraction) or do something new together as a family.
So when I found out Bird Park was having an annual pass for the price of one ticket promotion, I just had to get it for the family!
While I got the passes in late December, it wasn't until earlier this month that we finally made it down. But hey! I've still got another nine more months to enjoy the bird park again and again! 😀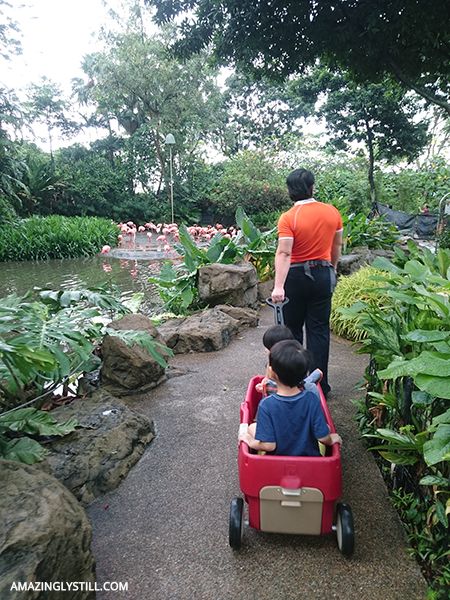 The kids with their 'driver' and ride of the day

And just when we started exploring, it started to rain…
Boohoo! I was so upset! But we marched on and continued to the water playground… And this was when Blake perked up instantly!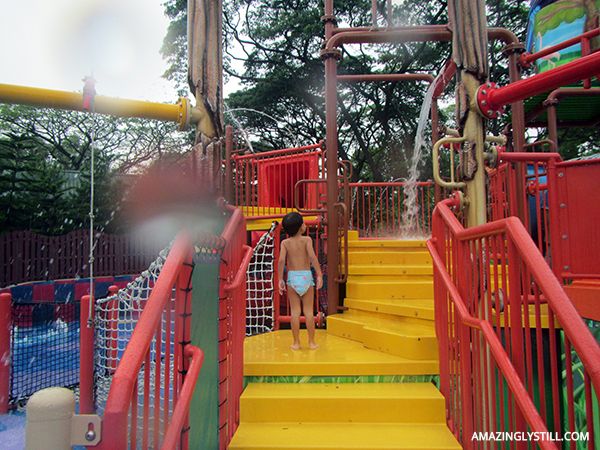 That #FrisoMoment where Blake had to decide… Up or down?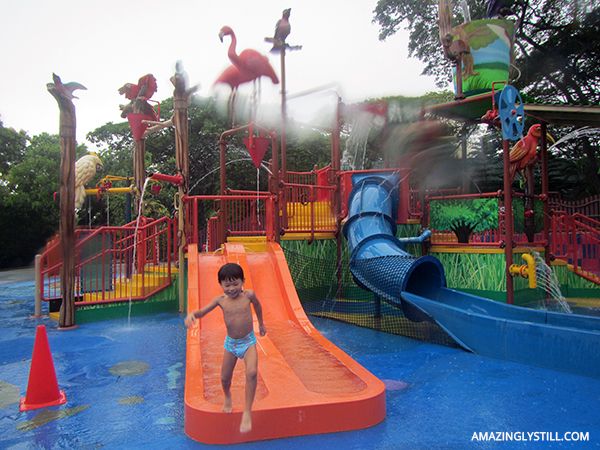 He had the whole playground to himself!
Nakayla somehow developed a fear for water playgrounds, so she sat out with Sean
As it was still raining and the winds were blowing, Blake only managed to play for a little while before he ran back for cover, shivering. He insisted on heading back out once more, and turned back when the chills hit him again. Not bad, if you ask me!
Please don't tell me he shouldn't be playing in the rain in the first place. My son wanted to play and play he shall get! Besides, he knew his limits, so I'm not too worried.
After Blake dried off, we decided to have lunch and wait out the rain. We weren't very confident that the rain will stop, cos as Sean puts it then, "This looks like the kind of rain that will appear and disappear, then appear again through the day".
And true enough, it was still raining after we polished off our lunch!
I was ready to give up when Sean suggested getting some wet-weather attire (raincoats, ponchos etc) and continue our merry way around the paradise of birds.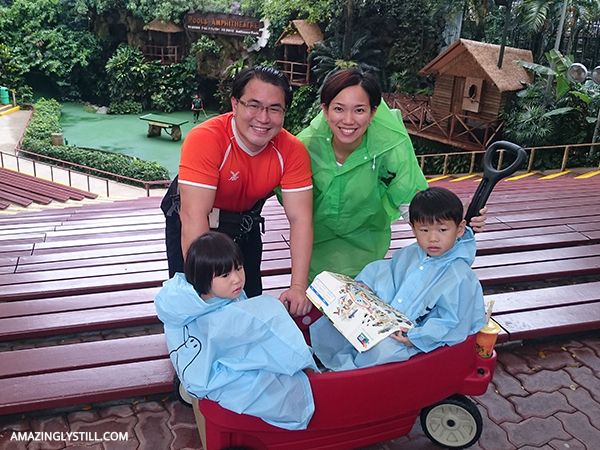 We may have missed the bird show,
but there was always a #FrisoMoment for a family photo!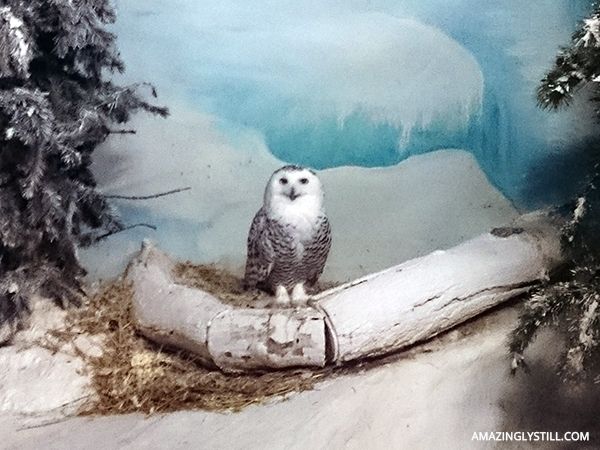 This owl kept smiling at us! 😀

Blake was reading the map and telling us where he wanted to go!
After walking around (sometimes in circles), we arrived at Lory Loft. This was the one place in Bird Park, besides the water playground, that I really wanted the children to go. We didn't get to visit the Lory Loft when we first visited together with the school, so I was really psyched!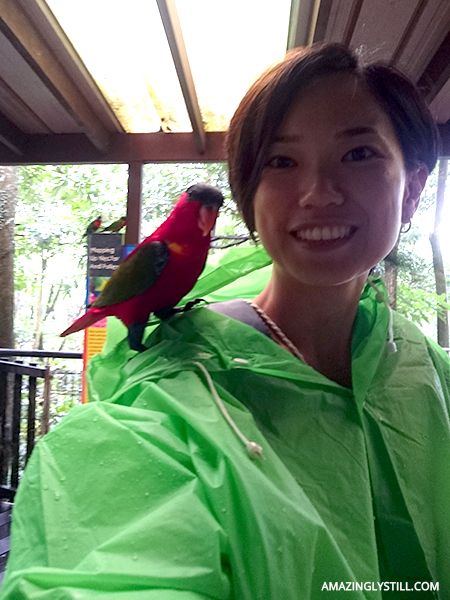 The moment we bought the food, this little bird flew onto my shoulder…

And then straight onto Nakayla's head, which terrified her!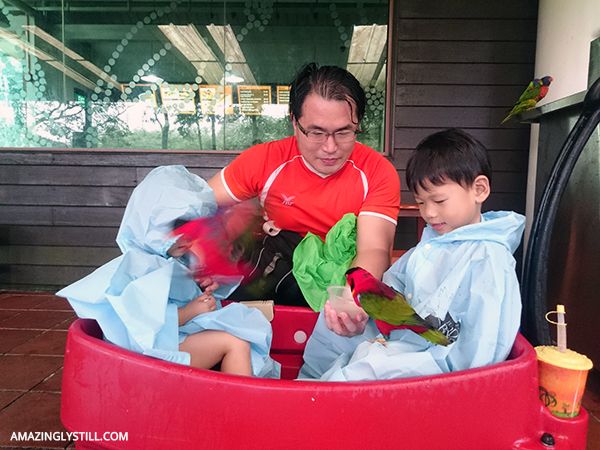 Blake was enjoying every single moment of it though!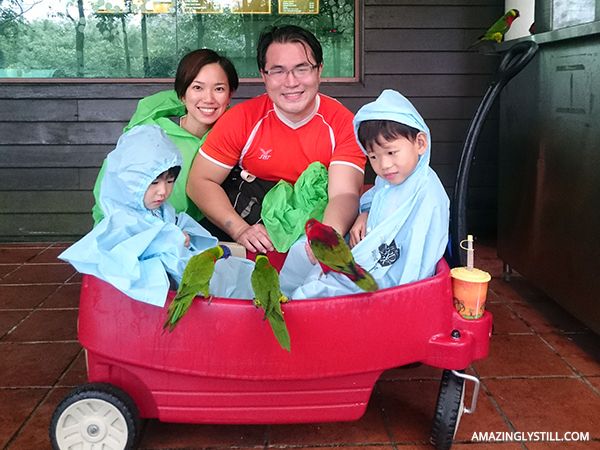 Ah! The joy and trauma of bird feeding… It's funny how Sean and Blake were enjoying themselves tremendously feeding the birds, laughing whenever a bird landed on their arms, legs, shoulder, head! And in contrast, Nakayla and myself would be in absolute fear when the birds come near us! Nonetheless, it was one of the best #FrisoMoment we had as a family, and so, a photo of us experiencing something new together is a must!
It was at the Lory Loft that I realized how the rain had been a blessing in disguise for us. Had it been a sunny day, we wouldn't have ponchos on. And without the ponchos on, I think I'll absolutely freaked out here.
Reason 1: Birds' feet aren't exactly the gentlest to feel on your skin when they perch on your arms, shoulders, legs and hair! The poncho acted as a buffer. It was thin, but it was better than nothing. And thankfully for Nakayla, having the poncho on meant that the birds landing on her head won't cause more pain through tugging of her hair!
Reason 2: Other than pain, there's the stink. The whole time the birds were on me, I was constantly thinking, "Please don't poop on me!" Then, I asked the staff if the birds are somewhat toilet-trained and will not poop on visitors, their reply was most assuring… Not! "It happens sometimes," they say. I was thanking the weather silently by then, glad to have my poncho on!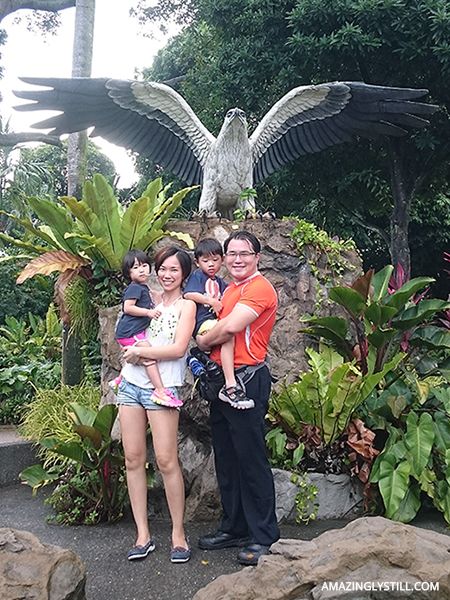 The rain finally stopped when the place was closing up
At the end of our trip, I was most delighted that it rained on our parade! The weather was cooler, we got some kind of protection at Lory Loft, and best of all? It was like we had the entire place to ourselves!
I really should take on the same attitude the husband has to unexpected changes, or when things don't go our way – Make the best out of everything!
Blake and Nakayla were equally impressive too. They were eager and undeterred by the rain. They showed me how one (or two or more) can still enjoy what's in front of them, even if it wasn't what they had expected.
It was an amazing experience for us as a family that day, to learn together how to deal with plans that go awry 😀
* * *
Cherish all the special experiences
you have with your children!
Share with me, and Friso Singapore, your very own special outdoor experience with your children over at apps.facebook.com/FrisoExperiences/ and stand to win some amazing prizes!
All you will have to do is submit a photo of you and your child(ren) sharing a special experience, along with a caption. You may submit one (1) experience each week.
Friso Singapore will also select and print one photo in 4R size with a Friso frame and send it to you. And if you agree to display your image in the gallery to inspire other parents, you will be eligible for weekly and grand prizes!
Instant, Weekly and Grand Prizes up for grabs include…
1. Friso Experiences Journal + Friso Voucher(s), awarded to every entry.
2. Weekly Prizes to be given out to the best photo selected from that week. If you didn't win in the first week, you will still be eligible for the weekly prizes in the remaining weeks of the month.
Week 1 to 2 (7 Mar – 23 Mar) 8 x FujiFilm Instax Mini 8
Week 3: 5 x Rebel Kidz Retro Racer Balance Bike
Week 4: 5 x Annual Zoo membership – 2 adults + 1 Child
Week 5: 5 x GOPRO Hero Camera
Week 6: 3 x Port of Lost Wonders party package
Week 7: 5 x Fujifilm Instax Share Printer
3. And the grand prize… A year's supply of Friso milk!
One winner per month in March and April will be selected from the top 25 most voted entries for the month. You may vote once per day for each entry.
Don't forget to spread the love when you post amazing experiences you share with your child(ren) on Facebook and Instagram by including the hashtag #FrisoMoment! Good luck! 😀
Disclaimer: This post is brought to you by Friso Singapore.