Brought to you by Friso Singapore
After taking a break from the swimming pools for a couple of months due to the period of cold winds, we hit the pools again when the heat is back on!

It feels so good to be back in the pools again!
Swimming is one of the few outdoor activities that we love doing together as a family. While I may be extremely terrified of the cold water in the pool, I'll go along with it as the children loves it – rain or shine, day or night!
The usual takeaways from our swimming time was Blake constantly jumping into the swimming pool and Nakayla being carried around while she practice her kicks.
As I stopped bringing their kick-boards along with us (the children hardly use it), I'll carry Nakayla in a floating position all around the pool while she kicks away. When I get tired, I'll have her holding the sides of the swimming pool and continue practicing her kicking. This offers great relieve to my tired arms, but the fun doesn't stop for her!
So given our usual routine, I naturally had no expectations for something out of the norm – Go swim, play with water, wash up and dinner!
But Nakayla surprised me this time!
She actually went all out and followed Blake in the jumping craze! You must be wondering why I'm all surprised, right?
Well…
Nakayla was exposed to swimming at a younger age, and while she started out okay, she somehow developed a dislike for it. This meant that for months, almost a year, we had to coax her into jumping into the pool. And by coaxing, I mean putting her on the sides where she'll just sit herself down and whine until you take her hands to bring her into the swimming pool, instead of jumping into my arms.
But on this very day, she jumped! On her own! Over and over again!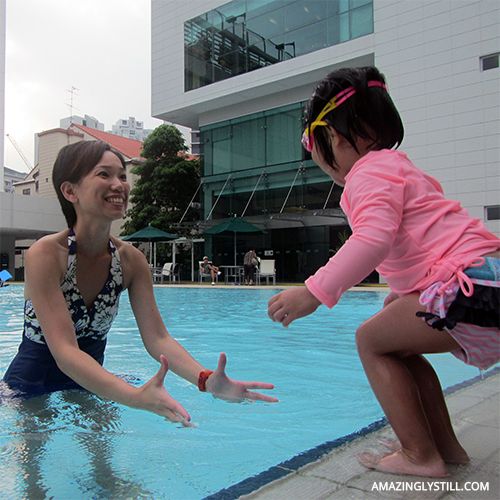 All her fears flew out the window that day!
Isn't it amazing? One moment the girl was absolutely terrified of swimming pools, the next moment she's all giddy with excitement to play in them!
After a long time away from the swimming pool, Nakayla conquered her fears of water and surprised all of us! Children are so full of amazing surprises, all awaiting our discovery! This particular experience with Nakayla showed me that all fears can be conquered in an instant if one has the will to do so. I couldn't be more proud of my little girl! #FrisoMoment
* * *
Cherish all the special experiences
you have with your children!
Share with me, and Friso Singapore, your very own special outdoor experience with your children over at apps.facebook.com/FrisoExperiences/ and stand to win some amazing prizes!
All you will have to do is submit a photo of you and your child(ren) sharing a special experience, along with a caption. You may submit one (1) experience each week.
Friso Singapore will also select and print one photo in 4R size with a Friso frame and send it to you. And if you agree to display your image in the gallery to inspire other parents, you will be eligible for weekly and grand prizes!
Instant, Weekly and Grand Prizes up for grabs include…
1. Friso Experiences Journal + Friso Voucher(s), awarded to every entry.
2. Weekly Prizes to be given out to the best photo selected from that week. If you didn't win in the first week, you will still be eligible for the weekly prizes in the remaining weeks of the month.
Week 1 to 2 (7 Mar – 23 Mar) 8 x FujiFilm Instax Mini 8
Week 3: 5 x Rebel Kidz Retro Racer Balance Bike
Week 4: 5 x Annual Zoo membership – 2 adults + 1 Child
Week 5: 5 x GOPRO Hero Camera
Week 6: 3 x Port of Lost Wonders party package
Week 7: 5 x Fujifilm Instax Share Printer
3. And the grand prize… A year's supply of Friso milk!
One winner per month in March and April will be selected from the top 25 most voted entries for the month. You may vote once per day for each entry.
Don't forget to spread the love when you post amazing experiences you share with your child(ren) on Facebook and Instagram by including the hashtag #FrisoMoment! Good luck! 😀
Disclaimer: This post is brought to you by Friso Singapore.