Over the weekend, my hands got itchy – the creative kind. Sort of.
It all started with this huge box…
This huge box contained boxes and boxes of stuff Sean ordered for the children and when we finally emptied it over the course of three days, it was left in the middle of the living room overnight.
The next morning (that will be Saturday), when we were heading to breakfast and bringing the smaller boxes down to recycle, we were thinking if we should keep or throw this huge box out. Obviously, the verdict was to keep it.
We discussed what to do with it over breakfast, and started work on it after returning home.
Sean marked out the areas to cut and I worked on it while he occupied the children, keeping them away from my work area (I was using scissors and penknife!).
The moment it was all cut and we reinforced it as much as we possibly can with tape, Blake and Nakayla went straight into it without hesitation and refused to come out.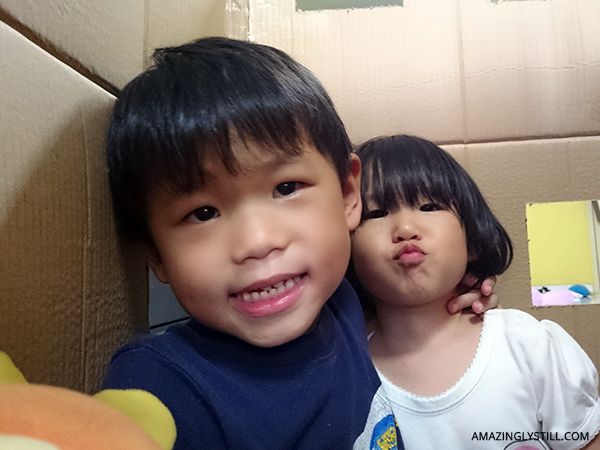 'Twas peaceful while the children ruled their kingdom!
We thought to leave it as it is, after all, it's just cardboard. How long can it last, right?
Then our race clinic got cancelled due to potential downpour – no way we're going to risk the children all being caught in a storm! So, I got bored and did this.

I wrapped the castle in brown paper!
This was pretty much the entertainment for the evening, with Blake and Nakayla shifting all their toys in and holing themselves up in there until it was bedtime.
Both stuck to each other in their castle and there was no fight! I'm impressed by the power of this cardboard box!
While Sean and I were resting in bed, I told him that maybe we should go further with the box since the children love it so much. The whole night was spent discussing how we could design it, add-on to it etc. while searching online for ideas. Hehe.
And on Sunday, which will be yesterday, I got down to work again.
First up, designing their very own coat of arms!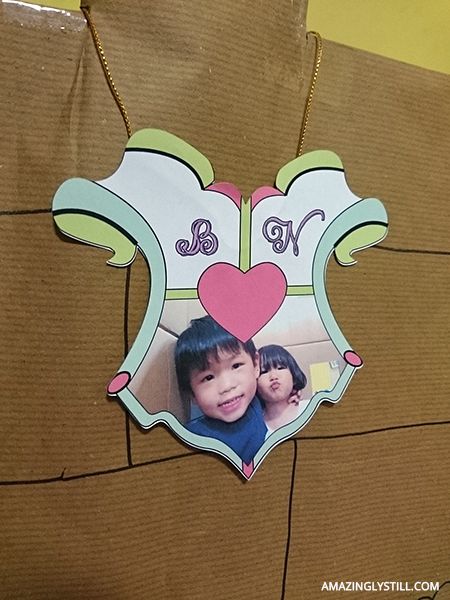 It took me a really long time to find this particular template and it was love at first sight when I saw the heart in the middle! I modified it a little so that it's a 3-part instead of a 4-part coat of arms.
Following that, I used a sharpie and drew freehand, which resulted in this.
By this time, I was really satisfied and the children were very pleased with their newly decorated castle!
But I got bored again, and figured a little more could still be done with the castle, which meant this happened…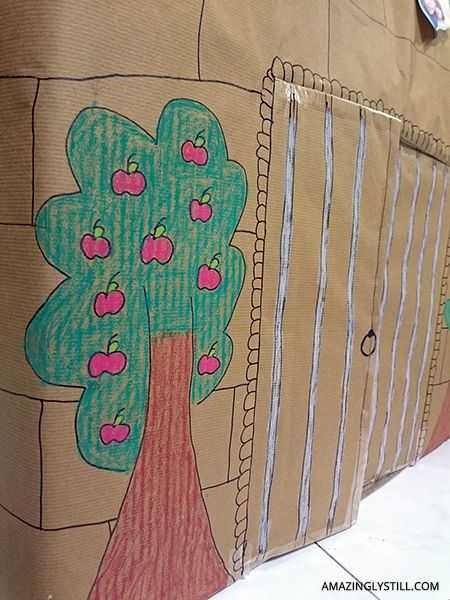 I added colours!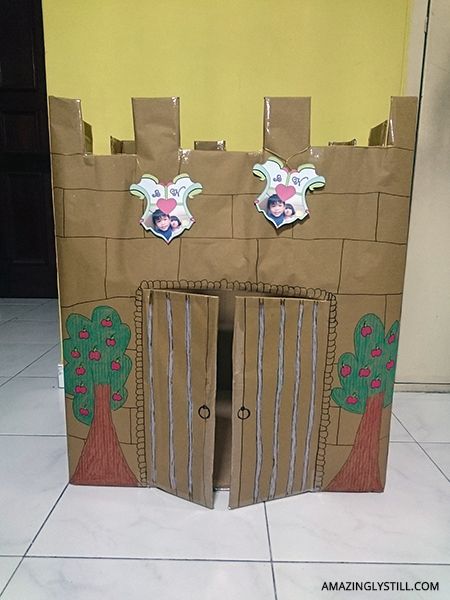 And they love it!
Now, to wait for more deliveries, and hopefully the boxes will all be as big or bigger, then we can work on the expansion pack! Hehe!