Sponsored by Leslie from Mosche Hair Salon
After my first trip to Mosche Hair Salon, I went back another time before Chinese New Year to cut my hair shorter.
I wanted to attempt the long pixie hair look but wasn't sure as I was afraid I'll end up looking boyish. So Leslie came up with a style that was a little more chic and still look feminine! This is definitely a fuss free hair. It did take me a while to get used to, cos the last time I went so short was almost a decade ago!
Fast forward to end of March, I headed back to Leslie to get a trim off the back. I now want to maintain my hair such that the top and bottom will somehow even out in level (think straight cut look). I might just leave it to grow to a long bob and try something new again. Haha!
And as always, every single trip to Mosche begins with one of the best hair wash and head massage ever! I can most definitely get used to it!
After I got my hair trimmed, Leslie suggested dying a portion of my hair (same area dyed by him too) in what he calls 'Pixel Hair Highlights'. I'm pretty much game for anything, so I went with it. Besides, I trust Leslie to beautify my hair!
I can just imagine if I were to pixel dye my whole head, it looked like such a tedious process! But within an hour, from start to finish, it was done!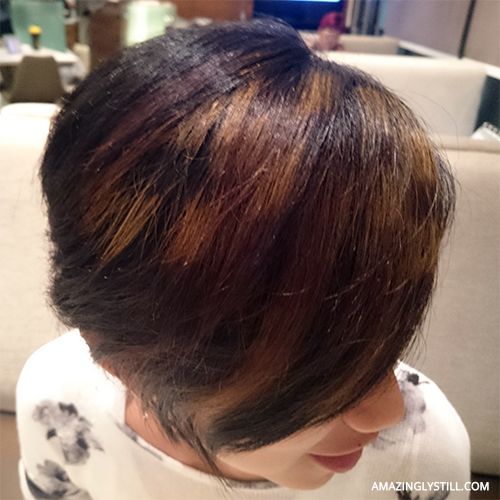 The end result
It's not very obvious, and no matter how I take the photos it looks something like that. Sean says it's because I don't know how to arrange my hair to show off the specialty of the highlights. Boohoo! I should've gotten Leslie to arrange and snap a photo before I left!
But I guess the whole idea is to have that something special hidden from general view and have it pop up once in a while, going, "SURPRISE!" Hehe.

Thank you for always making my hair look awesome, Leslie!

* * *
Special Promotions for all my readers, thanks to Leslie!
A la carte services | 25% discount
Cut + Colour | $280
Cut + Perm | $450
Cut + Colour + Perm + complimentary hair treatment | $580
Just remember to book the appointment with Leslie and
mention 'Mabel from Amazingly Still' when making an appointment!
* * *
Mosche Hair Salon
Royal Plaza on Scotts Level 2
25 Scotts Rd Singapore 228220
Operating hours:
Monday to Friday – 10.30am to 8pm
Saturday – 10.30am to 7pm
To book an appointment with Leslie, call 6734 0923 or 9628 8312.
Disclaimer: My hair is under the sponsorship of Leslie Yap, Artistic Director of Mosche Hair Salon.