Sponsored
This year, Mother's Day celebrations were brought forward on my mom's side of the family because Emicakes has been so kind to gift us this lovely 'Best Mum' cake, packed with delicious Premium D24 Durian filling. As expected, Emicakes has once again delivered satisfaction to our taste buds!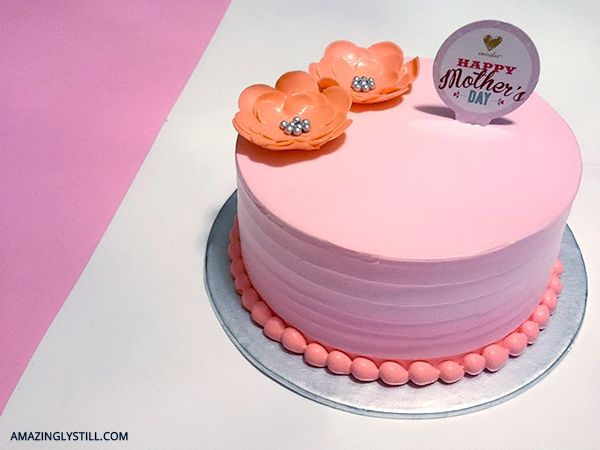 'Best Mum' Cake, $63.10
This simple yet elegant cake had been carefully crafted by the designers at Emicakes, and the meaning behind this timeless design couldn't be more beautiful; It's to represent the timeless love and beauty of our Moms. How thoughtful of the designers!
This particular cake we received, weighing at about 600g (15cm), was just the right size for our family of about 8-10 adults after a meal. Nothing was left behind and everyone had a good slice of the heavenly durian cake – Nakayla included! I have found another durian lover in the family! YAY!

She had the flower decor too. Haha!
Besides the 'Best Mum' cake, the designers at Emicakes also came up with a different kind of flower bouquet (my favourite kind) to gift our moms – a cupcake bouquet!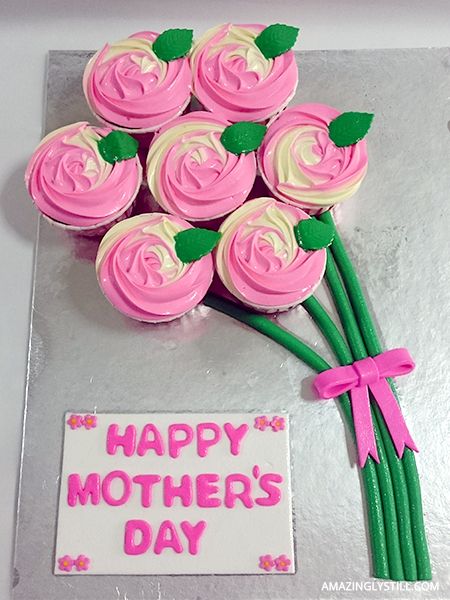 'Flowers for Mum', $45.90
The seven cupcakes in this beautiful cupcake bouquet is pretty much the perfect number for my family. Two each for me and the children, and one for Sean. Haha! There's also no need to argue who got a bigger slice. Everyone gets the same standard cupcake size 😀
Aside from the perfect portion and how splendid it looks, the cupcake bouquet is absolutely divine to taste!
The luscious chocolate cupcakes are filled with delectable toffee caramel cream, and topped with my favourite cream cheese! Honestly, there couldn't possibly be a better combination. Just thinking about it is making me salivate again!
Only one point to note though, if you plan on getting this set of cupcake bouquet… Do not put them in a fridge that's too cold! All the fondant used in this lovely cupcake bouquet will melt. My poor leaves melted beyond recognition 🙁 But hey, they still taste great! That's really all that matters to me 😛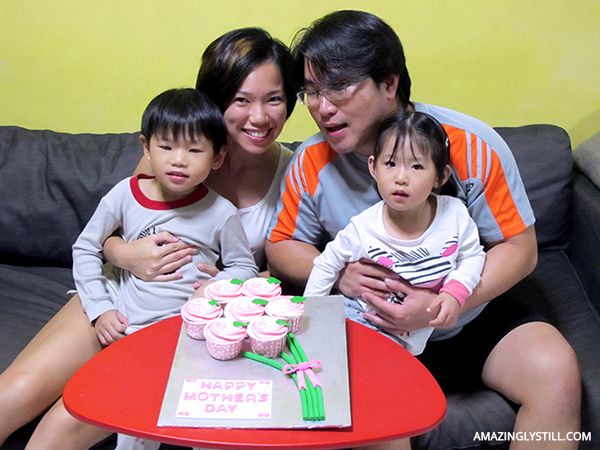 I sure had a sweet, sweet Mother's Day, all thanks to Emicakes 😀

* * *
EMICAKES GIVEAWAY ALERT!
The delightful folks over at Emicakes want to share some love this Mother's Day. They are giving away one 'Best Mum' cake, and one 'Flowers for Mum' cupcake bouquet (as seen above) to two of my lucky readers!
To win yourself either one of the cakes seen above, all you'll have to do is follow the widget below. Enter your entries according to the cake you wish to win – click on the left-right arrows to select. You can join both for a chance to win one of the two cakes! Good luck!
Emicakes Mother's Day Giveaway Terms and Conditions:
– Giveaway ends 3 May 2015, Sunday 2359 hours (Singapore time)
– Open to all residing in Singapore
– Limited to one winner per household
– One winner will be chosen for each cake
– Winners will be selected on 4 May 2015, Monday
– Incomplete or invalid entries will be automatically disqualified without notice
– This giveaway is in no way sponsored, endorsed or administered by, or associated with, Facebook
– Winners will be contacted by Emicakes (So please make sure you fill up the correct details in the contest!)
– Winners must be able to self-collect the prizes. Collection details will be provided by Emicakes.
– All personal details provided in this contest will be kept confidential. Only details of the winners will be shared with Emicakes to facilitate the collection of prize.
– We may or may not announce the winner(s) on our social media platforms. Permission will be seek from the winner(s) first.
– We reserve the right to amend the terms and conditions without prior notice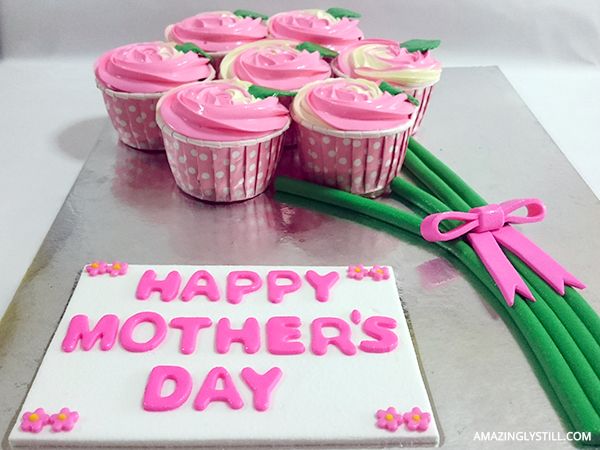 Happy Mother's Day in advance to all mommies!
Disclaimer: We received the cake and cupcakes as seen above for the purpose of this review.