Backstreet's Back, ALRIGHT!
The biggest purchase I made in an instant this year, that is a want and not a necessity, has got to be the ticket to watch Backstreet Boys live in concert, in Singapore!
I was there when they last came in 2010 for their 'This is Us' Tour. I was pregnant with Blake at that time, and it didn't feel quite right as Kevin hadn't returned to the group yet (wasn't even sure if he ever would!). It was just Nick, AJ, Brian and Howie. I mean, I had a lot of fun that evening, but it felt incomplete.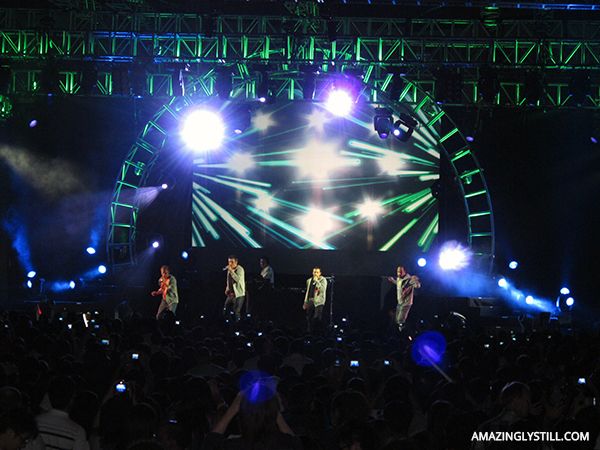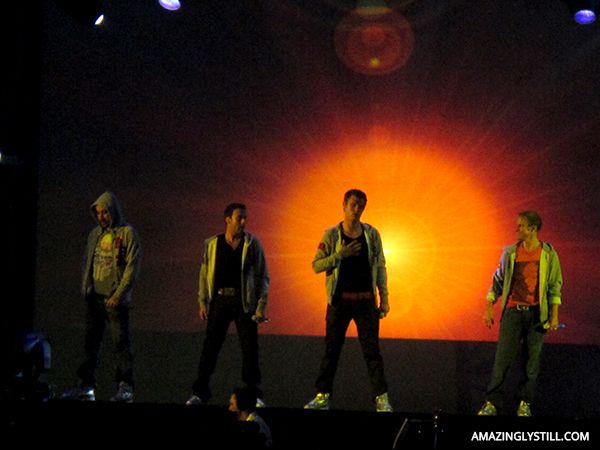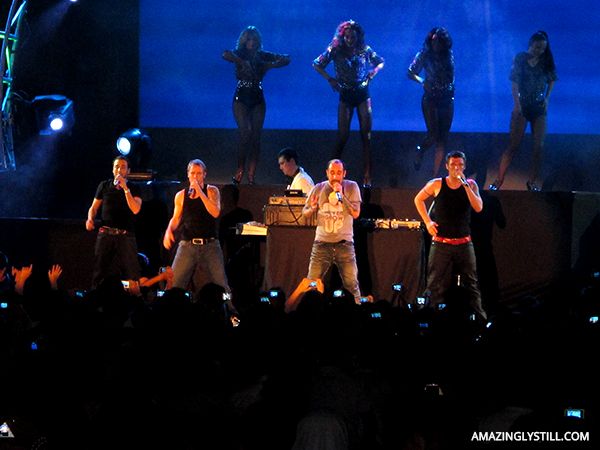 So naturally, when news of them coming to Singapore again reached me, and this time round it's all five of them, I messaged Sean straight away. Without any hesitation, he told me to go, and that he'll watch the children. Have I got an awesome husband or what?!
Then came the day of the ticket sales.
In the first hour when the tickets were released for sale, I was still scrambling to find someone to go with me. When I realized that there was no one, I was… *sigh*
My best bet was my brother-in-law, Nelson, but he wasn't too keen and told me something along the lines of, "Just go on your own. I go to concerts on my own too. It's okay."
And with that, I rushed to the nearest sistic outlet (I was out at that time) and purchased the very last ticket in the category I wanted!
It's a little further than what I originally wanted, but once I heard that all the tickets were completely sold out within two hours, I thanked my lucky stars! Hehe. A ticket is better than none! And the best part – my seat was an all-clear view towards the stage! Best last seat (for my category) ever! 😀
And the night finally came, after three months of wait!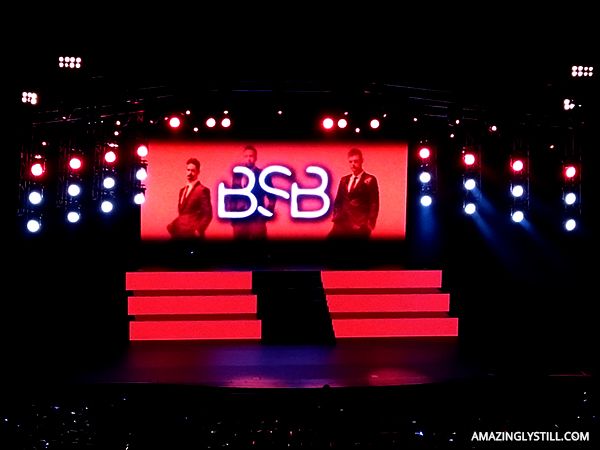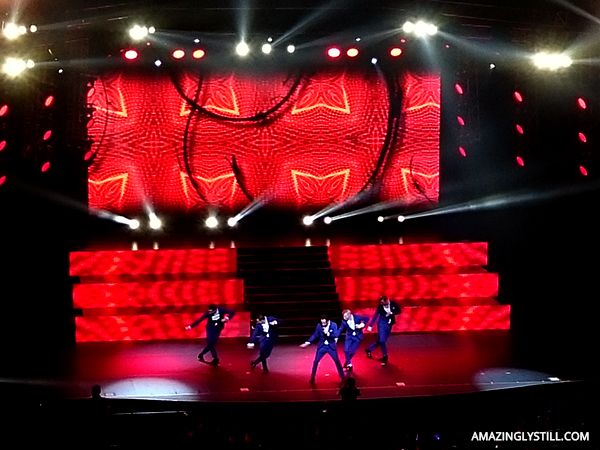 We were asked to party like it was 1999.
We were asked to be our 15-year-old selves.
We were asked to go crazy.
Everything felt so surreal. Like, OMG! They are back again! All five of them! They are right in front of me, singing and dancing live!
I was grinning from ear to ear, laughing, screaming, dancing… I was crazy high!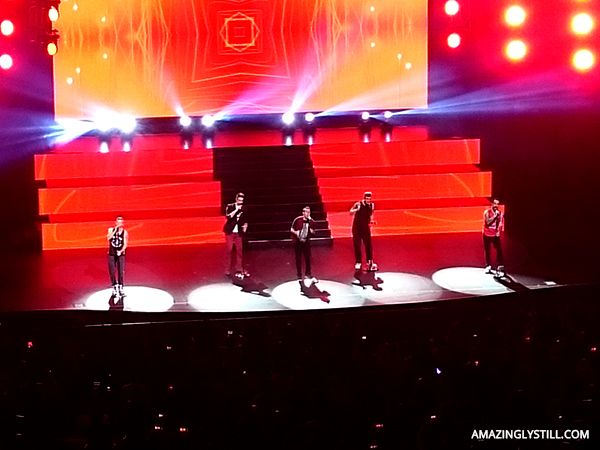 Positive vibes filled the entire concert hall too. I know that because every time Brian sang his power notes, everyone just screamed, as though encouraging and telling him that it's okay, just sing your heart out! And my oh my, was he in top form that night or what? He hit every note! 😀
In case you didn't know, Brian has been diagnosed with vocal tension dysphonia, which basically means his vocal chords get screwed from time to time.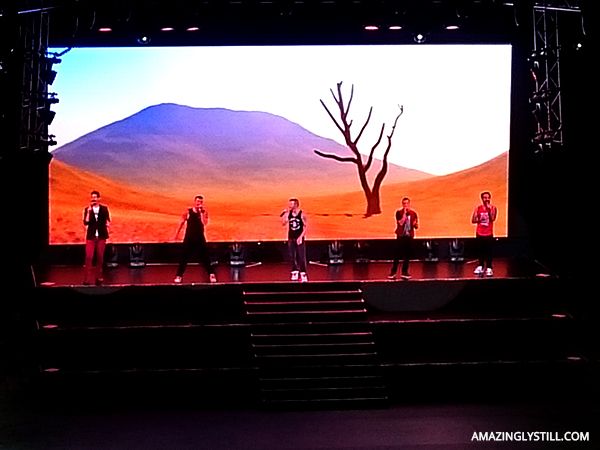 While the concert venue might be smaller this time round, it was a whole lot more intimate. There was quite a bit of talking and interaction between us and them, rather than churning out one song after another with the occasional 'Hello Singapore!'.
There were teasing and jokes made too!
The most memorable one for me has got to be when Kevin reminded us of the way they used to dress in the past – huge pants.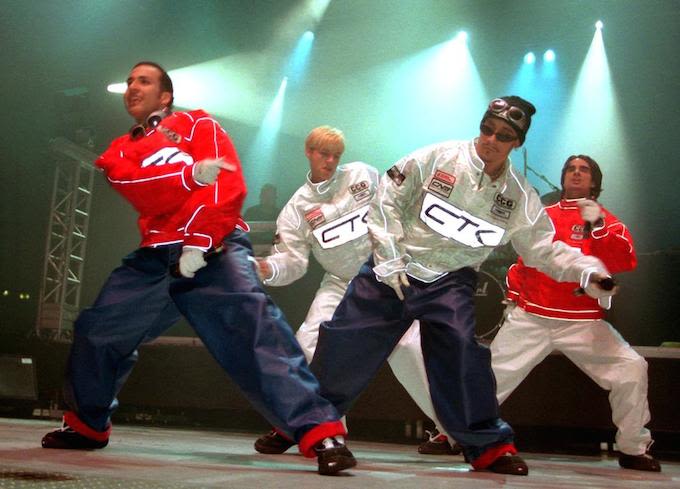 Image source
Brian said they were so huge that he could jump from one side of his pants to the other! Haha! Which then prompted Kevin to say that pants nowadays are the opposite – it's tighter now. So tight that he ripped his pants in the middle of a concert recently! Haha!
Image source
The other thing I clearly remember them saying was that they will be recording their next album this summer (!!!), and following that, another world tour.
And they said they won't make us wait so long again!
They told us they remembered coming to Singapore for the first time in 1999, after which, we waited almost 11 years for them to return in 2010.
And between their last concert to their most recent here, it was a 5-year of wait!
At the rate this is going, along with their promise they won't make us wait so long again, I might just be screaming my heart out at their concert, 3 years from now! Yay!
Don't break my heart, boys. I'm waiting for your return to Singapore!
In the meantime, I'll be saving $1 a day (maybe $3 so I can get myself a better camera too!) till the day your next concert ticket goes on sale here in Singapore. And when that day comes, I'm going for front row seats!
As it turns out, going to the concert on my own wasn't so bad after all. I could fangirl all I want without a care in the world! Hehe.
* * *

Videos I took from that night of fangirling 😀
P.S. Seeing the videos made me regret not recording their finale – Larger than Life. That performance was crazy amazing!