Media Invite
When Madame Tussauds first announced they were opening in Singapore, I jumped with joy! My very first thought was if I can't see the celebrities in real life, their wax figures will be good enough! Haha!

First up, a boat ride!
The boat ride is pretty dark, which frightened Nakayla a little. She was constantly keeping her hands to her eyes, looking up only when I exclaimed at some of the more interesting displays. I wonder where my fearless little girl went! She wasn't this scared of dark places before!

Singapore's first president, Mr. Yusof bin Ishak
Upon entering the museum, the very first wax figure to greet us was Singapore's first president, Mr. Yusof bin Ishak, followed by many well-known political figures around the world.

Singapore's Prime Minister, Mr. Lee Hsien Loong
I couldn't think of a better way to take a photo with our current Prime Minister (or his wax figure) other than a selfie. He's quite spontaneous when it comes to taking selfies, be it of himself or with groups of people (citizens and fellow politicians!).
Speaking of selfies, I realize it's kind of difficult to do that with the taller wax figures!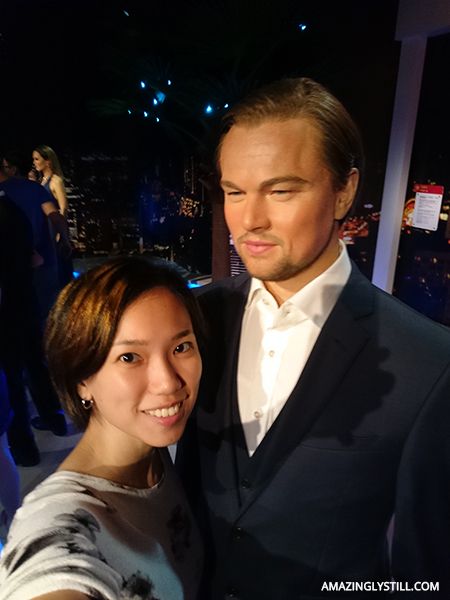 Leonardo DiCaprio
Both PM Lee and Leonardo DiCaprio are above 1.8m in height, and I can feel the strain in my arm trying to hold my camera higher, but at the same time, keeping myself within frame (I use the back-facing camera on mobile).
But they weren't the tallest wax figures I took photos with.
The tallest is most definitely… Yao Ming, who stands at 2.29m! I feel like a 5-6 year old standing next to him!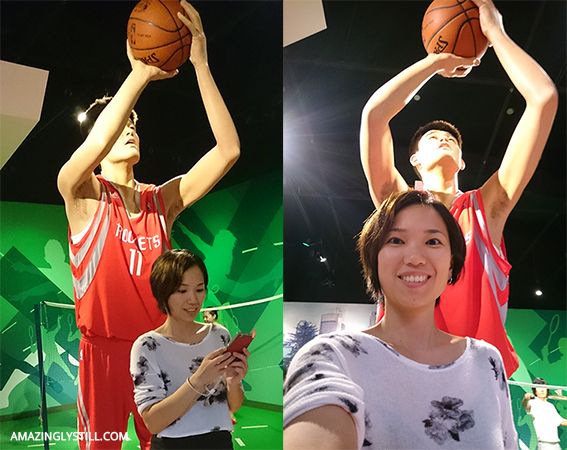 Just look at the height difference and the unglam selfie. Haha!
While I was running around taking selfies with one wax figure after the another, the children were kept busy with the few interactive displays.
Blake and Nakayla took turns playing this soccer game, but it took them a while to figure out that they don't need a real ball to kick (they had taken a basketball from Yao Ming's display in the first attempt). Hehe. Pretty interesting, if you ask me!
The children probably spent the most time here, hogging the instruments (there wasn't a queue… yet!), switching it up with one another. Nakayla attempted the guitar too, but it was too big and too heavy for her. I wonder if they'll introduce smaller versions for little ones any time soon? Hmm…
The visit to Madame Tussauds Singapore was quite an eye-opener for us.
Particularly for me, I think. I was shocked to find out that celebrities whom I thought were short, are actually really tall and vice versa! I kept exclaiming to Sean, one wax figure after another, "I never knew (insert name) was so (tall/short)!" Haha!
The many wonders of seeing these celebrities in real life (waxed, but so what? Haha!) versus what I see on TV and computer… It's intriguing!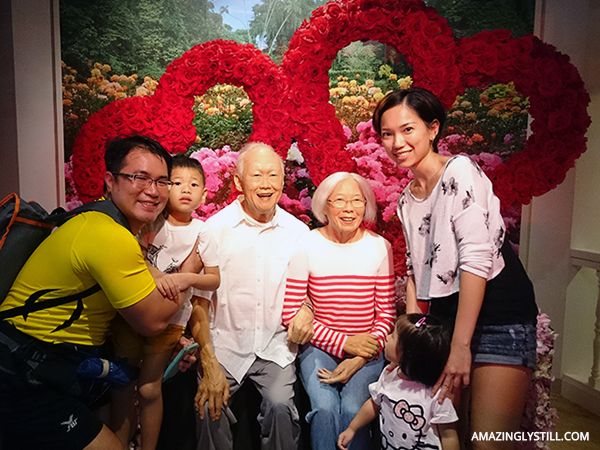 Thanks for having us, Madame Tussauds Singapore!

* * *
GIVEAWAY ALERT!
I have two sets of 4 combo tickets (worth $100++ each!) to Images of Singapore + Madame Tussauds Singapore to giveaway, and it's all thanks to the generosity of the good folks at Madame Tussauds Singapore!
Follow the widget below to win yourself a set of 4 combo tickets! Good luck!
Madame Tussauds Singapore Giveaway Terms and Conditions:
– Giveaway ends 26 June 2015, Friday 2359 hours (Singapore time)
– Limited to one winner per household
– Winners must be in Singapore
– Winners will be selected by 28 June 2015
– Incomplete or invalid entries will be automatically disqualified without notice
– This giveaway is in no way sponsored, endorsed or administered by, or associated with, Facebook
– Winners will be contacted by Madame Tussauds Singapore (So please make sure you fill up the correct details in the contest!)
– Please note that Images of Singapore may not be suitable for children below 6 years of age due to the live theatric nature of the attraction
– All personal details provided in this contest will be kept confidential. Only details of the winners will be shared with Madame Tussauds Singapore to facilitate the collection of prize.
– We may or may not announce the winner(s) on our social media platforms. Permission will be seek from the winner(s) first.
– We reserve the right to amend the terms and conditions without prior notice
* * *

Madame Tussauds Singapore
40 Imbiah Road
Imbiah Lookout, Sentosa
Singapore 099700

Opening Hours
Monday to Friday: 10am to 6pm
Saturday, Sunday, Public Holidays: 10am to 7.30pm

Do visit their website for more information.
Disclaimer: We were invited to Madame Tussauds Singapore for the purpose of this review.