Media Invite
Last week, we took time off work, and the children out of the school, to visit Underwater World Singapore!
But before we went exploring, we filled our tummy with a delicious meal at Island Cuisine!
Island Cuisine is a buffet restaurant which offers a good variety of Singapore delights such as Mee Siam and Curry Chicken. There's also a vegetarian section.

My personal favourites:
Hainanese Chicken Rice, Singapore Fried Rice, Sweet and Sour Chicken

The children love that there's butter cake and ice cream!
After our lunch, our Underwater World exploration began!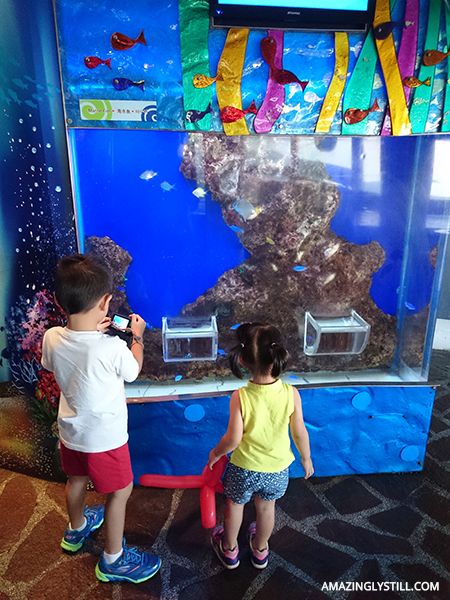 It doesn't seem like much has changed since our last visit before Nakayla was born, but it was still pretty entertaining watching the children get all excited over the different sea creatures they saw! It's also good to know that I could remember some of the names without looking at the labels. Hehe 😛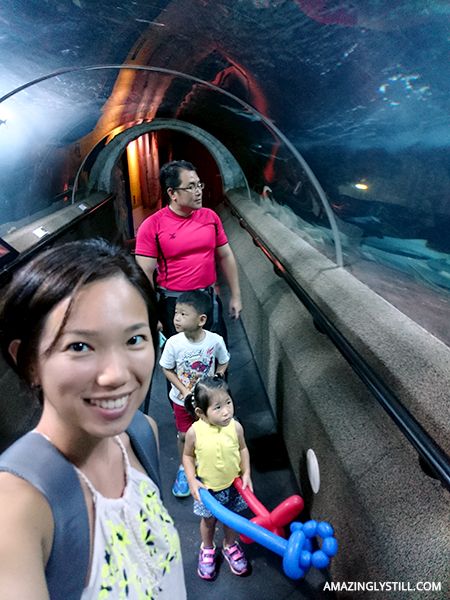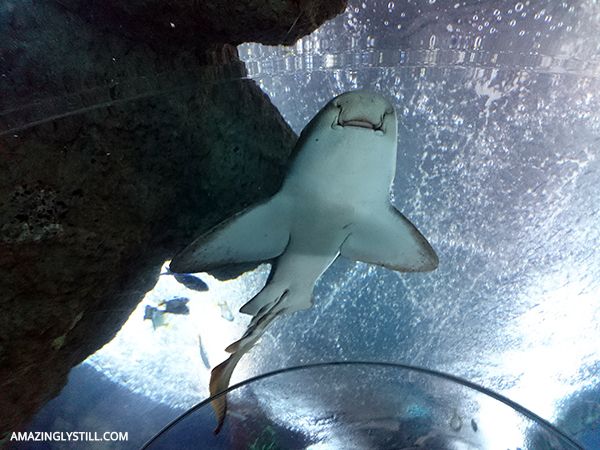 The tunnel was probably one of the highlights for the children as they didn't have to walk to explore the place. However, there is a particularly dark area which frightened Nakayla. She clung onto my legs tightly and refused to let go until we're out of it. Thankfully, it was just that turn that was dark.
After one round in the tunnel, the children turned to the other exhibits happening in the hall.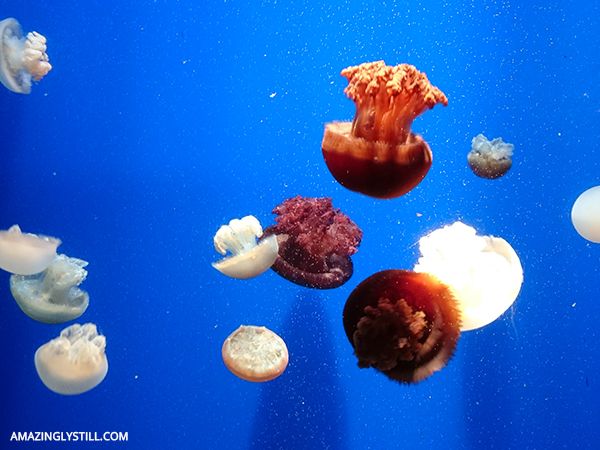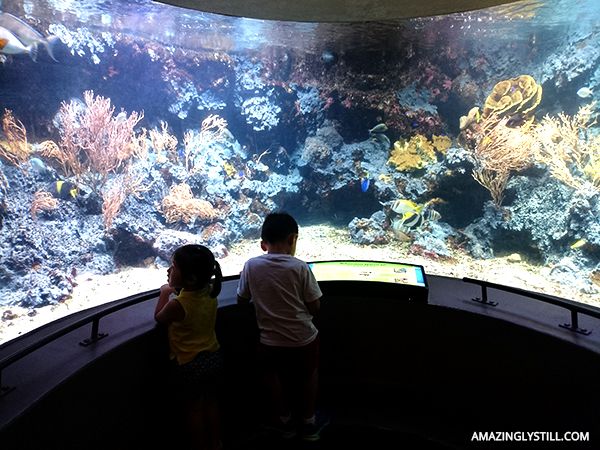 And the next thing I knew, we were back on the tunnel's conveyor belt once again. This time, Nakayla wasn't as scared of the dark turn as before. She quickened her steps to walk out of it instead! Hehe.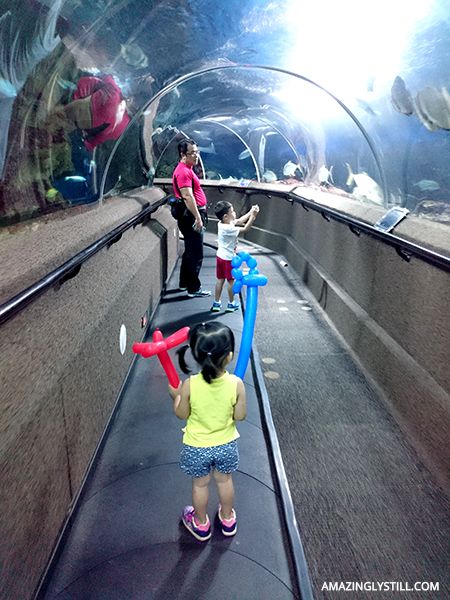 After round two of the tunnel, we left to pay a visit to the pink dolphins and fur seals who were just next door! There was a show to catch!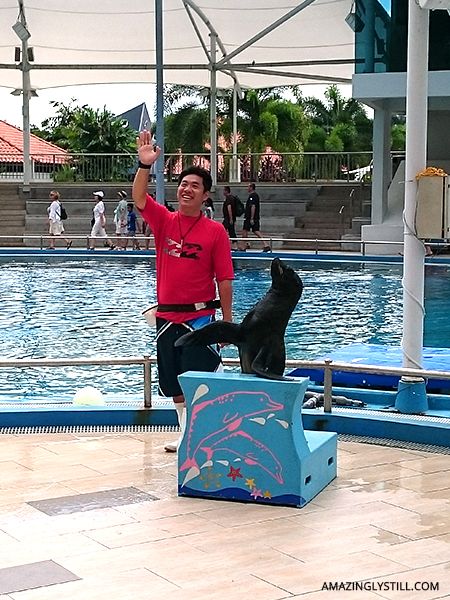 "Hello!"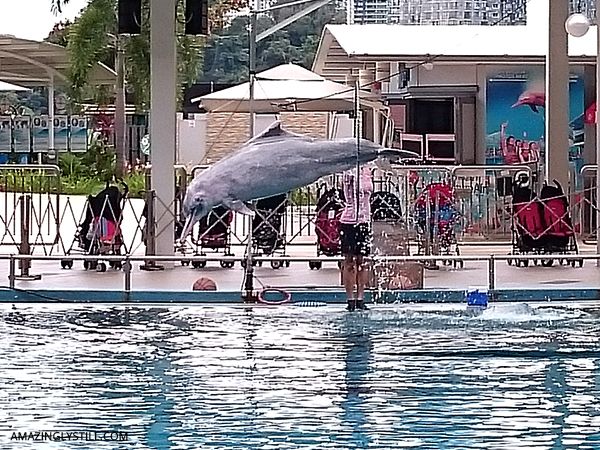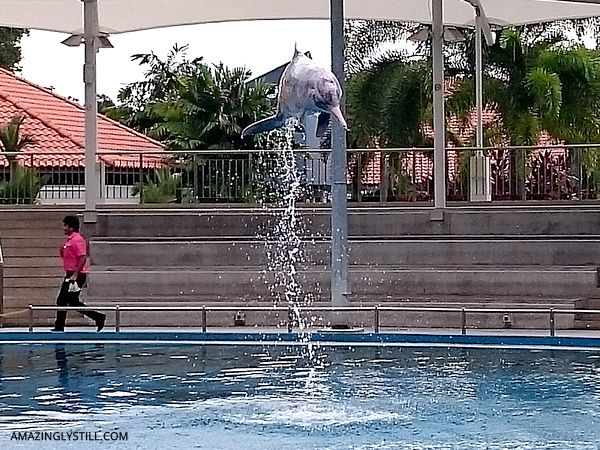 Honestly, I was a little disappointed when the show ended as most of the attention was on the fur seals instead of the pink dolphins; I had expected a full-on pink-dolphins-only performance. I guess when there's a mismatch in expectations, disappointments run high. Sigh.
Later on, I found out that no two shows are the same and the animal highlights and interactions usually alternate between the different show timings they have throughout the day (i.e. dolphins at the 11am show, fur seals for the 2pm show), and even then, it's all highly dependent on the animals' mood and behavior prior to showtime. I guess I should've had a more reasonable expectation when it comes to animal performances. Oh, what a noob I am!
On hindsight though, the fur seals actually put up quite an impressive performance! I mean, to be able to catch hoops thrown by someone who couldn't aim, going all out to get that hoop… That's mighty impressive!
And on that note, we ended our day trip to Underwater World Singapore.

Thanks for having us! We had a filling good time 😀

* * *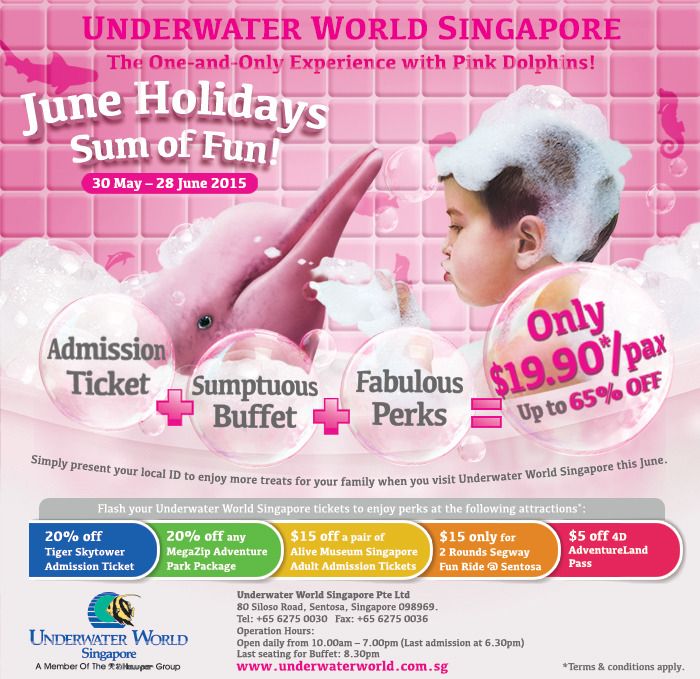 Underwater World Singapore is currently having the Sum of Fun promotion this June Holiday (seen above) at a bundle deal price of just $19.90! Terms and conditions apply.
To find out more about the promotion, including the terms and conditions tied to this promotion, do visit their website.
* * *
FLASH GIVEAWAY ALERT!
The good folks over at Underwater World Singapore is giving away FIVE pairs of tickets to visit Underwater World Singapore and to enjoy the buffet spread at Island Cuisine! All you'll need to do is to follow the widget below! Good luck!
Underwater World Singapore (UWS) Giveaway Terms and Conditions:
– Giveaway ends 21 June 2015, Sunday 2359 hours (Singapore time)
– Winners will be selected by 22 June 2015
– Limited to one winner per household
– Incomplete or invalid entries will be automatically disqualified without notice
– This giveaway is in no way sponsored, endorsed or administered by, or associated with, Facebook
– Winners will be contacted by Underwater World Singapore (So please make sure you fill up the correct details in the contest!)
– Winners must respond to the congratulatory email within 48 hours or another winner will be selected
– Redemption period for the tickets issued in this giveaway will be valid for 3 months
– Each winning ticket only permits a complimentary entry into Underwater World Singapore and a one-tim buffet at Island Cuisine
– Each winning ticket does not include the additional perks in the 'Sum of Fun' promotion
– All personal details provided in this contest will be kept confidential. Only details of the winners will be shared with Underwater World Singapore to facilitate the collection of prize.
– We may or may not announce the winner(s) on our social media platforms. Permission will be seek from the winner(s) first.
– We reserve the right to amend the terms and conditions without prior notice
Disclaimer: We were invited to Underwater World Singapore, Dolphin Lagoon and Island Cuisine for the purpose of this review.