Swimming has been quite the on-off exercise for us the past year, especially after I withdrew both children out of their respective swimming classes – Sorry, Coach, I need my weekend sleep-in desperately!
Besides the lack of classes to make me bring them to swim, it also greatly depends on the weather (and time of the month). Should we ever break the momentum like two weeks in a row or so, it's pretty tough to get back on track cos we'd have found something else to entertain ourselves with.
Recently, though, we've been hitting the pools again thanks to the heat! And with that, I also set out to buy new swimming equipment for the children to make the best of the time spent in the pool.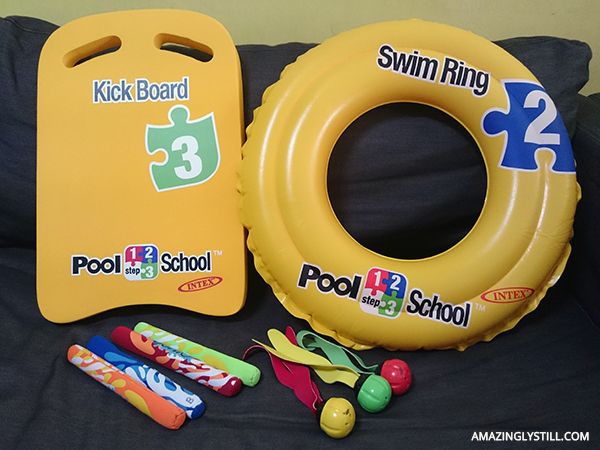 Kick board for Blake, swim Ring for Nakayla, and diving sticks/balls for both.
Out of the four items above, only one was from way back – the diving sticks – and they were never used.
And the story behind the arrival of the diving sticks that were never used…
Blake's swimming coach had diving balls which Blake loved to play with, and I've been looking for them ever since we pulled him out of the swimming class, but I luck out all the time. The shop where his coach bought the diving balls from didn't have stock for it, so after visiting the shop a couple of times through the year, the uncle recommended me the diving sticks instead.
Fast forward to the last week of June, I decided that the children needed new swimming equipment and made my way to Toys'R'Us first (had plans to visit other stores to grab a kick board).
I honestly never expected to find the diving balls at Toys'R'us – I had gone there specifically to get a Hello Kitty swim ring for Nakayla (but they were too big for her). I was browsing when I saw it! I did a little dance inside and quickly grabbed a pack, securing a set for my babies! They may not be exactly the same as the one Blake's coach was using, but I don't think Blake would mind much.
And I was right.
The children were crazy excited upon seeing their new swimming equipment, so the very next day, we went swimming.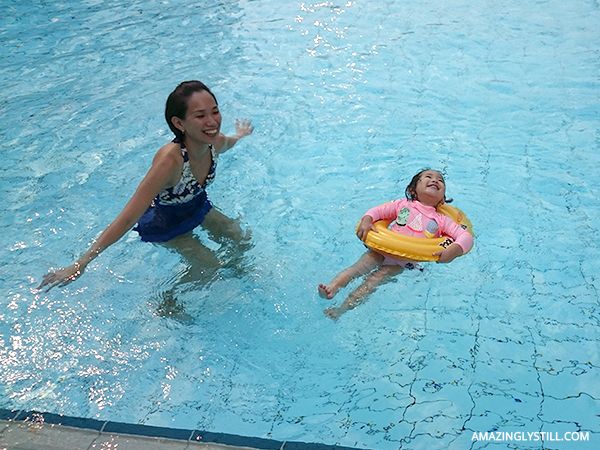 Nakayla's so happy with her new swim ring!
And that particular swim with the kids was one of the most relaxing time I've ever had! I even managed to go on for more than an hour (my cut-off is usually around 40 minutes), without feeling exhausted or a need to get out! So glad I made the call to get new swimming gears – relaxing for me, fun for the children! Yay!