Sponsored
The start of June had me jumping in cold sweat!
It marked the start for the 28 days of Pilates Challenge at Pilates Fitness and I still feel like I haven't gotten into a routine to keep in shape! I may have overestimated myself 🙁
On top of that, I was still a couple of Jumpboard Cardio classes away before I was able to attend the HIIT Legs class! Needless to say, I tried to attend as many lessons as I possibly (physically) could in a week.
Not too long ago, I finally attended my very first HIIT Legs class!
I was the only one in class that day which made me wonder if I was the very first! No, I'm not. Many others have already attended the HIIT Legs class before me!
As the clock ticked and class time arrived, I could feel my heart jumping out of my throat. I was that nervous!
I kind of knew what HIIT meant (the husband does HIIT workouts at home) and just the thought of it makes me wonder if I will make it through the 30-minutes session!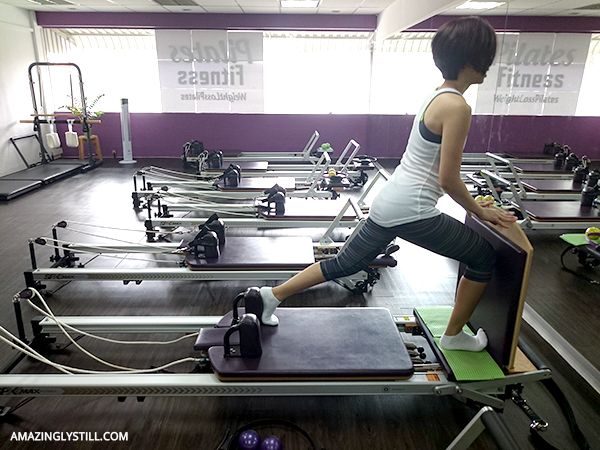 Getting into position for the warm-up
It started off well, but by the time warm-up was over, I was pretty much worn out, and it was only about 2 minutes into class, doing lunges on the reformer! My stamina is none existent when it comes to intense workouts!
However, the brilliant thing about Pilates Fitness' HIIT Legs class is that, whenever you feel like you can never push that muscle any further, you're getting up and moving into another position to work on another muscle. This has got to be part of the reason why I actually made it through the class!
And I have never felt my front and inner thigh muscles burn so much before this, especially the latter. It felt strangely good!
Even though my legs were pretty much jellied by the time class ended, and I had to sit for at least 15 minutes before I could move to get changed and head home, I was feeling crazy proud of myself! Haha!
Here's a sneak peek of what I did in the HIIT Legs class. FYI, I'm going at a slower pace, a pace that I could manage.
I proudly announced to the husband that I DID IT. Many times over. I even showed him the uncut footages taken during class 😛
And I think he's pretty proud of me too. Haha!
* * *
PROMOTION ALERT!

Attend a trial class at $30 and bring a friend along for free!
* * *
Pilates Fitness
Telok Blangah Studio : 434, Telok Blangah Road, Singapore 098854
Serangoon Garden Studio : 85A Serangoon Garden Way, Singapore 555981
Monday to Friday: 9am – 9.30pm
Saturday: 9.30am – 4.30pm
Closed on Sunday
Email: enquiry@pilatesfitness.com.sg
Call: 9184 7622
For more information, do visit their website.
Disclaimer: This is part of a series of posts with classes sponsored by Pilates Fitness for the purpose of review and documenting my fitness journey with them. I'd like to thank the staff at Pilates Fitness for helping me capture these moments on camera 🙂