Media Invite
Early last year, the children and I were invited to the launch of ZooMoo Asia. The children got to interact with the animal puppets and their puppeteers and they truly enjoyed themselves!
This year, ZooMoo launched a brand new series, 'Lost'!
Flash the intrepid wildlife photographer is lost! Luckily for Flash, his good friends, Owl and Piglet, are always ready to come to his rescue! Together, the terrific trio look to our animal friends for clues as to where to find Flash, how to help him survive, and how to get him back home safely – often helping other animal friends along the way. Join Flash, Owl, and Piglet in ZooMoo's new hair-raising adventure series, 'Lost!'
My friend, Stella, kept us in the loop once again, by sending us an awesome ZooMoo Gift Pack!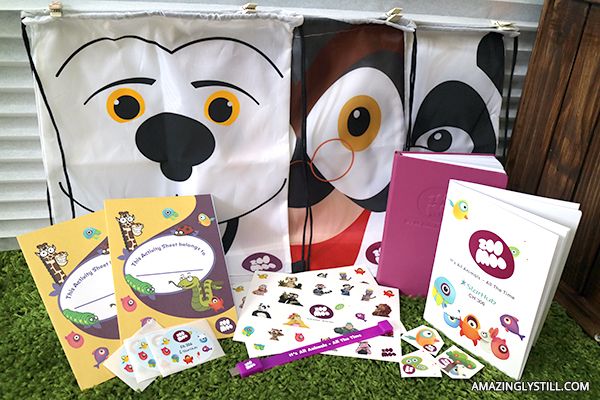 Includes an episode from the series 'Lost', stickers, bags and notebook!
The last couple of weekends, whenever we had to head out early for a full day of family activities, the children will gather at my desk to watch an episode of ZooMoo while having their breakfast. Yes, they watch it over and over again, and are never sick of it!

They sometimes wear their special ZooMoo bags while watching. Haha!
Whenever this happens, the husband and I have about 40 minutes to get ourselves ready without a hitch, stopping occasionally to answer some of the questions they have or to acknowledge something new that they have learnt and is sharing with us. But the children never leave their seats!
I love how they can watch the same episode week after week and pick up different things along the way. It's a really engaging show for the children, and moving at a pace that keeps the children glued to the screen – in a good way cos it's educational!
It's so good that Blake even ask me to film him sharing his thoughts on ZooMoo and its latest show, 'Lost'!
I enjoy watching 'Lost' with the children too, finding out about animal facts I never knew before or never thought to even think about before! Like, did you know that a Thorny Devil drinks with its feet? How cool is that?!
Catch more shows by ZooMoo, the world's first children's TV network devoted entirely to the Animal World, by tuning in on StarHub Channel 306.
If you don't have cable TV, fret not! You can download the ZooMoo App, which lets you explore the animal world through your tablets and smart phones! It's available for free download from the App Store and Google Play.
And here's one good news for all my readers!
ZooMoo Giveaway!
I have one ZooMoo Gift Pack to give to one lucky reader! You will receive everything that I have (colours might differ) so that you can share this wonderful show with your child(ren) too! Just follow the instructions on the widget below and you will stand a chance to win!
* * *

The correct answer is PIGLET!

The winner has been selected and email have been sent!

Thanks to everyone who participated 😀
ZooMoo Asia Giveaway Terms and Conditions:
– Giveaway ends 25 September, Friday 2359 hours (Singapore time)
– Limited to one winner per household
– Winners must be in Singapore to self-collect the prize
– Winners will be selected by 30 September 2015
– Incomplete or invalid entries will be automatically disqualified without notice
– This giveaway is in no way sponsored, endorsed or administered by, or associated with, Facebook
– Winners will be contacted by ZooMoo Asia (So please make sure you fill up the correct details in the contest!)
– All personal details provided in this contest will be kept confidential. Only details of the winners will be shared with ZooMoo Asia to facilitate the collection of prize.
– We may or may not announce the winner(s) on our social media platforms. Permission will be seek from the winner(s) first.
– We reserve the right to amend the terms and conditions without prior notice
Disclaimer: We received a ZooMoo gift pack for the purpose of this review.