Sponsored
Ever since Blake got a taste of skate scooting at his birthday party, he asked very politely if he could have one too. Our answer? "See how first."
While he only asked that one time, I could tell that he really wanted his own skate scooter.
Thankfully for us, Skateline answered the boy's wishes and gave the children one skate scooter each from one of the top recommended brands – Micro!

Maxi Micro for Blake and Mini Micro for Nakayla
Xavier from Skateline recommended me age-appropriate skate scooters for my children and explained to me why it was necessary for Nakayla to be on Mini Micro, while Blake can go for Maxi Micro.
For Nakayla, as she is pretty young, it's better to go for the light-weight Mini Micro which best suits toddlers age 2-5 years old (under 20kg).
Whereas for Blake, he's older and stronger so he will be able to handle the slightly heavier Maxi Micro better. The Maxi Micro was built to grow alongside the child in weight and height as it can hold children up to 50kg and comes with an adjustable handlebar!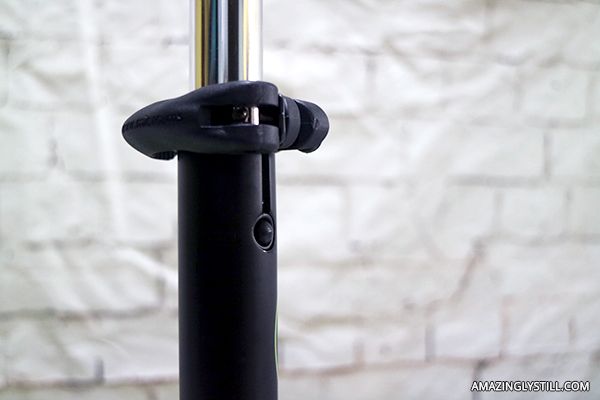 Adjustable handlebar pulled to the max length, locked in place by one single slot
And, in case you didn't know, both the Maxi Micro and Mini Micro scooters are award-winning skate scooters that have wowed parents ever since skate scooting became really popular from a few years back.
I personally love the variety of colours available, and how vibrant they all look! It makes me smile just looking at the skate scooters!
On a good haze-free weekday evening, I took the children out for a little test run!
It took them a while to get a hang of the skate scooter as it functions a little differently from what they have been exposed to so far. The Micro skate scooters we have depended on shifting of weight and tilting of the handlebars to turn, as opposed to most where you can just twist the handlebar to make a sharp turn.
After seeing how the children move with their skate scooters, I'm really glad for this unique lean-and-steer mechanism that has been incorporated into Micro skate scooters for children to learn how to balance.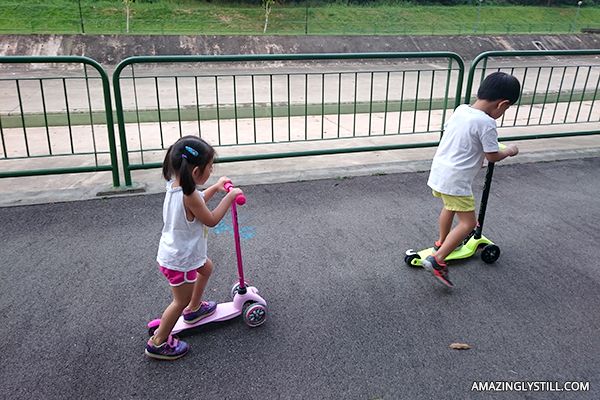 Wasn't long before they just zoom off without me!
The next time we head to the park connector (or the park itself), I'm going to gear myself up for a nice relaxing jog while the children skate scoot alongside me!
* * *
I asked Xavier from Skateline for some tips and advice and he gladly shared the following!
For children below 7-years-old, depending on the child's ability to balance on the skate scooter, it is advisable to get the younger children to start with a 3-wheeler as it is more stable with 3 points of contact.

As with all rolling sports, there is still an element of risk, so it will be best to equip children with protective gears like helmet, elbow and knee guards.

Once the child is confident with skate scooting and an upgrade is required, 2-wheelers can be considered for children 8 years and older.

As the construction of skate scooters is complex, the materials used can be vastly different, resulting in varied prices.

Here are some examples:

For wheels, the difference in quality will mean a different rate of wear and tear. Better brands use wheels that can go the distance and will not crack under humid conditions. For the cheaper skate scooters, there will probably be a need to change the wheels frequently due to a faster rate of wear and tear or because of breakage.

Bearings affect the smoothness of the scooter when in motion. They are graded from 1, 3, 5, 7 and 9, with ratings printed on it as ABEC 1, ABEC 3 and so on. It is important that the bearings are true to its rating and comes from reputable bearings manufacturers. Skate scooters should come with at least ABEC 5 rated bearings.

Joints are important, just like our joints in the body! Poorly constructed joints will render the skate scooter out of shape through frequent rides. Paying more to get a well-constructed skate scooter will stretch your dollar further as it rarely goes out of shape even with frequent rides.

A stronger deck will result in better transfer of energy other than withstanding stronger loads.

Adjustable columns on skate scooters need to have reliable slots so that it can be locked in place. If it goes down too easily, it could result in mishandling of the skate scooters and might even compromise safety of the rider! For Maxi Micro, the height adjustment is free from slots (except one at maximum height) so it can be adjusted to the absolute best height for the rider.

Purchasing skate scooters from reputable brands like Micro, a Swiss brand with a strong standing in the global market, ensures that you are paying for every dollar's worth.

For Micro, in particular, their products come with a rare 2-year warranty period. Most brands do not come with warranty or, if they do, have a warranty period of only one year maximum, due to the varying rate of wear and tear through use by the rider and other elements.
* * *
Now that you have read my personal review of the skate scooters for the children, and have some new knowledge on skate scooters through Xavier's tips and advice, I have great news for you!
From now till 31 November 2015, all Amazingly Still readers will receive a special discount on any of the scooters available at Skateline!
To order online, visit their online store here and use the code 'ScooterAS' or write them an email (info@skateline.com.sg) with 'ScooterAS' as the subject!
For walk-in purchases at any of their four outlets, simply flash this blog post on your mobile to receive the special discount!
And now, even greater news!
SKATELINE GIFT VOUCHER GIVEAWAY!
One lucky reader will receive a $100 Skateline Gift Voucher! All you'll have to do is follow the instructions in the widget below. Good luck!
* * *

The winner has been selected and email have been sent!

Thanks to everyone who participated 😀
Skateline Giveaway Terms and Conditions:
– Giveaway ends 31 October 2015, Saturday 2359 hours (Singapore time)
– Limited to one winner per household
– Winners must be in Singapore to self-collect the gift voucher
– Gift voucher can only be used exclusively at Skateline's AMK Outlet
– Winners will be selected by 4 November 2015
– Incomplete or invalid entries will be automatically disqualified without notice
– This giveaway is in no way sponsored, endorsed or administered by, or associated with, Facebook
– Winners will be contacted by Skateline (So please make sure you fill up the correct details in the contest!)
– All personal details provided in this contest will be kept confidential. Only details of the winners will be shared with Skateline to facilitate the collection of prize.
– We may or may not announce the winner(s) on our social media platforms. We will seek permission from the winner(s) first.
– We reserve the right to amend the terms and conditions without prior notice
Disclaimer: We received one Maxi Micro and one Mini Micro from Skateline for the purpose of this review.