sponsored
The Christmas festivities have began at Square 2!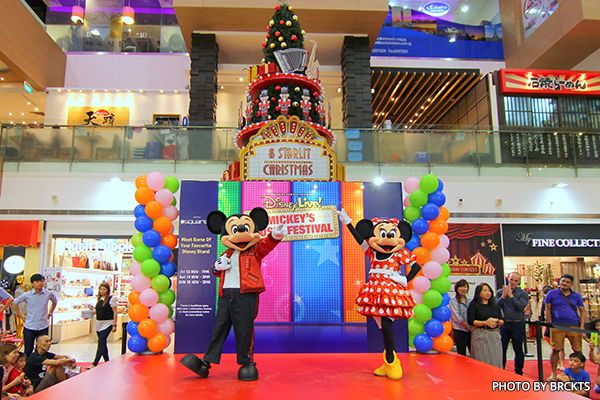 The joy, happiness and holiday cheers at Square 2 kicked off with meet and greet sessions with the cast of the Disney Live! Mickey's Music Festival last Friday.
The children were given a little sneak preview prior to meeting the cast, and I cannot wait to bring them to the show. Just look at how enthusiastic Blake is!
I am also happy to report that Nakayla, for the very first time, was more than happy to high-5 and be next to the world's two most famous mice – Mickey and Minnie Mouse!
And it's a feat because getting Nakayla near a mascot (two, in this case) usually ends up in tears as she gets really frightened by them. I don't know why!
Then, the Nakayla I know and love so much (cos too cute, seriously) returned when Donald Duck took stage. Haha! The look of horror on her face was hilarious! Haha! I wish I had taken a photo of it because no one else saw it but me. I can repeat the expression if you want, but I think it'll horrify you instead of making you laugh. Haha!
Blake, on the other hand, was especially over the moon when Donald Duck came onstage!
While the meet-and-greet sessions are no longer available, there are plenty more exciting things to experience at Square 2, such as Christmas performances like the Broadway Jazz Trio, Rhythmic Tap Dancing, and Kids Choir. Many more performances have been lined up for all shoppers starting on 21 November, all the way through to 25 December 2015! And it's free to watch!
On top of the performances, there is also an ongoing Instagram competition!
Capture and share your favourite Christmas moments at Square 2, upload them onto Instagram with the hashtag #SQUARE2CHRISTMAS and you could win yourself a $50 Far East Organization Mall Voucher! Three winners will be picked each week.
Besides entering the Instagram contest, you'll also be able to take home a physical copy of your favourite moment! Just hop on over to the photobooths located at Level 1 to have your photo printed out. Limited to one photo print-out per Instagram account.
For more information on the Instagram competition and the many activities and deals happening at Square 2 this holiday season, do visit their website.
There's definitely something for everyone at Square 2 this Christmas!
* * *

Square 2
10 Sinaran Drive
Singapore 307506
(Novena MRT Station)

Opens daily 11am to 10pm

Tel: 6397 2288
Disclaimer: We were invited to the meet-and-greet session by BRCKTS and received complimentary tickets for the purpose of this post.