Sponsored
Christmas time, time to share our love,
Come and join the tidings to the world,
Christmas time, the best time of the year.
Yes, it's Christmas time!

Musical Carousel, 42cm ($69)
Christmas is here once again and I simply love this season of holiday! Mainly because everyone seems a lot kinder and friendlier. Don't you think so?
This is also the time I will exercise no self-restraints whatsoever when it comes to spending the moolah. Hehe!
And this year, after I was invited to the Metro Christmas Magic preview, I spent quite a bit of time (and money) shopping at three different Metro outlets – Paragon, Centrepoint and Woodlands!
The Metro Christmas Magic preview was truly a sight to behold. There were just too many wonderful things, so instead of flooding this blog post with every item I saw and took photos of, here are my top 5 favourites from the latest Christmas collection at Metro.

Part of the Native Home Coordinates, from $5 to $399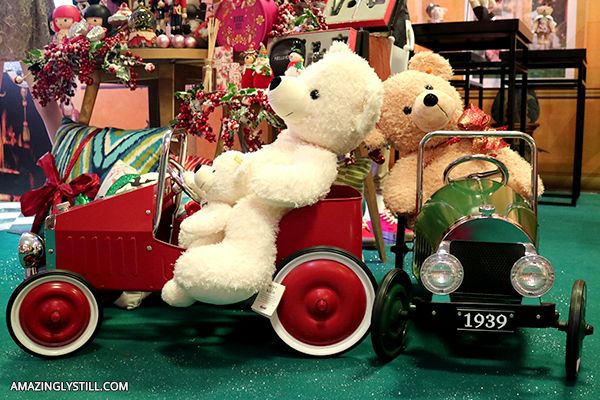 Red Paddle Car ($349) – Lotte Teddy Bear White 80cm ($279), 40cm ($99.90)
Green Paddle Car ($349) – Fynn Teddy Bear Beige 80cm ($279)

Moroccan Lamps, from $850 to $950

Clip-on Peacock 33cm ($13)

Metal/Claydough Santa with Dangling Feet Hanging Ornament 7″ ($6.90)
But what I really like most are the clothes from Metro's private labels such as Jo Burton, Kurt Woods and M. Maison!

Shirt: Jo Burton, Bottom: Kurt Woods

The shirt comes with removable collar!
The removable collar from the Jo Burton shirt is a special feature that caught my attention. I fell in love with it immediately! While the collar cannot be removed completely, it does give a different look overall – formal to casual. The shirt is also made with the finest cotton available, which makes for great wearing in our weather!
For myself, I kind of went crazy trying on as many styles as possible from all three private labels. Hehe!
There were a number of pieces that I really like, but I couldn't possibly bring every single one of them home (or can I? Hehe!), so when it came down to choosing what I will definitely wear on a regular basis, I narrowed down to these…

Shorts from M. Maison (Top my own)

Top from M. Maison (Shorts my own)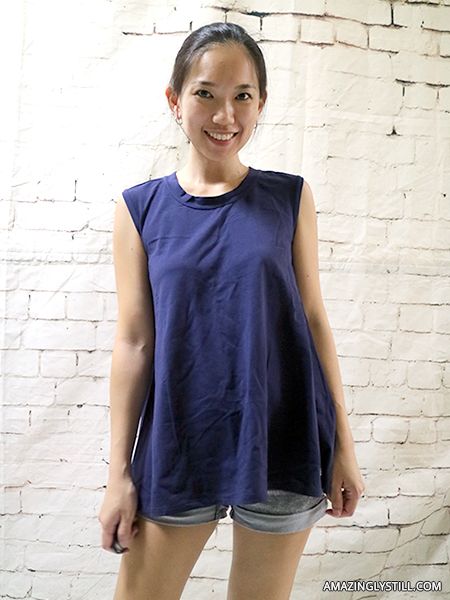 Top from M. Maison (Shorts my own)

The back!

Dress from M. Maison
It was only after I got home did I realize that I picked out everything from the M. Maison label! The minimalist style accompanied by the oh-so-comfy material is a definite winner for me and I can take this from casual to formal just by throwing on a different bottom, maybe a jacket, and some accessories!
Shopping at Metro has been a delight, with friendly and helpful staff ready to assist. And I have to say this, other than the first day at Metro Paragon (where I had a personal shopper with me), none of the staff from all three outlets I visited after knew I was collaborating with Metro. I'm really impressed by their staff!

Peace to the world and thank you for all the love, Metro!

* * *

The Metro Christmas Bear and Dress-Your-Bear Competition!
Get yourself the Metro Christmas Bear at a special rate under their purchase-with-purchase promotion. Available in different sizes and colours, price ranging from S$9.90 to S$29.90.
You can also take part in the ongoing Dress-Your-Bear competition at Metro Centrepoint, where 5 of the most creatively dressed bears will stand to win a total of $3000 worth of vouchers each! Competition ends 20 December 2015.
For more information, do visit Metro Centrepoint or their website.
Note: There was a mistake in the competition details in the previous version. Updated 17/11/15, 11:05AM.
Disclaimer: I was invited to the Metro Christmas Magic preview and received shopping vouchers for the purpose of this review.