Sponsored
As I begin to type out this post, I realized how easily distracted I am by the amazing music flowing through my ears. Usually, music acts as the white noise I need in the middle of the night whenever I'm writing. But at this very moment, it's far from being just white noise.
I'm so immersed in the current track – Backstreet Boy's Incomplete. I've got a feeling that's how this blog post might end up, cos I stop at every few words to lip sync along! With passion, might I add. Haha!
And the reason behind my highly distracted night…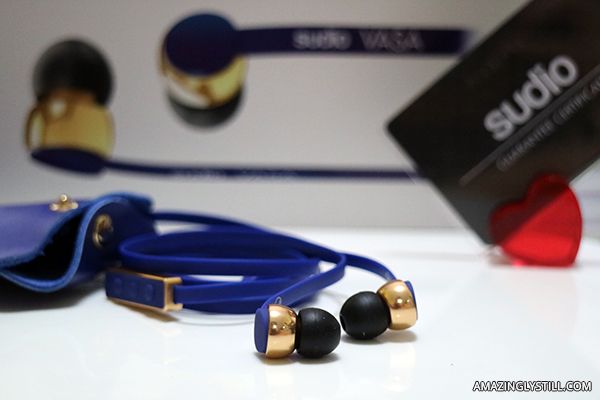 Sudio Blue Vasa Android
Sudio Sweden definitely weren't kidding when they said, "The user is now able to hear every detail, in every instrument, in every song, giving a unique unforgettable sound experience."
It feels like I have an entire surround sound system in my ears! From the bass to the percussion… Instruments I didn't pick up earlier on in songs I must have played a hundred times… I can hear them ever so clearly now. And I'm not joking!
I can hear the rhythm of tambourine in the background of Hilary Duff's Chasing the Sun! And this raindrop like sound in Taylor Swift's Out of the Woods! And yes! I'm doing a "live" review on-the-go! And yes again! That's how long I took to type out all these sentences as a result of my distraction! Haha!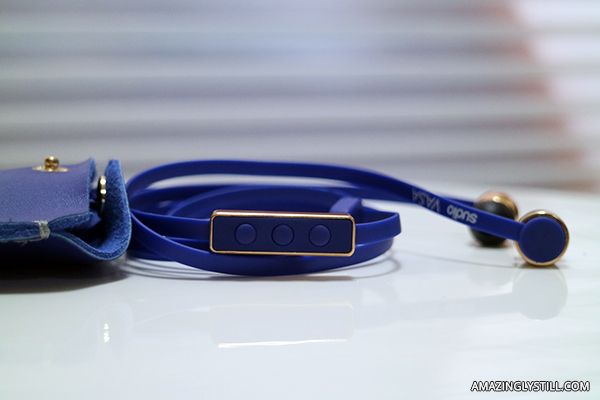 Microphone and Remote for volume, playback/pause, pick up calls
Besides being able to use my Blue VASA on my desktop to listen to music and work on my videos in the middle of the night, I can also use them with my mobile phone.
This versatile pair of earphones comes in two versions – Android and iOS – and with a microphone built into it. Receiving calls comes with absolute ease at the touch of the center button. Needless to say, the sound quality is much clearer than all the earphones I have used before and that makes talking on the phone in a crowded place so much more pleasant!

Genuine Leather Carrying Case
I must say, I'm pretty impressed by the dedication the good people over at Sudio Sweden have in making sure that the earphones they create will do justice to all the music we're listening to.
If you're keen to get yourself a pair of Sudio Earphones to experience what I have been experiencing, head on over to their online store and place your order. Shipping is free to Singapore! Just remember to key in the very important and special discount code – amazinglyxsudio – to get 15% off your purchases! Valid till 31 December 2015.
* * *
Here's a fun fact about how Sudio Sweden got their name. It's a really interesting and what-are-the-odds kind of story!
At the early stages of the project, one of the founders ran into Phil Collins in the streets of New York, who was having problems with his own earphones. As the soon-to-be Sudio earphones were still in the prototype stage, the founder wasn't able to offer Phil Collins any better alternative. What he could offer Phil Collins at that time were these six words: "Trust me, I know the feeling."
That chance meeting with Phil Collins gave the founders of Sudio the determination they need to succeed, which is why they decided to name their brand Sudio, paying homage to Phil Collins' song, Sussudio.
Disclaimer: I received a set of Sudio Blue VASA earphones for the purpose of this review.