Media Invite
The children got to experience a special kind of Christmas even before Christmas arrived – all thanks to Christmas Wonderland at Gardens by the Bay!
First on the agenda was to savour the Flower Dome all decked out in Christmas themed decorations.
After our tour around the Flower Dome was over, we took the train to the Christmas carnival (Supertree Grove) which Gardens by the Bay had specially set up for this festive season.

The children loved it!
And the very first thing we did upon reaching the carnival area was to hop onto the carousel!

This vintage carousel was brought in from UK!
Besides the carousel, there are plenty of other rides and carnival games which everyone – young and old – will definitely enjoy!

They even have an ice rink!
This has got to be the highlight of the evening for me. I've never gone ice skating before, and I cannot roller-blade to save my life, but when the children said they wanted to go, we went. I had to accompany Nakayla because she didn't know how to move her legs at all, whereas Blake managed to master how to glide with the penguin aid within minutes! I'm crazy impressed by him!
At one point, I fell hard on my bum when I was trying to catch up with Blake (I had no aid and Nakayla was with Sean by then). It was so bad that I just sat there, cursing and swearing in pain while trying to laugh it all off. The pain shot from my bum straight to my head. It was terrible. And because I broke the fall mainly with my hand, a huge bump appeared on my palm almost instantly.
Then Blake commented that he wanted to touch the ice in the ice rink, and within seconds *BOOM!* he fell on his bum too. I was freaking out because I know how much it hurt, but this boy of mine got up and went, "The ice is so cold, Mommy!" and carried on ice skating as though nothing happened. The benefit of being young and light-weight… Sigh.
Despite the fall, I actually had a really good time ice skating (well, sort of!) with Blake. He was so happy! Oh, and the very first thing he did when he woke up the next day was to draw a picture of himself ice skating! 😀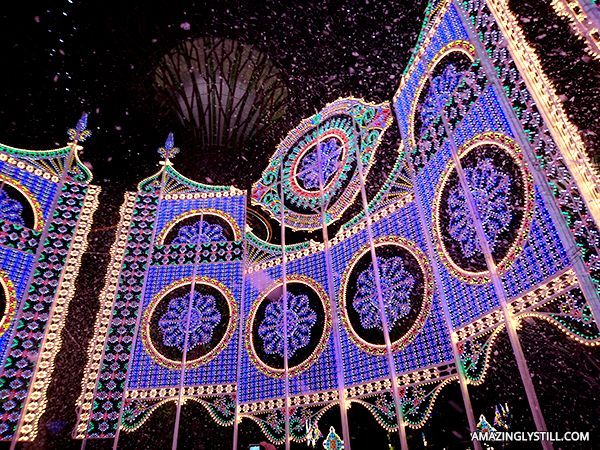 This Christmas Wonderland at Gardens by the Bay has really made quite an impression on the children. They still talk about it every now and then! Now I'm thinking… Should we head back again for another round of fun?
Disclaimer: We were invited to the official opening of Christmas Wonderland at Gardens by the Bay 2015 and received complimentary passes to various activities at the carnival space for the purpose of this review.