Sponsored by OSIM Singapore
For someone who stares at the computer all day for work, haven't been getting much good night's rest since the birth of my children, and lately, been experiencing headaches and have trouble falling and staying asleep… I'm pretty much on the verge of some kind of exhaustion. I don't know how Sean does it. He sleeps less and works a lot harder than I do, but he's coping much better than I am.
On some of those nights I simply can't fall asleep, I resorted to playing my mobile phone until my eyes get tired and I'll shut down into lala land.
I know that's not the best method to get myself to fall asleep, and I do wake up feeling more tired than the night before, but at least I managed to get some sleep. Or would no sleep be better? Hmm…
Thankfully for me, OSIM uGalaxy appeared in my life!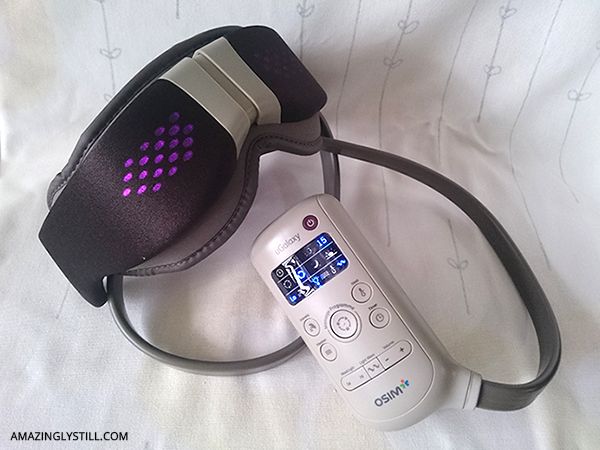 The world's first eye massager with mood light!
Prior to receiving a unit of OSIM uGalaxy for this review, I was already in love with the eye massager!
I first came across it on one of the many weekend trips we make to Chinatown Point. It was love at first try!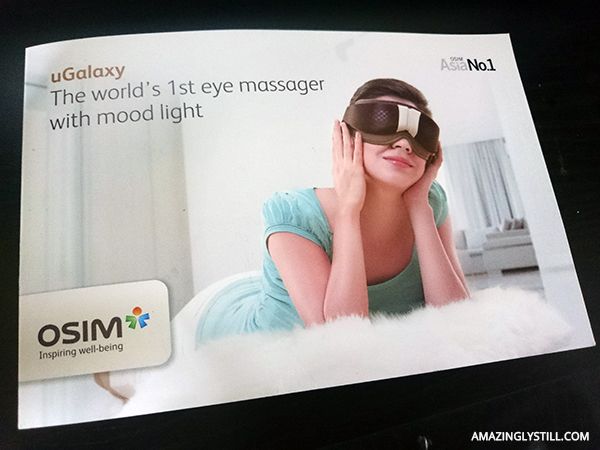 The past couple of weeks, after I got my very own OSIM uGalaxy, I switched out my mobile phone for OSIM uGalaxy as my bedtime buddy, and sleep has never felt so good and easy.
Opting for 15 minutes of RELAX program massage every night, I'm usually a little away from being sound asleep, with just enough energy to remove my uGalaxy and put it aside, safe from any harm (read: the children!), by the time the massage is over!
My typical settings before I sleep: 15 minutes massage, high intensity, no lights and vibration, music on low, heat off.

Screenshot from a video the husband secretly took of me one night.
He sent it to me with the caption, "Hehe" 😛
After just a few nights, I felt so much better, which got me thinking that I should start my day feeling this awesome too!
Instead of hitting the snooze button on my alarm like I used to do every morning, I'll now get up on first ring, put on my uGalaxy and hit the ENERGISE program for my relaxing wake-me-up treat. This version of 15 minutes snooze sure beats having the alarm ringing through my ears every five minutes! Hehe.
My typical settings for my morning treat: 15 minutes massage, high intensity, lights on, no vibration, music on low, heat on.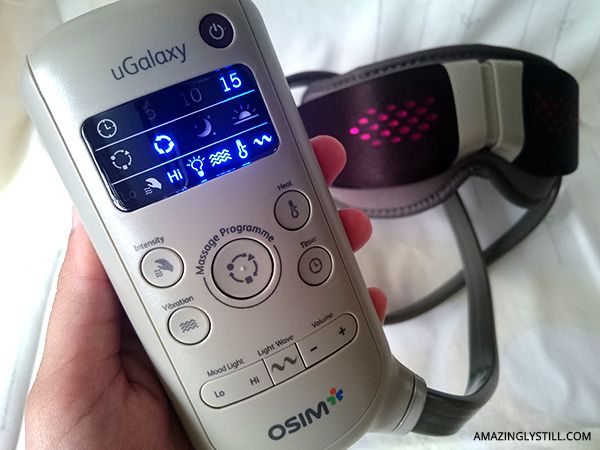 The various indicators seen on the LED display
Besides using it before sleeping and after waking up, I also use it whenever I develop a headache in the middle of the day.
Whenever my headaches get in the way of work, I'll pick up my uGalaxy and enjoy 15 minutes of BALANCE program massage. Most of the time, I'll feel recharge and continue with work. The other times, I fall asleep. Oh! Such is the joy of working from home! Hehe.
My typical settings for getting rid of headaches: 15 minutes massage, high intensity, lights on, vibration on, music on low, heat off.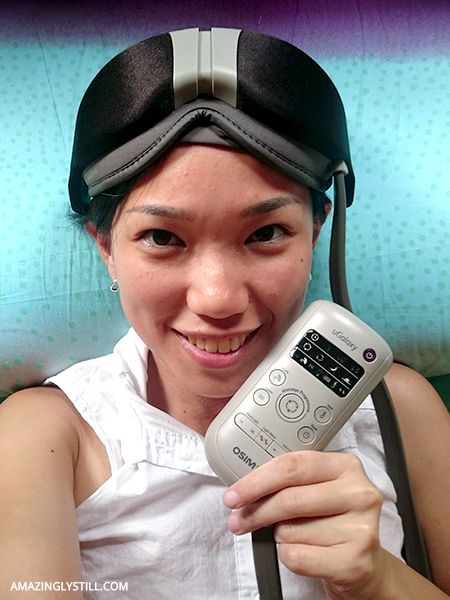 After using the uGalaxy, I definitely feel fresher and more relaxed these days. While I still miss the special face and eye massage Sean used to give me before the children arrived (yes, the husband was my personal masseuse! Hehe!), this has got to be the best alternative ever!
Oh, and plus point! Sean can now enjoy some of the massage love too! (Cos this wife can't massage for nuts!)
* * *

Psst… I did a simple unboxing and basic setup video of my OSIM uGalaxy too!
* * *
OSIM uGalaxy – the world's first eye massager with mood light is a new generation eye massager that utilises scientifically-proven mood light, music, together with airbag and vibration massage and warmth to help relieve headaches, insomnia, eye bags and everyday eye fatigue.
Some of the key features include enhanced temple massage, three relaxation music tracks, built-in speakers and facial conformity for secure fitting.
It also offers relieve to tired and puffy eyes, reduces tension and stress, improve blood circulation around the eyes and temples, and mood light that gently stimulates brain activity to achieve the most desired state of relaxation, balance and rejuvenation.
The OSIM uGalaxy is currently retailing at SGD$249 (U.P. $299) and can be purchased from most OSIM outlets. For more information for OSIM uGalaxy, or to purchase it online, you may visit OSIM Singapore's website here.
Disclaimer: I received a set of OSIM uGalaxy for the purpose of this review.