Sponsored
Giving birth to Blake and Nakayla has pushed my body to a limit where it refuses to return to the way it was before – this I'm sure most mothers will completely understand. And while the idea of getting a shapewear comes to mind every now and then, I didn't exactly head out to find one.
However, in the last few months, I've been seriously contemplating getting a shapewear for my postpartum body, especially after seeing how well it worked for some of the fellow mommies I know!
I visited online shops and physical stores to browse through all the shapewear products I can find, but I always end up feeling a little unsure when it comes down to making a purchase. What if I buy the wrong size? What if it doesn't fit? What if it doesn't work?
It also doesn't help that visiting a physical store had the staff taking my measurements all wrong. I'm guessing this was because she was attending to a few customers at a go. I remember her insisting that I was a C-cup when clearly, I'm nowhere near that. Oh lady, if I had C-cup breasts, I wouldn't need shapewear to hide my postpartum belly. People will be too distracted up top!
Needless to say, I was pretty bummed out by my own efforts in searching for a shapewear. I was on the verge of giving up when D'Elegance found me!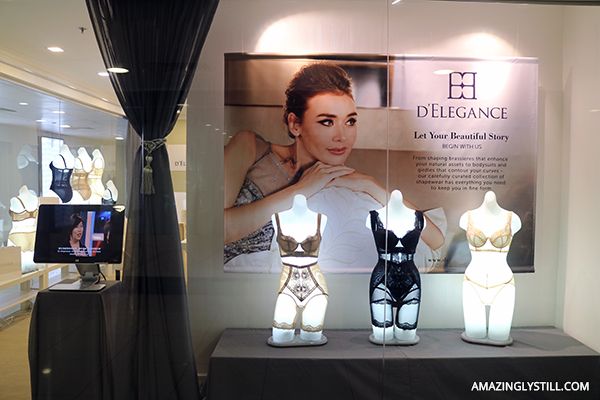 While I still had some reservations when D'Elegance first contacted me, I was pleasantly surprised when I found out that they only do one-on-one consultation! There will be no distractions while assisting me with finding the best shapewear for my body! This really appealed to me.
I delved further into my research and discovered that D'Elegance has been featured on television and numerous magazines as well. I felt more assured, and in no time at all, I was at D'Elegance, all ready for my consultation!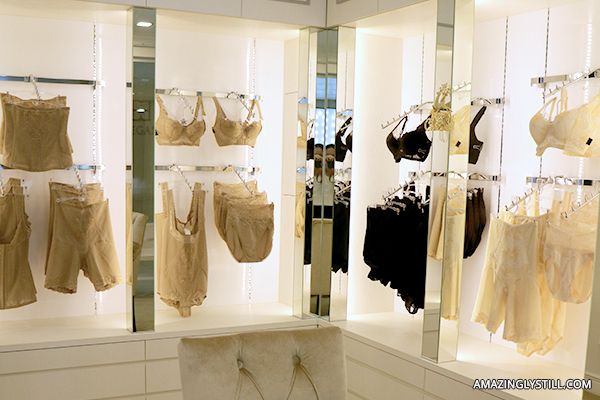 Before we got started, I was led into a private consultation room and was introduced to shapewear and how it helps with sculpting our body. Following which, measurements were taken (meticulously done!) and I was presented with several products to try on.
The consultation service provided at D'Elegance is immaculate and personable.
Having my own little room to move and speak freely with my personal consultant, Rain, while sipping on nice cup of tea and trying on various products made all the difference in the world! I felt so safe to talk about my body issues and Rain advised me on how to best use their shapewear to achieve my own personal body image goal.
Rain also took time to understand what I like to wear on a daily basis and made product recommendations based on that among other things!
Ms Elida, founder of D'Elegance, also took some time off her busy schedule to attend to me. She's such a funny and open-minded lady! I had an amazing time talking to her. We talked about her journey towards creating shapewear, which she oversees every single step of the way even to this very day, to my breasts, or lackof! Haha!
I spent about 2 hours, going back and forth products, picking out the best ones for my own body, and I went home a really happy girl all ready to sculpt my body!
Curious to see what I went home with eventually? Stay tune to find out!
* * *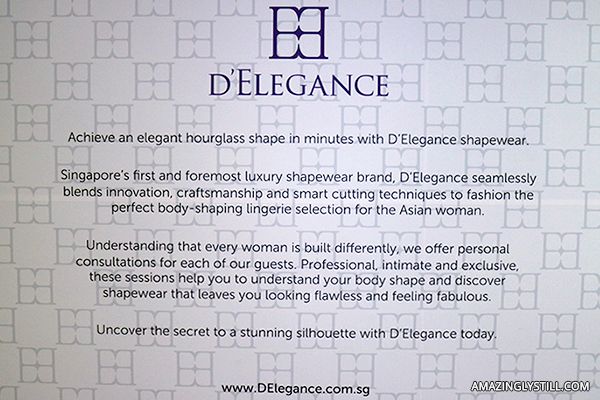 D'Elegance
International Plaza
10 Anson Road #03-15/16
Singapore 079903
Tel: 6226 3013
By appointment only, so please call to make an appointment before heading down.
Disclaimer: This is part of a series of posts with D'Elegance. I received D'Elegance products for the purpose of this review.