Sponsored
After my personal consultation at D'Elegance, I got down to testing the products I have just received. A good majority of the shapewear I picked out focuses on my belly area as this is the part of my body that really bugs me a lot.
Many of you are probably thinking, "You with a belly? How is that possible? You're so slim!"
Well, I can tell you that I have my own body image issues and a large portion of it stems from the aftermath of giving birth to two children.
My self-esteem actually takes a blow whenever people tell me how slim I am, after I lament about my bulging post-partum belly. It's not that I don't appreciate a good compliment every now and then, but when I look down and I see all that loose skin of mine, it's really frustrating!
Side note: I did get a good laugh out of my mostly-spirit-dampening post-partum belly though. I showed it to my best friend and her reaction was priceless. She couldn't believe it and I think I traumatized her with my body reality. Haha!
Okay, I'm digressing.
Here's what I came home from D'Elegance with!

The Essentials
The Essentials consist of a bra, a long girdle and a body suit. I picked the nude colours in particular as I've grown to appreciate nude undergarments over my usual black ones, seeing how I simply love wearing white most of the time now and white, in general, is pretty sheer.
The bonus that came with my choice of colour? It is made with the latest Wincool fabric!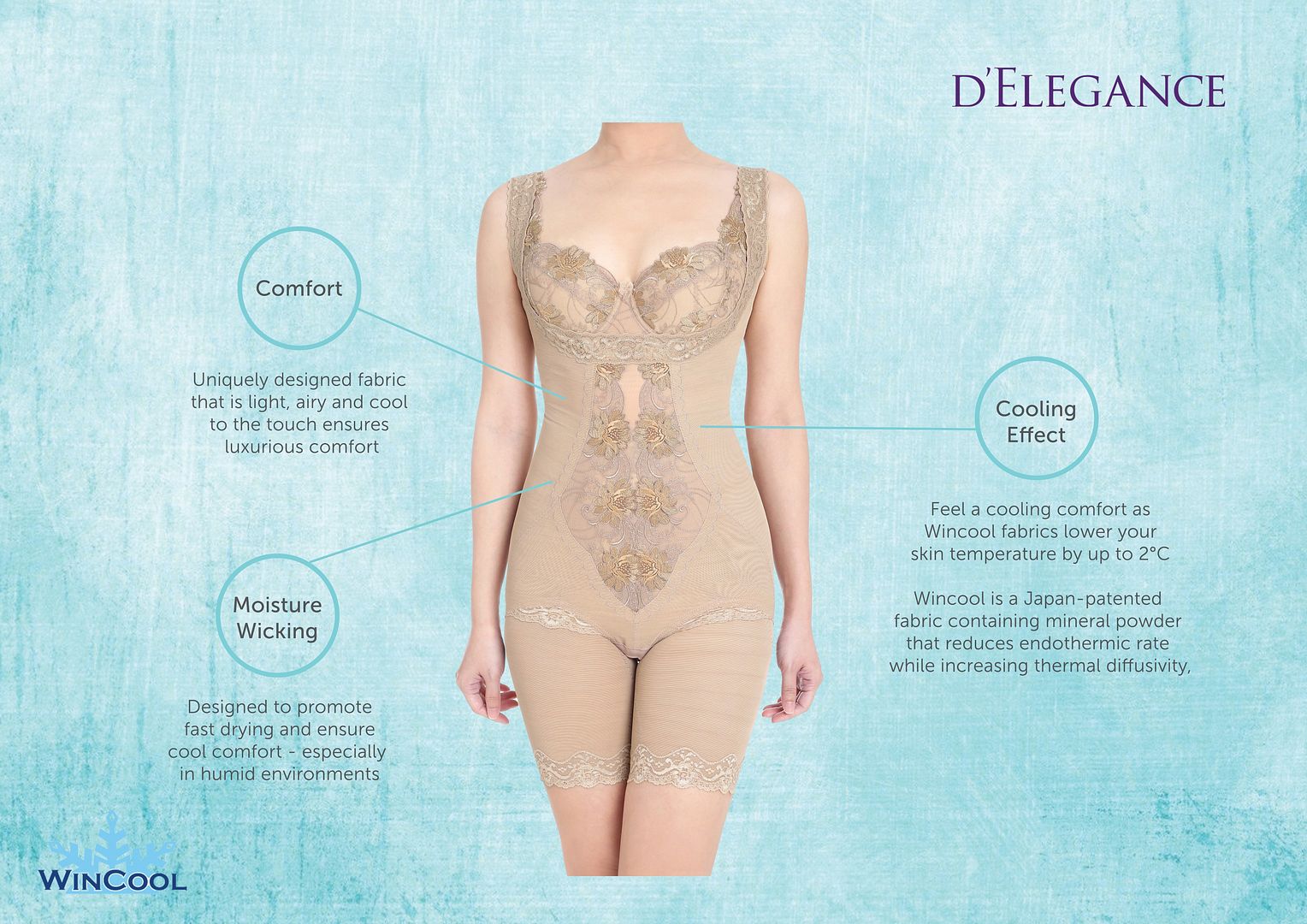 The Wincool fabric is a brilliant technology. Not only does it keep our skin temperature cool under the layers, it's also quick to dry! I can basically wear and wash this set on a daily basis!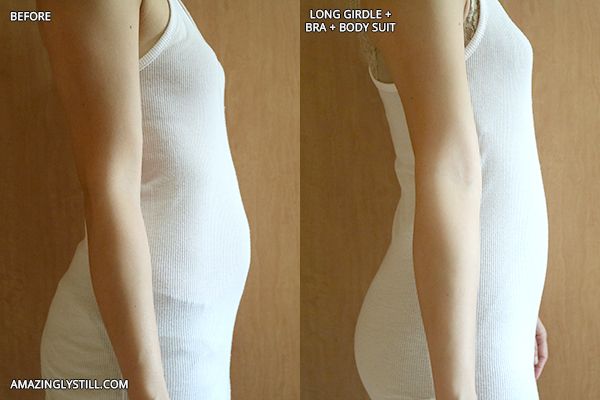 Just by putting on the basic set, I lost a total of 8cm around my waist and belly area. EIGHT! I was so happy with the immediate results that I almost screamed my heart out in utter disbelief!
And look at my bum. Look at how shapely it has become! I may not have much in the chest area, but I just might have discovered my next best physical asset – after my eyes and my smile (even if you think it's not, just give those to me, ok?).
The only downside to this set of shapewear is that I cannot wear the long girdle with my favourite pair of denim shorts – a problem which Rain, my D'Elegance personal consultant, solved easily.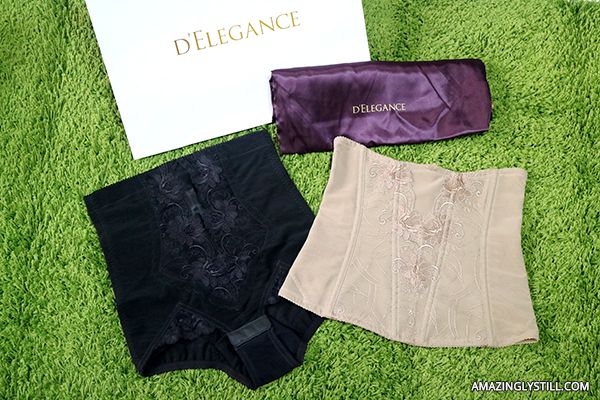 Short Girdle and Waist Slimmer
Once Rain knew about my love for shorts, she immediately brought the short girdle to my attention. It absolutely suits me! And this is, without a doubt, my favourite shapewear among all that I have!
On top of recommending me the short girdle, Rain remembered that my ultimate goal in my shapewear journey was to reduce my post-partum belly. She handed me the waist slimmer to provide additional help to shape up my post-partum belly.
And the result from wearing these two together?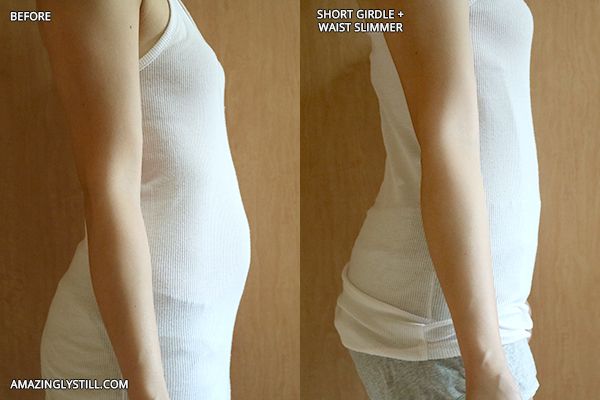 An even slimmer waist and flatter belly!
Can you see me jumping up and down for joy? CAN YOU?! Hehehe! I don't really know how to tell you how much I love having these two pieces of shapewear working together. I can only squeal with delight!
Besides shaping my body, I realized through my weeks of wearing, these shapewear by D'Elegance provides really good back support. The girdles and the waist slimmer work their magic in ensuring I keep my posture right, whether I'm standing, sitting, or out and about chasing or carrying the children. It's especially relieving to my lower back when Aunt Crimson came to visit. The amount of support and relief these girdles and waist slimmer provide is just indescribable!
As you should be able to tell by now, I'm extremely pleased with the shapewear I received from D'Elegance. I cannot wait to wear my way back to my pre-pregnancy body!

Thanks for making me fall in love with my body again, D'Elegance!
* * *
Discount Code for Amazingly Still Readers!
Quote 'Amazingly Still' when you make an appointment for a personal consultation at D'Elegance to receive a waiver of $100 consultation fees. You'll also receive 5% discount off your first purchase at D'Elegance!
If you're not sure what to get, there are package deals available for your consideration: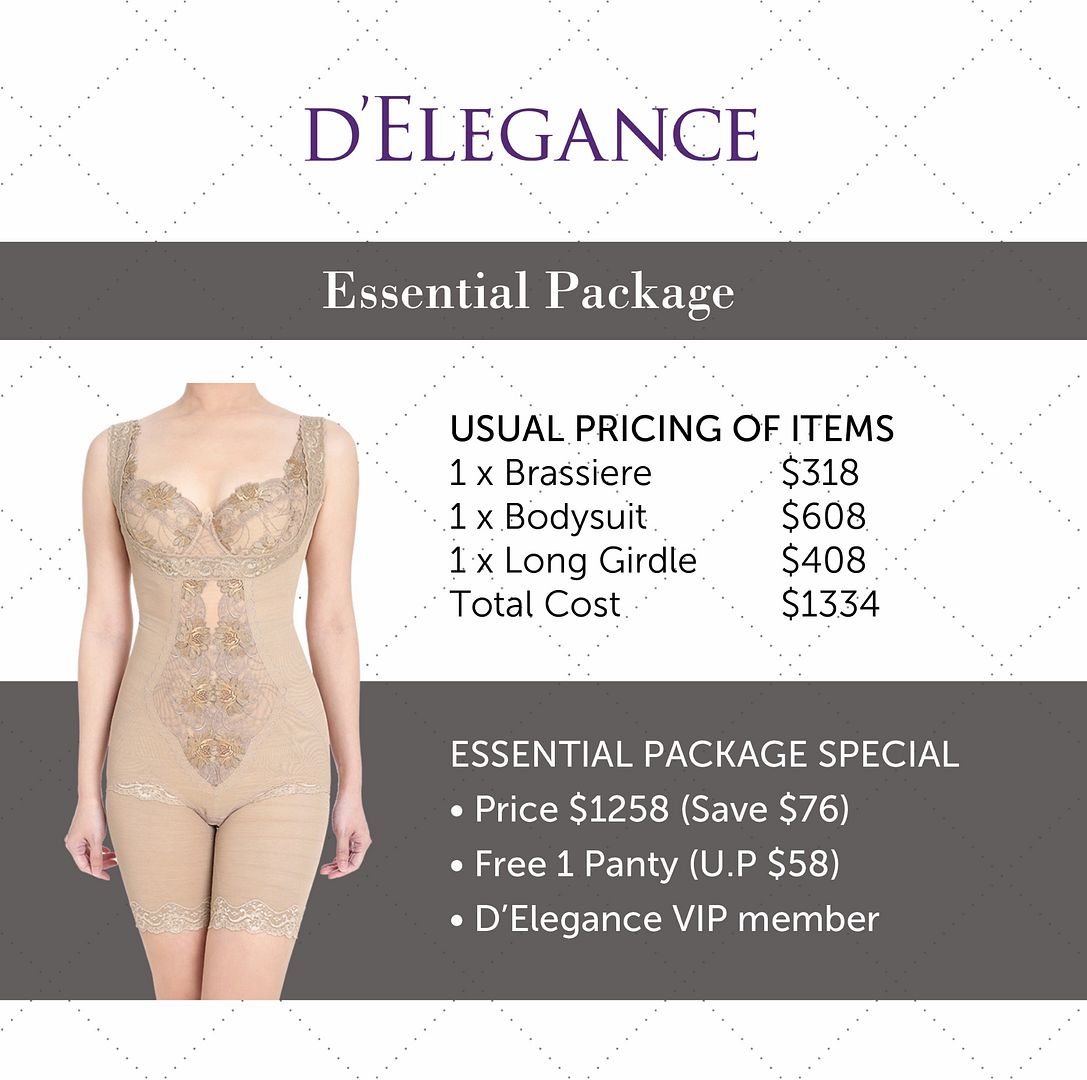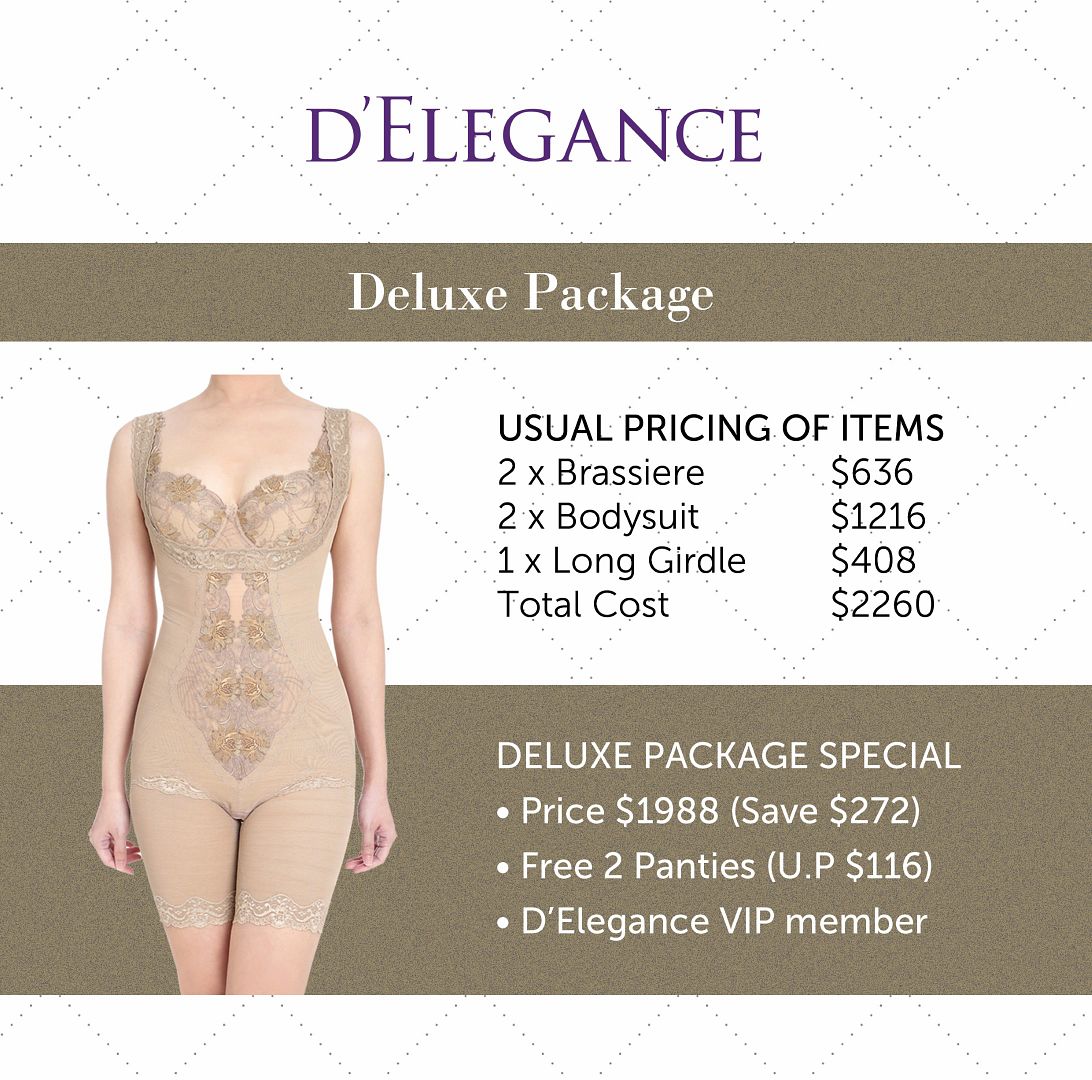 And if you're wondering what some of the members' priviledges are, and what's the difference between the two types of memberships available: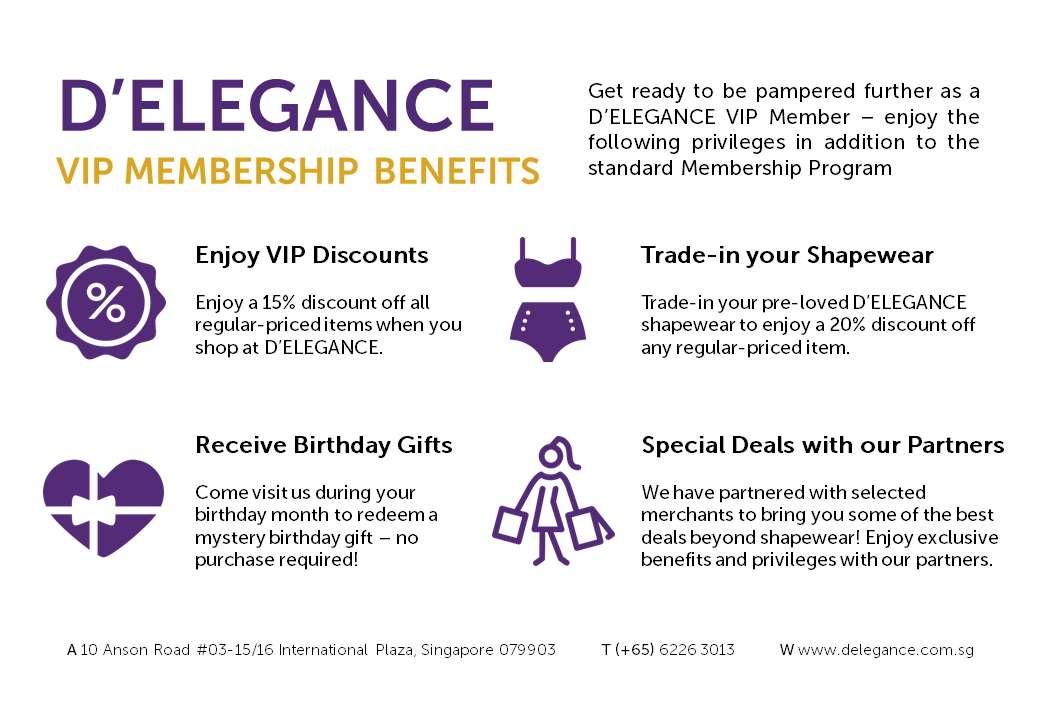 * * *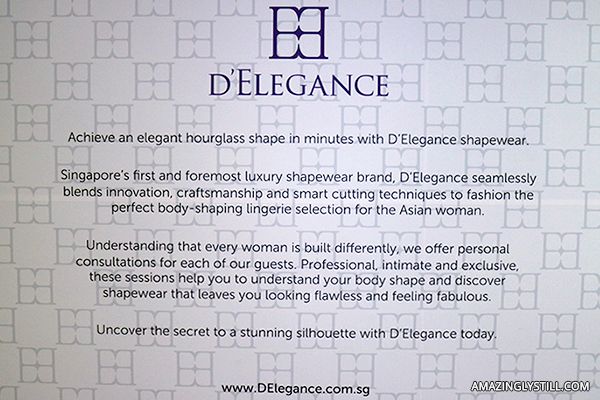 D'Elegance
International Plaza
10 Anson Road #03-15/16
Singapore 079903
Tel: 6226 3013
By appointment only, so please call to make an appointment before heading down.
Disclaimer: This is part of a series of posts with D'Elegance. I received D'Elegance products for the purpose of this review.