Sponsored
Last month, when we dropped by Active Hive for a Minus Calories Workout, we were also introduced to this health and neck support pillow – Makura by Active Hive!
Sean gave it a go and after the first night with the Makura pillow, he was happy to report back that he thoroughly enjoyed using the pillow.
He particularly liked how the special capsules will move according to his head, neck and arm position. He said that all the other pillows we have used in the past tend to have him sleeping at a strange angle when he puts his arm below it, but the Makura pillow did not. And that kept him really comfortable through the night.
Besides keeping him in a comfortable sleeping position, the Makura pillow also provided better air circulation and heat dissipation, and that works perfectly for someone like Sean, who literally has a hot body (he's my heater on cold nights – cold to me at least. Haha!).
And on top of that hot body, Sean also has sinusitis. Honestly, it's quite a pain to sleep next to him on nights when his nose acts up. It's not easy on him either as I have the tendency to shake him awake and, as tired as he may be, he'll do his best to try and fall back asleep only after I have.
But ever since Sean started using the Makura pillow, it has been one peaceful night after another for the both of us! I don't know if this is sheer coincidence or that the pillow has some kind of magic power, but I'm so happy!
I gave the Makura pillow a go as well, and I'm not going to lie. It takes a while to get used to sleeping on a pillow using special capsules after sleeping on memory foam for more than a decade.
My first night didn't go as well as Sean's. I actually woke up to switch back to my usual pillow in the middle of the night. Yet, the very next day, when I used the Makura pillow for an evening nap (don't judge!), I was reluctant to get up!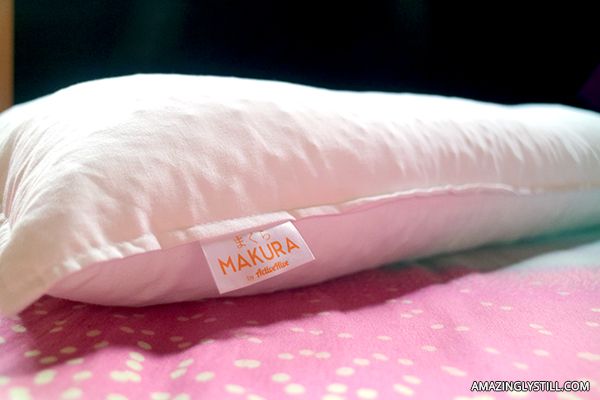 Overall, the Makura Health and Neck Support Pillow by Active Hive is quite the wonder product and with just one Makura pillow between the both of us to share, I decided to let Sean have it. He needs it more than I do, and besides, I can take it to use if and when I have my afternoon nap!
* * *
Active Hive is a lifestyle and wellness brand that offers innovative fitness and complementary wellness services to enhance the quality of your life with its high-tech workouts, wellness and lifestyle products and services.
* * *

Makura Health and Neck Support Pillow by Active Hive is retailing at $188 per pillow.

Receive a complimentary Minus Calories workout worth $103
with each purchase of Makura Health and Neck Support Pillow!

Buy 2nd Makura Health and Neck Support Pillow at 50% off!

* * *

Active Hive

65 Ubi Road 1
#02-88 Oxley Bizhub
Singapore 408729

Email: activehive@gmail.com
Tel: 6384 2758 / 9236 4678

Operating hours: (By appointment only)
• Mon to Fri: 10am to 9.30pm
• Sat, Sun & PH: 10am to 8pm
For more information, do visit their Facebook page or website.
Disclaimer: We received one Makura Health and Neck Support Pillow by Active Hive for the purpose of this review.