Sponsored
Last Saturday, we woke up earlier than usual for brunch at Sandbank, giving their newly launched international breakfast buffet a try.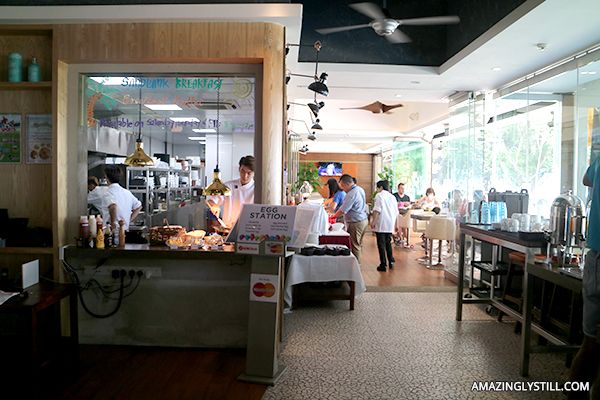 When we arrived at Sandbank, we were greeted with natural sea breeze blowing through the entire place. It's off to a good start for us as I absolutely love the feel of natural wind over aircon. The breeze was so good that it was even cool enough for Sean!
Once we got our table, we went down the buffet lines to have a look at what's available.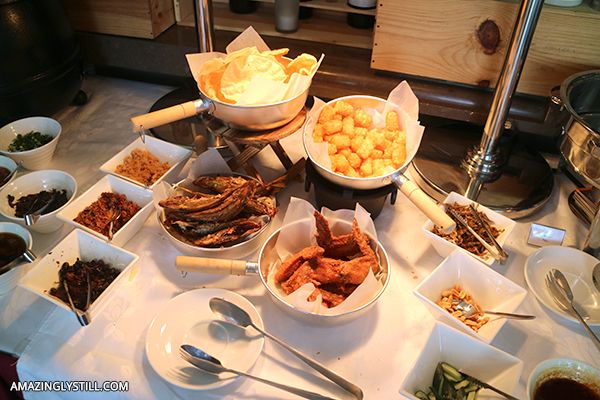 All the ingredients needed to prep a local breakfast favourite – Nasi Lemak!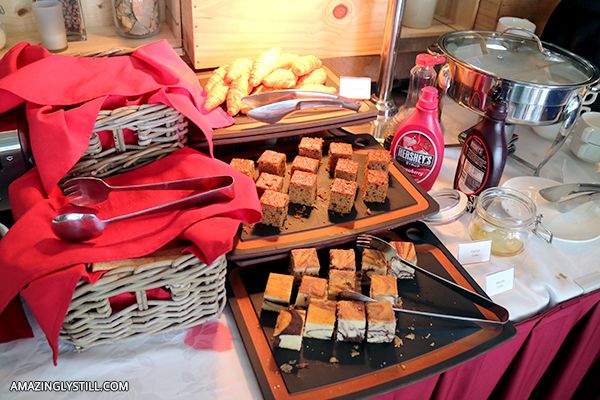 And if you're into something more continental for breakfast,
there are different types of cakes and breads to choose from.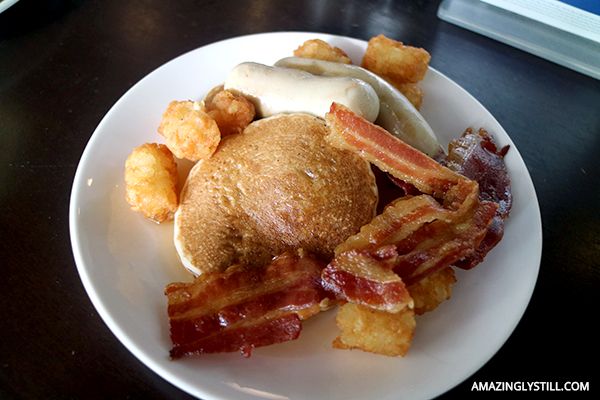 My plate, shared with the children (I went back for seconds, obviously)

Sean's choice of brunch
I honestly thought the pancakes were pretty similar to McDonald's Hotcakes (my love!) but I was disappointed when I returned for second helpings, only to find them a little too overcooked for comfort – it was probably one minute away from becoming completely charred!
So for my second round down the buffet line, I opted for ham and cheese omelette (prepped on the spot for you!), more bacon and chicken chipolata (my two favourites!), and some chicken wings (Sean and Blake happily ate all that I took. Haha!). Thumbs up from us for these items!
Oh, Sean also mentioned that the croissant was pretty decent too!

Blake eyeing on Sean's fried chicken wings. Haha!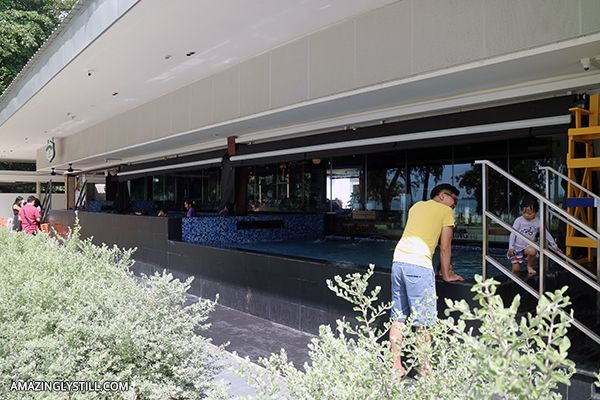 One of the main attractions of Sandbank is their 15m plunge pool. Tons of happy children jumping in and out of them and having a great time while their parents got soaked on the sides. Haha! It was quite the blast for them.
Sadly, Blake and Nakayla couldn't join in the fun as they were nursing different and unrelated injuries to their leg and foot respectively. I'm surprised they didn't bug me about it! I guess the prep talk we had the night before about swimming + injured legs rang through their heads and they both accepted that.
It also helps that there was balloon twisting by Weekends Pte Ltd to keep them entertained! Well, Nakayla at least. She was so pleased with her flower-shaped balloon on her wrist that she wore it for the rest of the day and the next day too!
Besides the overcooked pancakes, one other thing that bugged me was when I asked one of the staff for the nearest diaper changing station (guess who pooped?), I was directed to the one found in public toilets.
Now, I don't really care whether it's public or not, but clearly the public toilet wasn't the nearest (even though still quite near) because later on when I brought Blake to use the toilets within the cafe restaurant/bar, I saw this:
Did the staff not know their own toilets have a diaper changing station? Till this day, I'm still quite puzzled by the staff insisting there were no diaper changing station within their place, when I asked, "Really don't have?"
Well, at least now you all know about this. You don't have to go wondering out of the cafe/restaurant to use the diaper changing station in the public toilets.
Note: This would've been a bonus for the restaurant had the staff actually said, "Yes, we do! It's right next to the gents!" instead. An establishment that caters to families young and old is always good.
Only one thing made up for everything. Sort of.
Bacon.
As long as you make delicious bacon, almost all's good with me.
Remember – it has to be crispy, salty, mouth-watering bacon.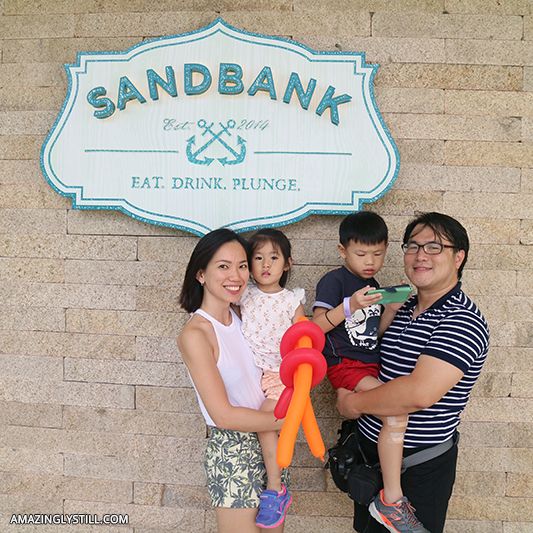 Sandbank, I will remember you for your bacon.

* * *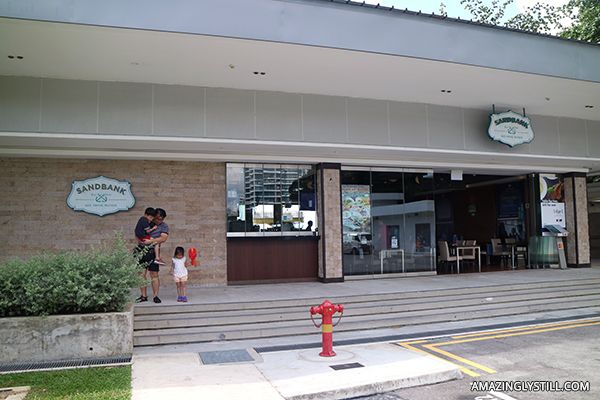 SANDBANK
920 East Coast Parkway, #01-28/32
Parkland Green
Singapore 449875
Tel No.: +65 6247 7988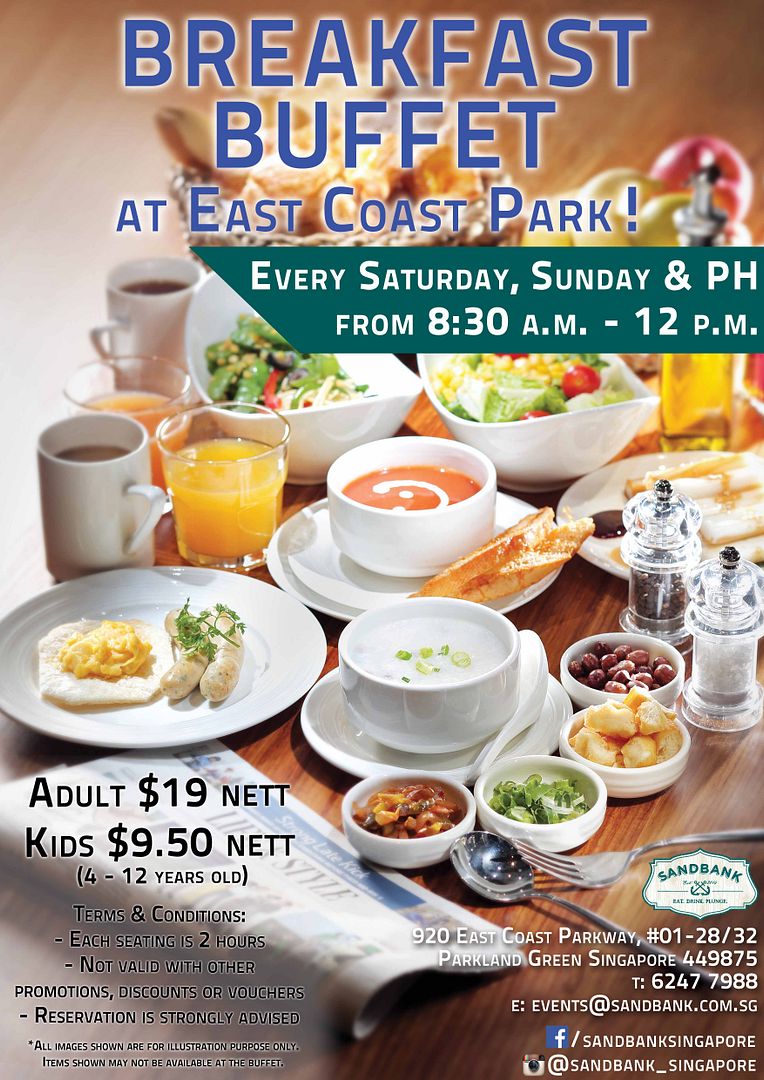 For more information, please visit their website.
Disclaimer: We were invited to Sandbank's International Breakfast Buffet for the purpose of this review.