Sponsored
After our first trip down Megazip last year, it didn't take much to motivate the children to be good and cooperative when we told them we were going again!
As usual, we took the cheap thrill ride up to the top and we did a video recording of it so that you know what I'm talking about! The actual ride up is about 3-4 minutes, but don't worry, I edited and had the video running at 1.25x the actual speed for your viewing pleasure. Haha!
Once we reached the top, Blake started to explore the various parts of the adventure park and he could tell me what each activity was! "Look, mommy! That's Parajump! That's Climbmax!" He was so excited! And he's really keen on giving ParaJump a go.
Ever since our last visit, he will tell me every now and then that he will grow tall and strong so that he can do the ParaJump by himself! Haha! Okay, baby! It can be done! It's really fun too. And I know cos Sean and I went for it back in 2010.
Getting to the top was a breeze this time round as we went relatively early before the crowd came in. We were the first in line!
Blake was, as usual, nervous before launch

These two were so cool on their ride down, it's like they are naturally fearless
However, unlike the first round where both children got really excited, Nakayla ended up being upset with me.
She had insisted on riding with me and when I gave her a firm 'NO', she ended up crying. I felt bad, but we had to balance the weight out!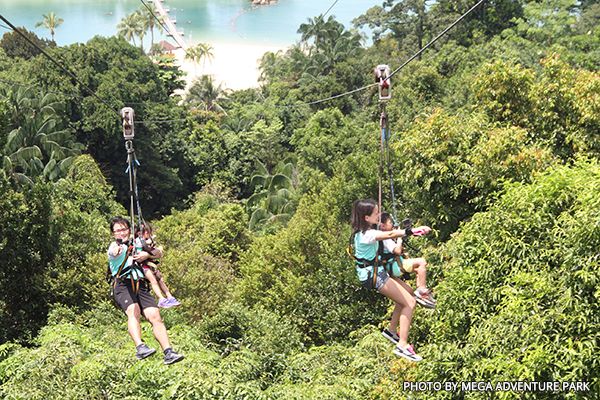 Funny how Sean and Nakayla's legs automatically stretch out,
while Blake and I were like in a sitting position. Haha!
As with all lessons, we learn and we grow from it.
Nakayla learnt how to enjoy, despite things not going the way she hoped. She was all smiles and talking about Megazip after she saw Blake and me getting off the zipline.
And I learnt that this baby girl of mine just wants to stick with her mommy, come what may. I guess I should've just let her have it her way…
Thankfully for us, the lovely team over at MEGA Adventure Park was kind enough to extend another round to us yesterday!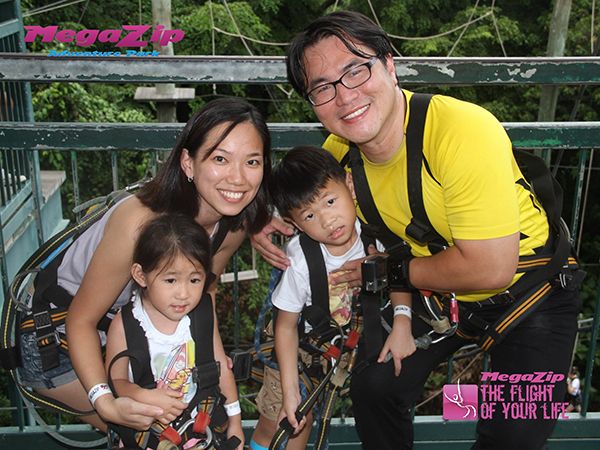 And so, we did a switch! To which, Blake happily said, "Mommy, daddy and I are going to reach first!" Haha! Oh baby boy… At least he got to experience how fast he can go down the zipline!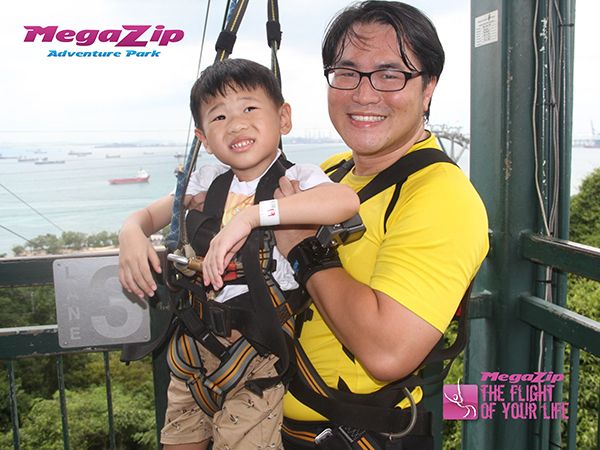 Being able to right the wrong I did the previous round (I really shouldn't have rejected her request), we managed to achieve an awesome family good time at MEGA Adventure Park once again! Yay!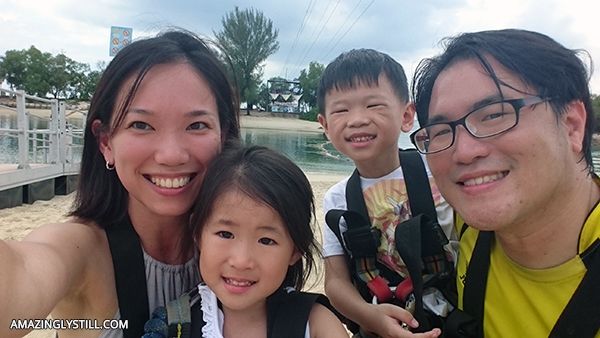 And here are some videos of our MEGA Adventure trip down MegaZip from both trips:
Psst… For ladies with hair length like mine or longer, I suggest tying up your hair before heading down or you might just end up seeing mostly your hair on your way down – like I did in the second video. Haha!
* * *

Megazip Adventure Park
Imbiah Hill Road
Sentosa Island Singapore

Telephone: 
(+65) 6884 5602

Opens daily, 11am – 7pm
For more information, do visit their official website or as listed on Sentosa's website.
* * *
MEGA Adventure Park Giveaway!
Thanks to the good folks at MEGA Adventure Park, we have TWO tickets for MegaZip to giveaway to one lucky winner! Simply follow the widget below. Terms and conditions apply. Good luck!
* * *
The answer to what MEGA stands for is:
Motivate, Explore, Grow, Achieve
Disclaimer: We were invited to MEGA Adventure Park for the purpose of this review.