Entertainment Review
via GIPHY
We sure like to move it, move it! And because of that, we were beyond thrilled when we were invited to the meet and greet session with the cast of Madagascar Live!

The children had fun dancing to the two-song preview of the musical, and taking photos with part of the cast was truly a treat. Seems like Nakayla's fear of mascots or anyone in costume was thrown out the window the moment she recognizes characters she is fond of. Haha!
But the strawberry on top of the ice cream sundae was watching the show!
And because the last chance you can catch Madagascar Live! is tomorrow, I'm going to make this part short and sweet so that you can decide if you should book your tickets now and make your way down tomorrow!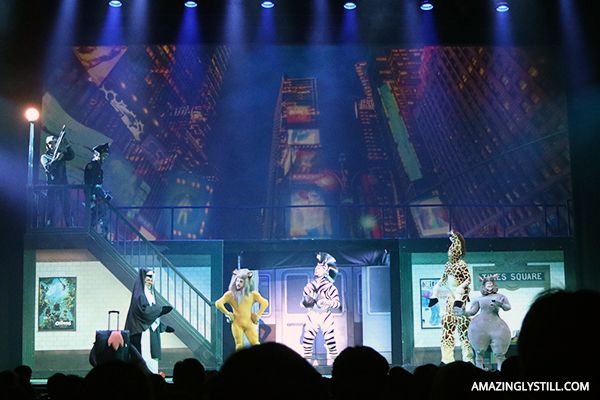 Interesting sets, including some animation
The train station was my personal favourite set of the show. The use of levels and illusion of movement to simulate a train arriving and departing the station was nothing short of cool!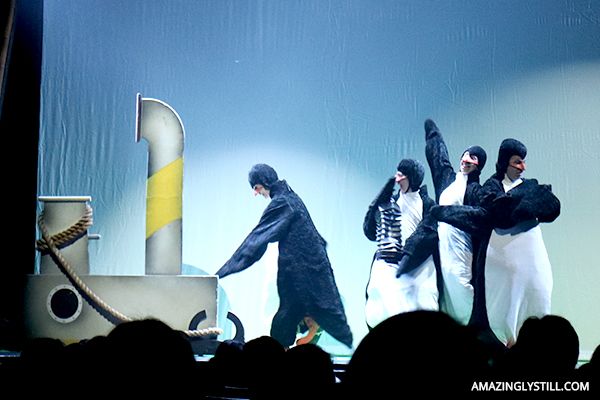 The Penguins
Keep your eyes on the penguins whenever they appear. They move as fast as their animated self! Oh! And they make their way down to the audience to interactive with a few lucky ones too. So if you're going, try to get seats in the front along the aisle.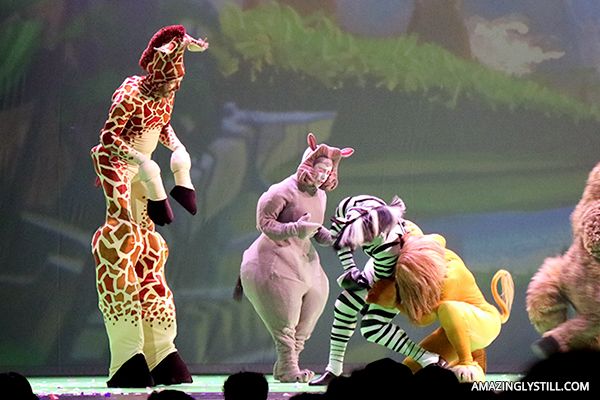 The Bite!
I don't know why, but I actually thought this part was pretty hilarious. Before Alex chomped down on Marty, the latter was running around with a piece of "meat" on its buttocks. Haha!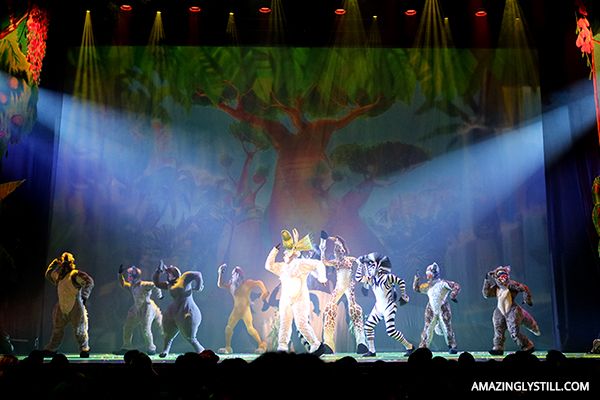 Moving it with King Julien
The mega-hit song from the movie franchise will be played twice. And before they kick start round two, audiences are encouraged to get up and dance! This part was a relieve for me because by the time the second song came on, these old bones and muscles of mine needed some stretching!

Melman the Giraffe
This last one is something I didn't expect myself to like, considering I wasn't a big fan of Melman to begin with. Haha! But to perform on stilts? Kudos to you, sir!
As with all shows, there are bound to be some hits and misses. So to avoid disappointments, I thought I'd share some of the misses as well.

Alex misses his steaks… Get it? Haha!
– Do prepare your children about the complete darkness and sounding of the ship's horn as it goes on for a bit. That triggered an avalanche of cries from the children in the theatre. I'm not kidding, because all I heard were just cries and more cries from the little ones in the audience from then on.
– If you were expecting live singing from the performers, you'll be sorely disappointed. They used pre-recorded audio and lip-synced most parts. The only parts that were vocally live were audience responses when the characters interacted with them. If you do get interviewed, respond quickly with short answers or you might get cut off by their on-going audio!
– There is a lot of dialog (more than actual dance and singing) and the children might get bored as a result. My suggestion is to buy them snacks to keep them occupied while you enjoy the show.
– Do not try to record the show at any point in time. Or attempt to put your children on stage before, at interval or after the show, to take photos. The ushers move like ninjas and before you know it, they're up in your face dishing out a warning that might ruin your experience. I saw so many shadows moving in front of me and one by one, all the mobiles disappeared. They tried to confiscate my camera at the beginning of the show when I was let through with it and only taking photos (technically, photo taking with no flash is allowed). Thankfully for me, the management managed to sort things out for me. Phew!
After watching Madagascar Live, which was based on the first movie, I'm now hoping that they'll do a theatre version with live vocals of Madagascar 3: Europe's Most Wanted! That will be so awesome!
* * *
Madagascar Live! is currently showing at the MasterCard Theatres at Marina Bay Sands, and tomorrow, Sunday, 24 April 2016, is their last day of performance in Singapore!
Only 3 more shows left at 11am, 2.30pm and 6pm – there's still time for you to make your way down to move it, move it!
Ticket prices start from $40 (excludes $4 booking fee) and can be purchased via:
– Marina Bay Sands Ticketing
– SISTIC
– the phone at +65 6688 8826
– in person at Marina Bay Sands Box Offices (located at Museum, Theatres, SkyPark, Retail Mall and Hotel Tower 1 Lobby)
Madagascar Live! is produced by Istanbul Entertainment Group (IEG) and DreamWorks Theatricals, and presented by BASE Entertainment Asia.
Disclaimer: We were invited to the meet and greet session + show for review purposes. No further compensation were received.