Media Invite
Another year of Cold Storage Kids Run has come and gone, but this year has got to be the most memorable yet! And it's because we took part in the Fancy Dress Family Run category for the first time!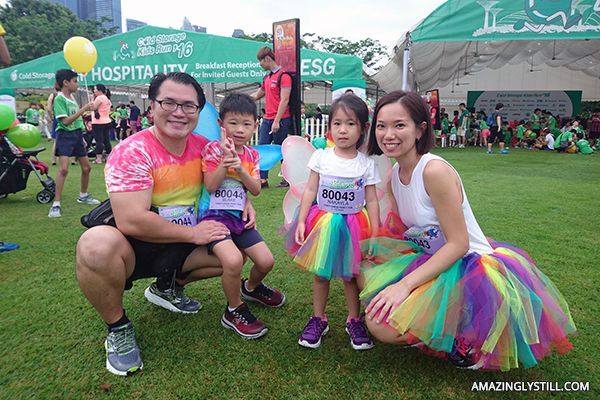 All decked out in DIY outfits and our trusty Skechers!
We arrived at The Meadows, Gardens by the Bay just in time to take a quick family photo before squeezing our way through the huge crowd gathered in front of the holding tents for participants to get to the starting line.
It wasn't that easy to make our way through, but Nakayla received a couple of compliments along the way for her outfit which made the whole thing a little more bearable.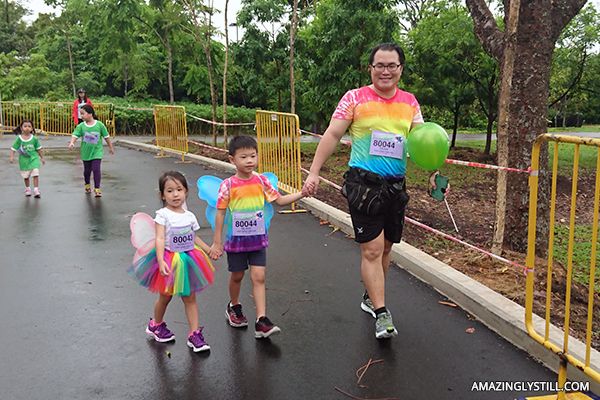 Despite the 6AM wake up call on a cool Sunday morning (perfect for sleeping in!), the children managed to pump up their energy and keep their spirits high throughout the entire race.
We walked, we ran, we jogged the entire 800m, and received even more compliments for our outfits ranging from, "Oh wow! That's a beautiful butterfly!" to "Well done, mommy! Very pretty costumes!" from fellow participants in the same category and the category after ours.
As we planned to really stay together for this race, Sean and I told Blake that we'll have to follow Nakayla's pace. He was very understanding about it and even held her hand so that we could move together as a family!
Shortly after we completed the run, we found out a piece of good news! We were one of three to win Best Dressed for our category! Yay! As such, we hung around a little longer than we used to for the prize presentation award.
Digressing: The organizer tried to contact me but couldn't reach me (my mobile somehow went on airplane mode), so they called my dad, who passed the phone to my mom when the person on the other line said, "I'm calling from Cold Storage run and this is about Nakayla." My mom thought Nakayla had gone missing and panicked for a while before the person told her, "Oh, she won the fancy dress competition." Panic turned into delight and my mom tried to reach me before calling Sean and finding out that I already knew. Haha!
During this period of wait, Nakayla kind of went on a crazy spree looking for mascots to take photos with. I think she took with every single one of them!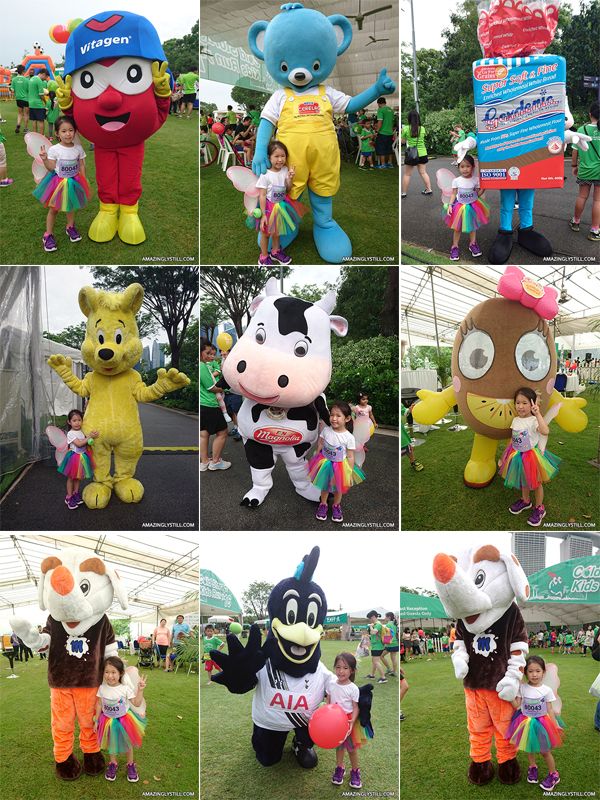 And to think at last year's Cold Storage Kids Run, she was absolutely afraid of them!
Update 27/5/2016: In case you're wondering where the photo with Appleton is at, scroll further down!
Blake, on the other hand, was only interested to take photos with just one mascot.
Then came the most exciting moment we were all waiting for… The prize presentation!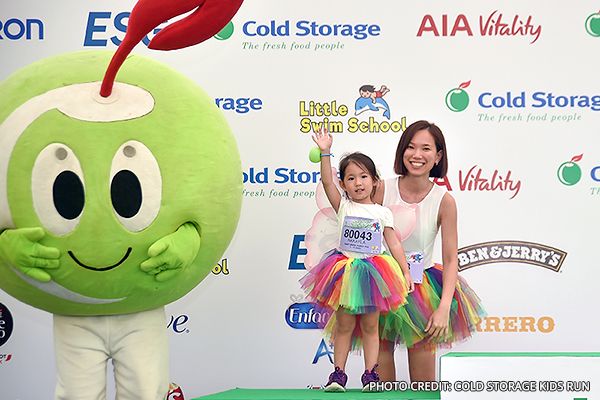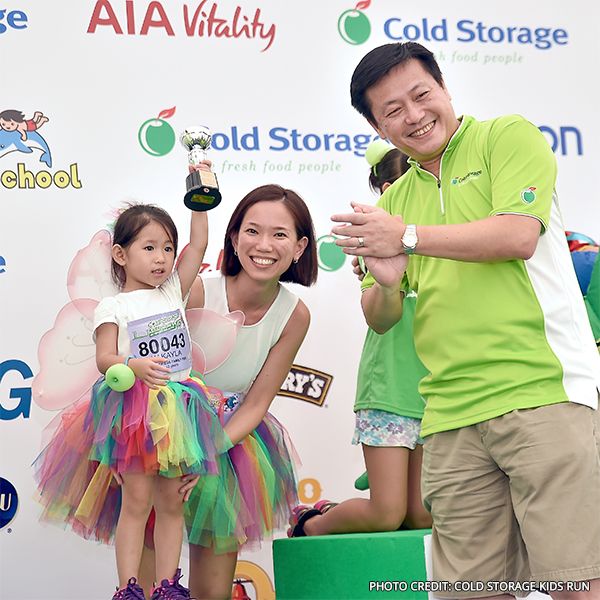 YAY!
We didn't know that the entire family could go up on stage together until Nakayla and I got off the stage, and Blake was feeling pretty bummed out about that. So we did what we could to cheer him up.
After the stage cleared out, we asked the crew for permission and…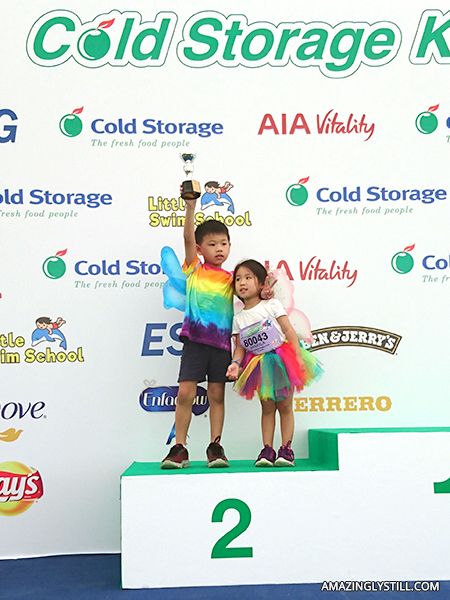 Ta-dah!
I cannot believe the amount of hours that went into making our outfits. From shopping to making, the entire process is well over 10 20 hours in total! Forgot to count the time spent on the tie-dye tops. Haha!
And I must, must, must thank one incredible person for making all of this happen – Irene!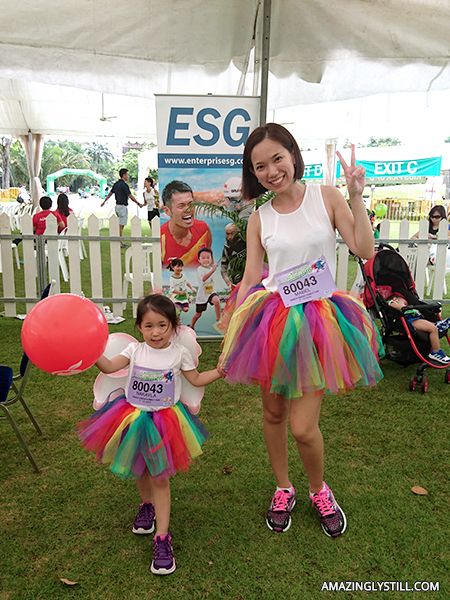 Ah Soh! Thanks to you, we won second prize! Yay!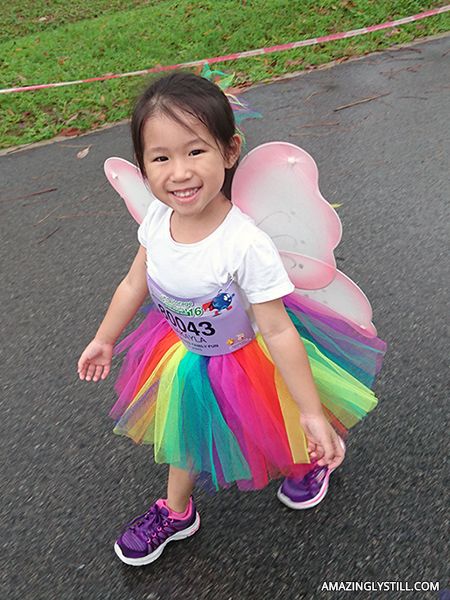 We may have left all tired and hungry but we were deliriously happy!

Nice outfits, must keep taking photos!

We can't wait to be back for next year's Cold Storage Kids Run!
* * *
If any of you would like to replicate our look for the run, here are videos on where to buy and how to put them together!
Disclaimer: While we were invited to participate in this year's Cold Storage Kids Run, this article was written on a voluntary basis. No compensation was received. Skechers also kindly provided our running shoes for the race. Sean and my shoes are from Skechers' GOrun Ride 5 series (men and women), while Blake wore a pair from the Nitrate series and Nakayla's are from the Skechers Girl series.