Media Announcement
Friso has always been on a mission to help our children grow up strong and healthy, and this includes inner strength and emotional wellness. The latter two requires us parents to devote time to ensure our children grow up feeling secure and resilient.
With that in mind, Friso has found yet another way for parents to spend quality time with their children!
Introducing…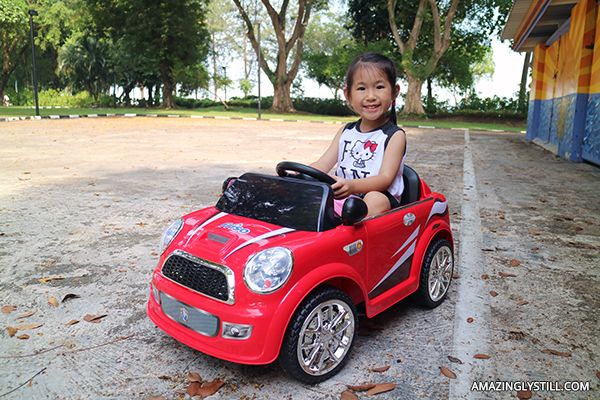 Friso's Powered Ride On Car for another memorable #FrisoExperience!
The children got super excited when they first saw the car and couldn't wait to have a go at it. However, staying in a HDB flat meant that there's hardly any space for the car to move within the house.
So we took this opportunity for some outdoor fun and visited the Road Safety Park. It's the children's first time there, and decades since my last visit!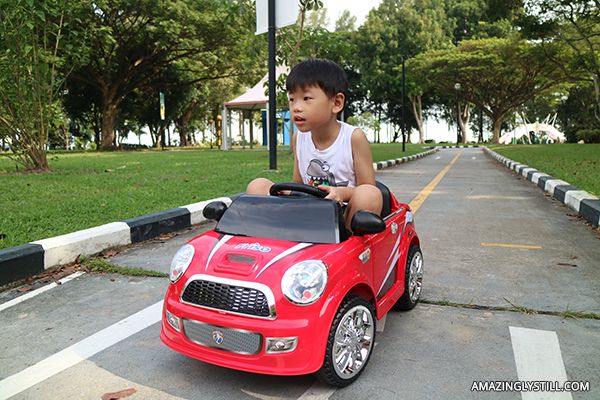 Blake and Nakayla took turns with the car and we had several pit stops for them to exchange their mode of transport.
This pit stop included a photo op! Hehe!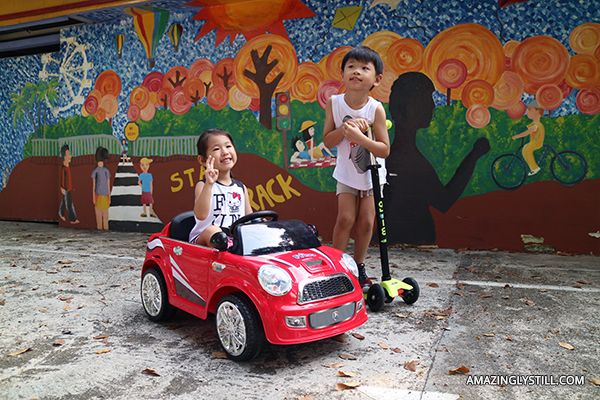 They were quite the sight to behold as we were the only ones with a powered car!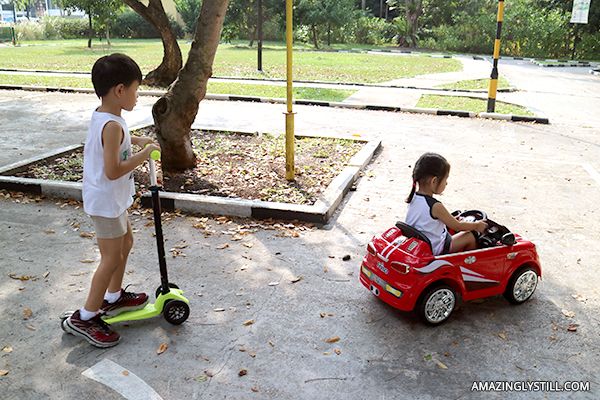 One of the fathers who cycled passed us even went, "That's a sweet ride!" Haha!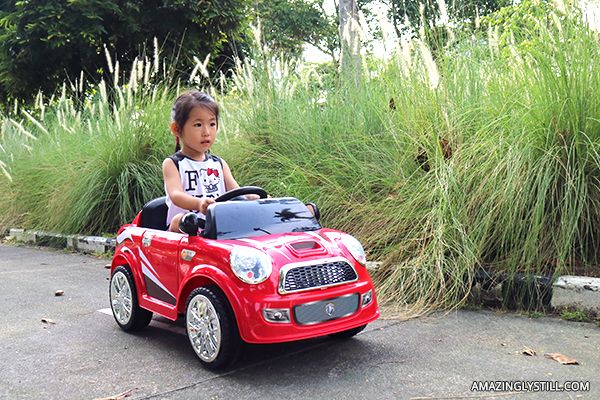 Our first family trip to the Road Safety Park saw us spending a little more than an hour there, before we headed for dinner.
Besides having fun with their new car, the children also learnt a bit more about road safety through their own driving experience.
They now understand a little better of the things I have been telling them when I'm behind the wheels. And I'm glad that I've been quite the good role model because this was what I caught Blake doing…
via GIPHY
He checked for vehicles before entering the round-about! *beams with pride*
Honestly, I have never thought of bringing the children to the Road Safety Park. It was when we were driving around, thinking where to go that it suddenly came to mind. The Friso powered ride on car gave us the push we needed to bring our children to explore new experiences together.

And we had so much fun! Can't wait to head back again!

* * *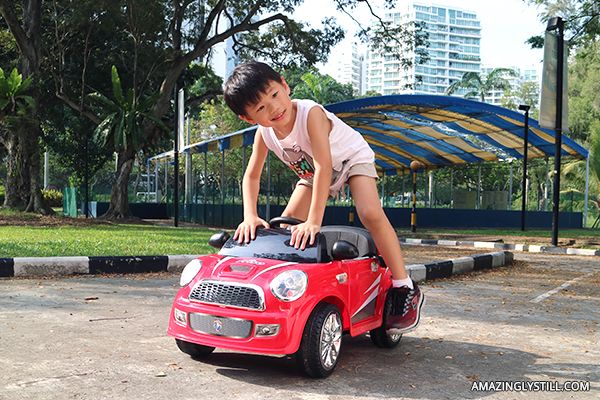 Friso Gold 2, 3 and 4 comes with enhanced LockNutri technology which protects the protein in Friso products from overheating and becoming damaged during the production process. Nutrients in their natural state facilitate absorption. Provide your little ones with gentle nutrition, so they can be #StrongInside.
Redeem Your Own Friso Powered Ride On Car!

Update, 3/5/2016, 1:45pm: I was just informed that the redemption period has been changed to 7 June to 31 July 2016.
From now till 31st May 2016 7 June to 31 July 2016, you can redeem your own Friso Powered Ride On Car worth $369 when you spend $380 on selected Friso products (Frisomum, Friso Gold Cereal, and Friso Gold 2, 3, and 4) at NTUC FairPrice, Cold Storage, Market Place, Giant, and Guardian.
The Friso Powered Ride On Car is suitable for indoor and outdoor play (not suitable on loose dirt, gravel or wet areas), and is available in red and blue.
Redemption for the car is immediate as long as you have your original receipts and have completed the entry form at:

Global Opus Solutions Redemption Centre
Blk 265 #02-275
Serangoon Central Drive
Singapore 550265

Operating hours:
Tuesday to Saturday
11am to 1pm and 2pm – 6pm
Closed on public holidays

The last day for redemption is 10 June 2016
As this promotion is only valid while stocks last, do hurry down to make your redemption as soon as you can!
To avoid disappointment, you can give Global Opus Redemption Centre a call at +65 6282 1555 to find out if there are Friso Powered Ride On Cars available for redemption, before heading down.
For more information, do visit Friso Singapore on Facebook.
Disclaimer: We were invited to be part of this campaign and received the Friso Powered Ride On Car for the purpose of this post.