It's been a while since I had Korean BBQ, so when Lin Ying and Natasha proposed going to Seorae for lunch, I was psyched.
If you didn't know, I love BBQ meat. It honestly doesn't matter what kind, as long as it's not spicy, I'm having it!
And I love to BBQ so much that once, at East Coast Park, when a storm attempted to ruin our BBQ plans, Sean and I stayed put at the BBQ pit to continue.
Not the stormy night. This was, I believe, a Mother's Day celebration before I became mom.
That night, some friends ran for cover at the nearest pavillion, while Sean, myself and a few other friends huddled under many umbrellas, all playing a different role – some held the umbrellas, some cooked, some did the feeding – and by the time the storm was over, we were well-fed.
My love for BBQ is not just how delicious the food generally turn out to be, but also the process of cooking our own food. It's so fun that Natasha asked me at one point over lunch, "Why you keep cooking and not eating?" Haha!
So yes, now that I've established my love for BBQ, let's return to the BBQ lunch at Seorae!
And I think this was the main reason why they picked Seorae over other Korean BBQ spots…

While I didn't follow the show, I did watch an 11-minute summary of the show the night before our BBQ lunch. It was hilarious! Sadly, the video is no longer available for viewing, or I would've embedded it in this post for you to watch too.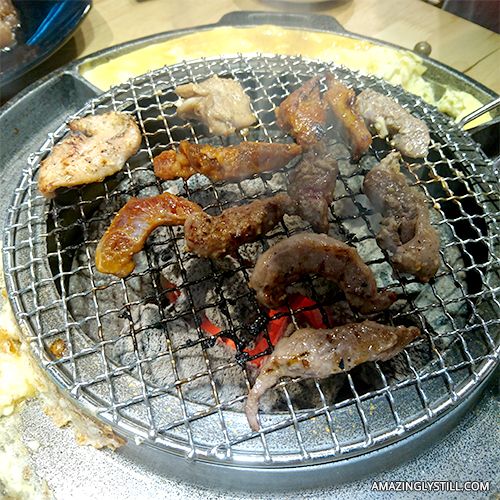 Show aside, I must say, BBQ food is best accompanied by friends on the same frequency. I think one of the staff there were tickled by our presence – three women snapping photos of everything, exclaiming and laughing loudly, all without a care in the world! Even the group of teenage girls in school uniform were more reserved than us. Haha!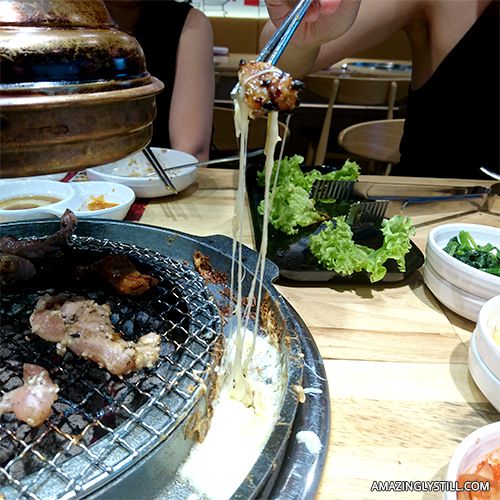 As though my lunch wasn't fantastic enough with my good company, it was made even better with the delicious meat Lin Ying ordered! And she's so sweet. She ordered one whole plate of garlic chicken just cos I don't eat spicy food. And man, it was delicious!
Pairing the barbecued meat with melted mozzarella cheese was something new to me, and I'm mighty impressed by how well the flavors blend together. The best part was, the mozzarella cheese only required a top-up of $2 and it's free flow!

Photo taken by Natasha
The next best free flow item at Seorae has got to be the eggs! It's soft and fluffy. So yummy!
Natasha and Lin Ying enjoyed their lunch by wrapping the meat and other condiments with lettuce, but for someone who don't eat vegetables, I had mine with a bowl of rice.
After polishing off the meat and filling our tummies, it was time for dessert! And we kind of went nuts, ordering one each, cos the Patbingsoo was at 50% off during lunch!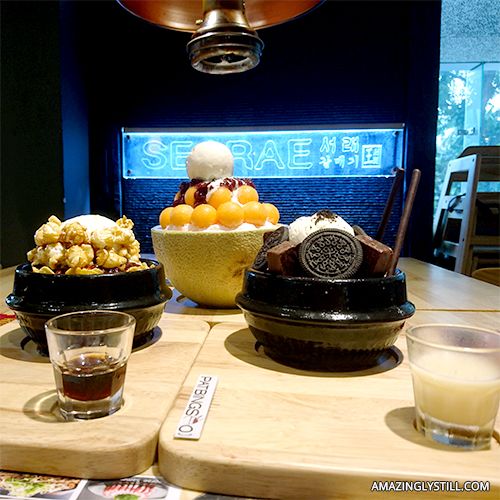 *ahem* I was being lame, but can you spot
the replacement of one letter with ice cream? Haha!
Lin Ying had the biggest dessert bowl of all with Sinsa Patbingsoo (center, melon), while Natasha went for the Anguk Bingsoo (right, oreo), which I contemplated ordering too.
In the end, I went with Gangnam Patbingsoo (left most) which was absolutely awesome! I'm so in love with it! It's filled with all things I love – caramel, popcorn, corn flakes, vanilla ice cream and… I'm slowly getting used to this… Red beans.

When all the ice cream melted, what I was left with reminded me of breakfast. A really delicious one.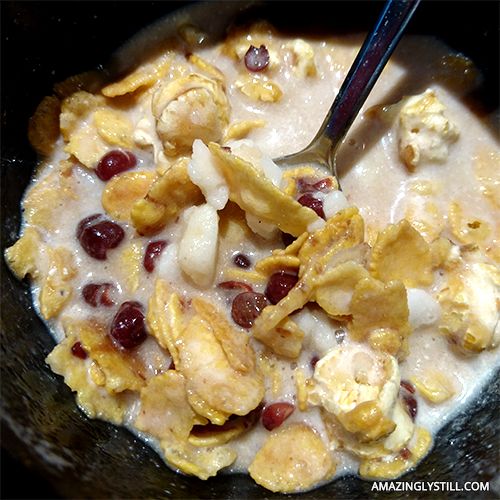 I'm going to try and replicate this (doubt I will be able to!) and have this for breakfast one day, minus the red beans. I still can't wrap my head around how awesome this patbingsoo is!

Good food. Good company. Yay!
I might have to make a return trip or two soon, just to enjoy the yummies all over again!
Ending this post with links to Natasha and Lin Ying's review of Seorae. Their posts are bound to leave you in laughing stitches!
* * *

Seorae Singapore

Plaza Singapura #02-01
68 Orchard Road
Singapore

Tel: 6238 8429

Opening Hours
Sun to Thurs: 11.30am – 10pm
Fri and Sat: 11.30am – 11pm

Patbingsoo only (No Grill)
Mon to Fri: 3.00pm – 5.00pm
Disclaimer: This is NOT a sponsored post. We paid for everything.