Media Event
Pezzo and Club Rainbow are now official record breaking holders for the largest dessert pizza ever created in Singapore, and it's all for a good cause too!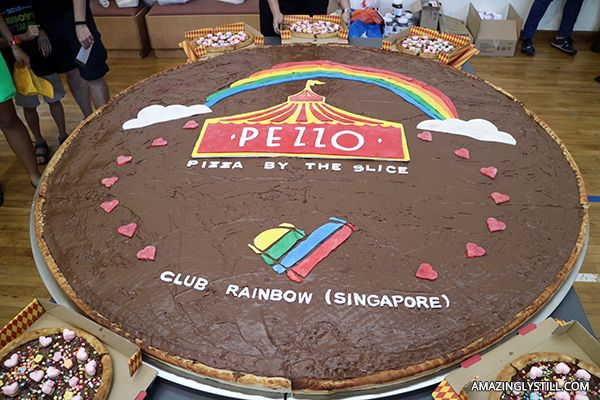 Besides breaking the record, Pezzo Pizza also specially created The Club Rainbow pizza to inspire positive societal changes, bringing colours and hope to a child's life. The pizza is topped with Nutella, caramelised banana, marshmallows and colourful sprinkles!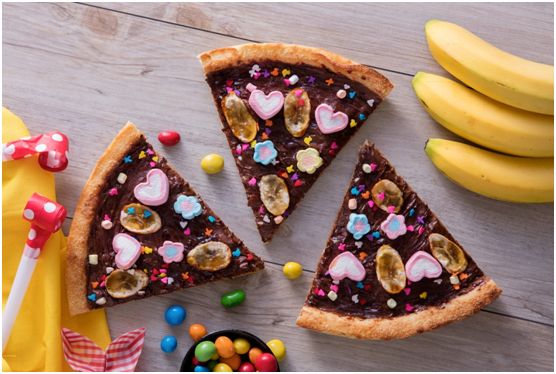 Image provided by Pezzo
The Club Rainbow pizza tastes as good as it looks! Just about anyone who is a child at heart (and in taste buds) will go wild with this. I know I did! Hehe.
If you're wondering where to get your own slice of Club Rainbow pizza, you'll be pleased to know that it is available for sale at all 28 Pezzo outlets from now till mid of July 2016. It's selling at $4.90 per slice, $12.90 for 3 slices, $24.90 for a whole pen.
Best of all, while your taste buds and your tummy are enjoying all the delicious goodness, your heart will be sweetened with delight knowing that part of the sales proceeds for the Club Rainbow pizza will be donated to Club Rainbow, offsetting expenses it incurs from helping children with various chronic and life-threatening illnesses. Yay!
This is such an amazing initiative between Pezzo and Club Rainbow – all you'll have to do is eat a slice of pizza and you can help give back to society!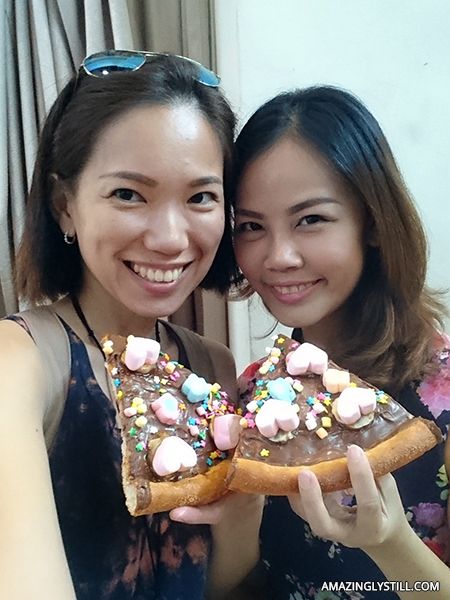 With my darling Ah Soh
I'm so happy to witness this really meaningful record breaking moment, and filling my tummy with this chocolatey-goodness that is the Club Rainbow pizza!
* * *
At Pezzo, fun is a way of life!
All their pizzas are inspired by the tapestry of circus life, going by bold monikers such as 'Big Daddy', 'Meat Munchers', 'Supremo' and 'BBQ Bonanza', just to name a few.
Pezzo offers delicious and freshly hand-made pizzas baked daily, made with fresh and premium ingredients. Customers also get to enjoy its pizza by the slices, which means one can mix and match up to six difference pizza flavors in a pan, at one go!
Pezzo is located in prominent shopping malls around the island. For more details, do visit their website.
Disclaimer: While I was invited to this media event for the record breaking moment, this article was provided on a voluntary basis.