Entertainment Review
Live singing, dancing, charming characters and an amazing cast to boot… This is the makes of an amazing show and, let me just declare this first, Shrek the Musical definitely hit all the right notes!
By now, most of you would know that the musical is based on the DreamWorks Animation film, Shrek. And while some movie to theater adaptation might fall short in some aspects, Shrek the Musical most certainly did not and even exceeded expectations!
And the highlights of the show for me? There's just too many! But I managed to narrow it down to the top 5 specially for you. The list is not in any particular order.
1. Costumes and Props
The costumes and props are impressive – Major props (sorry, couldn't resist!) to the costume and stage designers! Everything looked really elaborated without being overly so that it distracts you from the cast.
And if you're wondering which costume or prop is the most impressive of all…
This is!
The dragon absolutely blew my mind away! It's moves so fluidly on stage too. I'm in awe!
2. Lord Farquad
Besides the costumes and props, another show stopper was Lord Farquad – played by Christian Marriner. He was hilarious in the show and probably the only character who has a chance in interacting with the audience. No spoiler alerts here. So if you want to know, you'll have to go watch the musical!
After the musical, Sean and I were discussing for quite a bit on how Christian Marriner was able to manage his role throughout the musical. If you're not sure what we're talking about, well… He's a lot taller than his character. Haha! We're still unsure, by the way. So if any of you know the secret, please let me know!
3. Donkey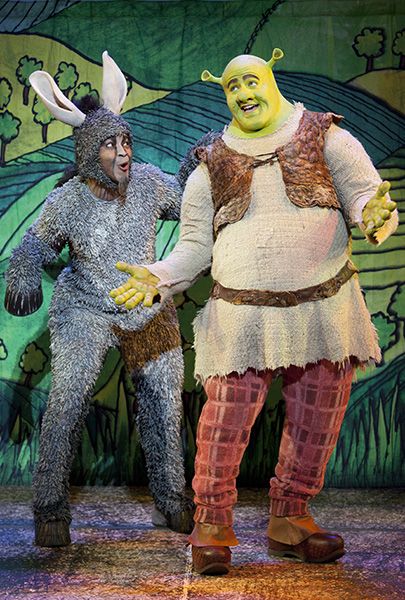 Another hilarious character in the show that had me laughing my ass off was Donkey – played by Jared Howelton! Haha! Such a smooth and comical character. You really have to pay attention to what he's saying and watch his antics on stage!
When I told the children that they'll be able to watch a donkey sing and dance in the musical, they gave me a quizzical look, which was soon followed up with a statement by Blake, "Donkeys don't talk, mommy!" Haha! Well, they do in Shrek, my boy. They do in Shrek!

4. Princess Fiona
During my interview with Lindsay Dunn (Princess Fiona), she mentioned that she had to tap dance in her audition. And what an amazing job she did in the show! I was enthralled by the whole tap dance routine!
Nakayla was clearly captivated by Princess Fiona. After the musical, she was pretending to be Princess Fiona being stuck in the tower and narrating her own stories, mimicking Princess Fiona as closely as she could, complete with hand actions! Haha!

And last, but not least…
5. Shrek the man himself!
I love Shrek's accent! I attempted the accent, and I sounded annoying, but on Shrek, it's so natural and pleasing to the ears. Kudos to Kyle Timson (Shrek) on the job well done!
Besides all the funny antics Shrek gets up to with his donkey and princess (That fart scene… Haha!), it's so endearing to see a creature who was hardened by his growing up years soften up because of love!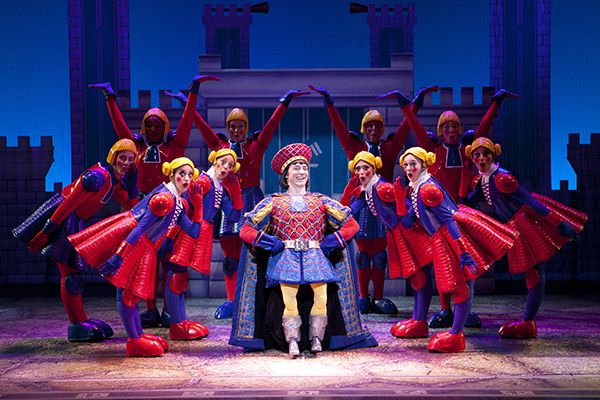 Shrek is already an entertaining story to begin with, but the live adaptation of the movie is even more so as it's peppered with bits of jokes and punchlines that connects with current times. This left the audience in stitches! What a fantastic time we had!
* * *
Shrek the Musical is currently playing at Grand Theatre, MasterCard Theatres at Marina Bay Sands and will end its Singapore run on 19 June 2016.
To purchase tickets online, you can do so at Marina Bay Sand's website or at SISTIC.
You can also purchase tickets over the telephone at +65 6688 8826 or in person at Marina Bay Sands Box Offices (Museum, Theatres, SkyPark, Retail Mall and Hotel Tower 1 Lobby). Ticket prices start from $65 (excluding $4 booking fee).
More information on Shrek the Musical can be found here.
Disclaimer: While we were invited to watch Shrek the Musical, this review was provided on a voluntary basis. No further compensation were received. As they had a strict 'no photo-taking and filming' policy for the show, all images seen above are stocked images provided by BASE Entertainment (unless otherwise stated), which may or may not reflect the actual cast members in the show that we watched.