Media Invite
I love being pampered. And I love being pampered even more in my birthday month. Yes, I'm spoilt. Haha!
So for this year's birthday pampering session, I was invited to Adonis to experience one of their signature treatments – Chlorophyll Facial.
Usually, all facial treatments start the same way – skin analysis, removal of make-up, cleansing – before the actual facial treatment starts. At Adonis, however, it started with a nice foot bath with their own essential oils!

If only this was followed up by foot massage… *wishful thinking*
But no. After my calming foot bath, I went to get my skin analysed.
Did you know that the underside of our arms have the smoothest skin on our entire body? Apparently it's because that's the only part of our body that's hardly exposed to sun!
Once I got into my room and changed into the robe provided, the whole treatment begin with the usual, including the peeling of impurities.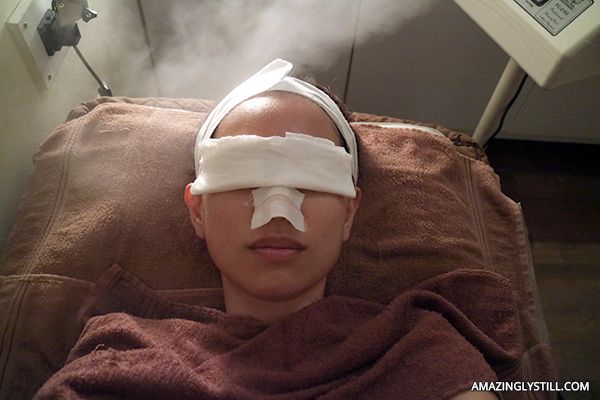 If there's one thing I can never get used to, it's the cool mist. I think my body's defense mechanism took over. No matter how hard I tried, I had difficulties breathing with it blowing in my face. This step is necessary and cannot be skipped because it helps to relax the skin and prepare it for – my favourite! – extraction!
Thankfully, my therapist, Shu Yi, noticed and adjusted it such that I can still have the mist on my face and breath at the same time.
Oh oh! I need to digress a little here!
I told Shu Yi that extractions are my favourite and to my delight, she said she loves to do extracting! Haha! So happy to finally know of a therapist who loves extracting and will do a thorough job with it. Can you feel how high I felt at this revelation!?
Between the cool mist and the extraction, Shu Yi also helped me shape my eyebrows. Awesome timing as I had filming the next day. Woohoo!

Enjoying my face massage!
After the extraction, Shu Yi noticed that my face became really red. She was worried for a moment but I assured her it's nothing.
My skin is sensitive in that sense. It turns red easily, but it seldom mean anything nor do I feel it. Just a mere hot shower will leave my face and some parts of my neck with red patches. Definitely a non-issue.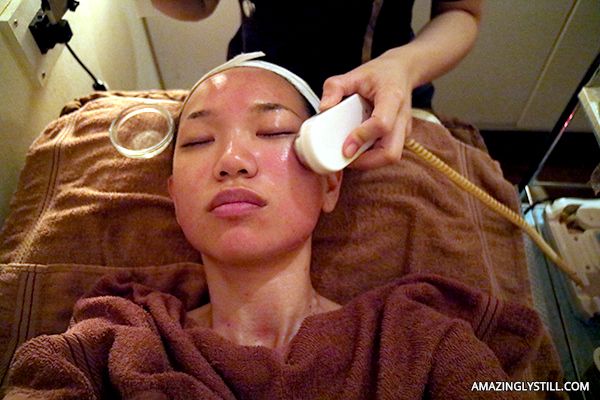 As she was still not convinced, she told me to err on the side of caution, she'll tweak the facial treatment a little to calm my skin down. That is so thoughtful of her!
After my skin calmed down, it was time for the final step – mask!
I thought this was it. Apply the mask and off I go to sleep for the next no-idea-how-many-minutes. Nope! There's still one more equipment to add to achieve maximum benefits!

Ta-dah!
It didn't take long for me to drift into lala land and the next thing I heard was Shu Yi coming back into the room and asking me if I slept. Haha!
Once the mask was off, Shu Yi asked if I needed to apply foundation or any make-up whatsoever. I told her I only needed my eyebrows to be coloured in and right after applying sunblock on my face… Viola!

She did it for me!
Before I left, I was given a cup of freshly brewed tea. Extremely calming and woke me up from the daze (got it from the nap!).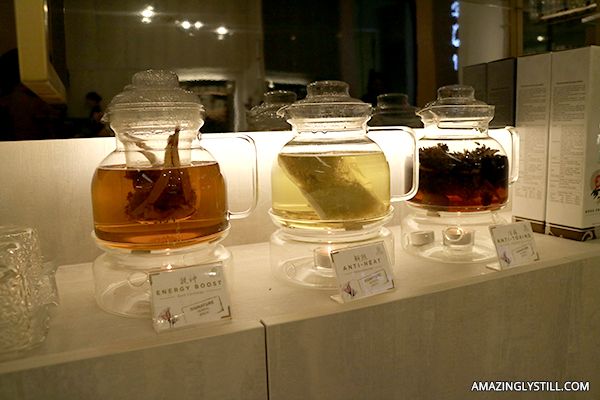 What an amazing pampering session to start my birthday month!
* * *

ADONIS @ VIVO CITY
1 Harbour Front Walk, #02-229
Singapore 098585

Tel: 6376 9525

Operating hours: 10am to 10pm

For more information, do visit their website.
Disclaimer: While I was invited to Adonis at Vivocity for the above facial treatment, this review was provided on a voluntary basis (Must like it first then can write about it and recommend it to you!). No further compensation were received.